Original title: Global New Coronary Pneumonia confirmed cases exceeded 1.9 million deaths exceeded 118,000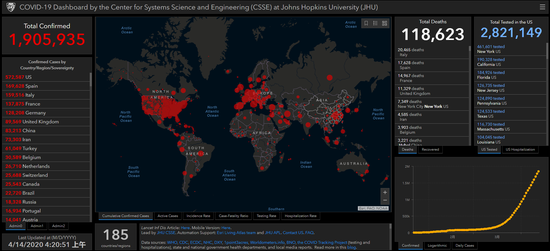 [Overseas Net April 14 | Wartime Epidemic Time Zone] Real-time data from Johns Hopkins University in the United States showed that as of April 14 Beijing At 4:30, the cumulative number of newly diagnosed cases of new coronary pneumonia in the world exceeded 1.9 million, reaching 1905935 cases; the cumulative death cases exceeded 118,000, reaching 118623 cases.
Among them, the United States is still the country with the largest number of diagnoses in the world, with a total of 572,587 cases diagnosed and a total of 23,078 deaths. Italy reported on the 13th local time that there were 3153 newly diagnosed cases, with a total of 159516 diagnosed cases; 566 new death cases, with a cumulative death case of more than 20,000 cases, reached 20465 cases.