Original title: The three nurses turned crazy on the Internet, there is no miracle
According to the British "Mirror" reported on the 9th, the three nurses of the National Medical Service System (NHS) in the treatment of patients with new coronavirus because of personal protective equipment (PPE) Shortage, forced to wear garbage bags as protective clothing. According to the "Daily Mail" report, the three nurses were diagnosed with the new coronavirus at a testing center in north London last week.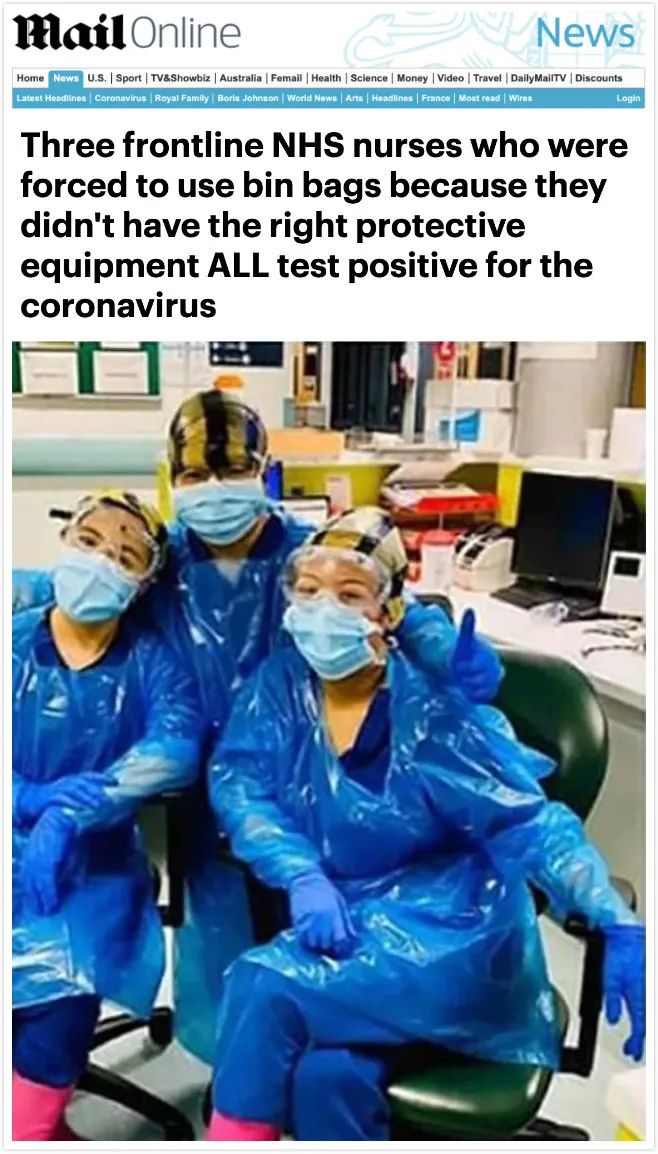 Pictures that appeared on social media last month showed that the three nurses were wearing medical waste garbage bags on their hands, feet and heads when the emergency room was full of patients. The frontline medical staff at Northwick Hospital in Harlow, north London, said they had to use temporary personal protective equipment due to a severe shortage of medical gloves, protective clothing and protective shoe covers. They said that because the hospital did not provide them with appropriate personal protective equipment, they had a high risk of contracting disease from patients.
In March of this year, pictures of tired nurses in the UK wearing yellow garbage bags circulated on social media. The photo is also accompanied by some text: "We are very frustrated with the situation faced day after day, night after night", "Temporary personal protective equipment, at least try to protect us from infection by patients, we buy rain boots ourselves It is said that it can be reimbursed ", and ironically said," As our Prime Minister said, we are storing a large amount of PPE. "
Medical staff at Northwick Hospital were allegedly warned not to disclose to the media about the continuing shortage of PPE . At present, at least 6 patients in the hospital have died from the new coronavirus, and dozens of patients are receiving intensive care.
After the surge of new coronavirus patients led to insufficient clinical nursing beds, Northwick Hospital (affiliated to Northwestern University Health Care NHS Trust) was the first major UK hospital to declare a "serious situation". The staff of the hospital received a message: "I am writing this message to let you know that because of the emergency care capabilities of Northwick Hospital, we announced a" serious situation "tonight, which is due to the number of patients with new coronavirus The number is increasing. This means that we currently do not have enough space to accommodate patients in need of intensive care. As part of our system recovery plan, we have contacted our partners in the North West London area tonight to help transfer patients safely Out of Northwick Hospital. "