Original title: Pompeo accused the United States of WHO to take taxpayer money did not complete the task, users hate the United States: the White House took, but wasted 70 days at the beginning of the crisis
[Global Network reported reporter Zhu Mengying] "We see WHO, it has not completed the tasks it should complete. "Secretary of State Pompeo also joined the ranks of" argument "on the 8th when US President Trump and the WHO Director-General Tan Desai had a heated argument. He accused WHO of taking US taxpayer money but "did not complete the tasks it should complete," and said he would review the funding for WHO. However, his "theory", even American netizens can't stand it, and was ruthlessly returned: Pompeo so defamed the WHO, because Trump unfairly accused China of the epidemic At this time, the organization did not "kowtow" to Trump.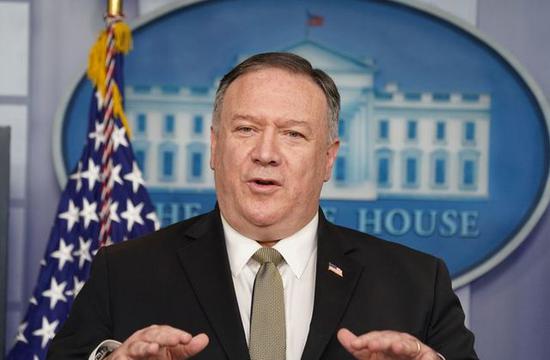 (Pompeo data map)
According to the public record of the White House website, at the White House epidemic briefing held on the 8th, when asked about the Sino-US funding for WHO, Pompeo said, The United States is reviewing funding for WHO. He believes that WHO has taken American taxpayers' money and needs to serve Americans, but "it has not completed the tasks it should accomplish."
"We are reevaluating our funding for WHO. This is very consistent with what the president said since the beginning of the campaign: the organization must play a role." Pompeo said, "We need to ensure that not only WHO, It 's all of us who give taxpayers 'money to their international organizations for the benefit of the United States. We need to make sure that they can make the taxpayers' money work. "

(Screenshot of the White House Record)
" In this matter There is no exception for WHO. They must do the tasks they should complete. We see that WHO has not completed the tasks it should complete. "Pompeo continued.
Nonetheless, when asked next if WHO should change its leadership, Pompeo said, "This is not the time to make such changes."

(
White House Record)
"We have a lot of time to examine WHO's performance. At present, our task is to protect American taxpayers and ensure that our money does not flow to those who cannot serve Americans around the world Place. This is what President Trump and I are determined to do. "He said.
However, Pompeo's accusations of WHO in the above were scuttled back by American netizens. Some netizens wrote on Twitter: "When Pompeo said that the WHO collected the taxpayer's money but did not complete the tasks it should complete, remember that the White House also took a lot of taxpayer's money, but was in crisis. 70 days were wasted at the beginning. "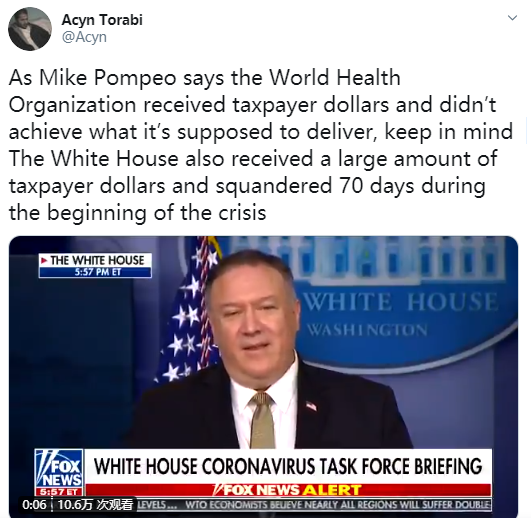 As of now, this tweet has received more than 5,000 likes and more than 2,000 reposts. Under this tweet, many netizens accused the US government of delaying the fight against the epidemic.

"No matter what the WHO does, it doesn't do anything. Whatever China does, it doesn't do anything. This can't erase Trump and his 'believers' knew in January that such things would happen, but they The fact that I still choose to hold a rally and play golf; this cannot erase the fact that we had 2 months to prepare and people are dying. "

" Don't say that the new crown virus is not a serious matter, Pompeo accused the WHO The organization is to divert attention, it is simply the highest level of hypocrisy. "

" Secretary of State Pompeo defamed the WHO because when President Trump unfairly accused China of infectious diseases, they did not report to Trump. Kowtow, at that time, the Trump team wasted 70 days of testing, containment, and mitigation of the epidemic that endangered millions of Americans. "