US navy 's acting secretary resigned Reason: The trip to Guam cost nearly US $ 250,000 Original title: US media revealed that the
[Global Network Comprehensive Report] Acting US navy secretary Modley resigned on the 7th, CNN on the 8th The report revealed that the reason for his resignation said: Modley's recent trip to Guam cost the US Department of Defense nearly $ 250,000.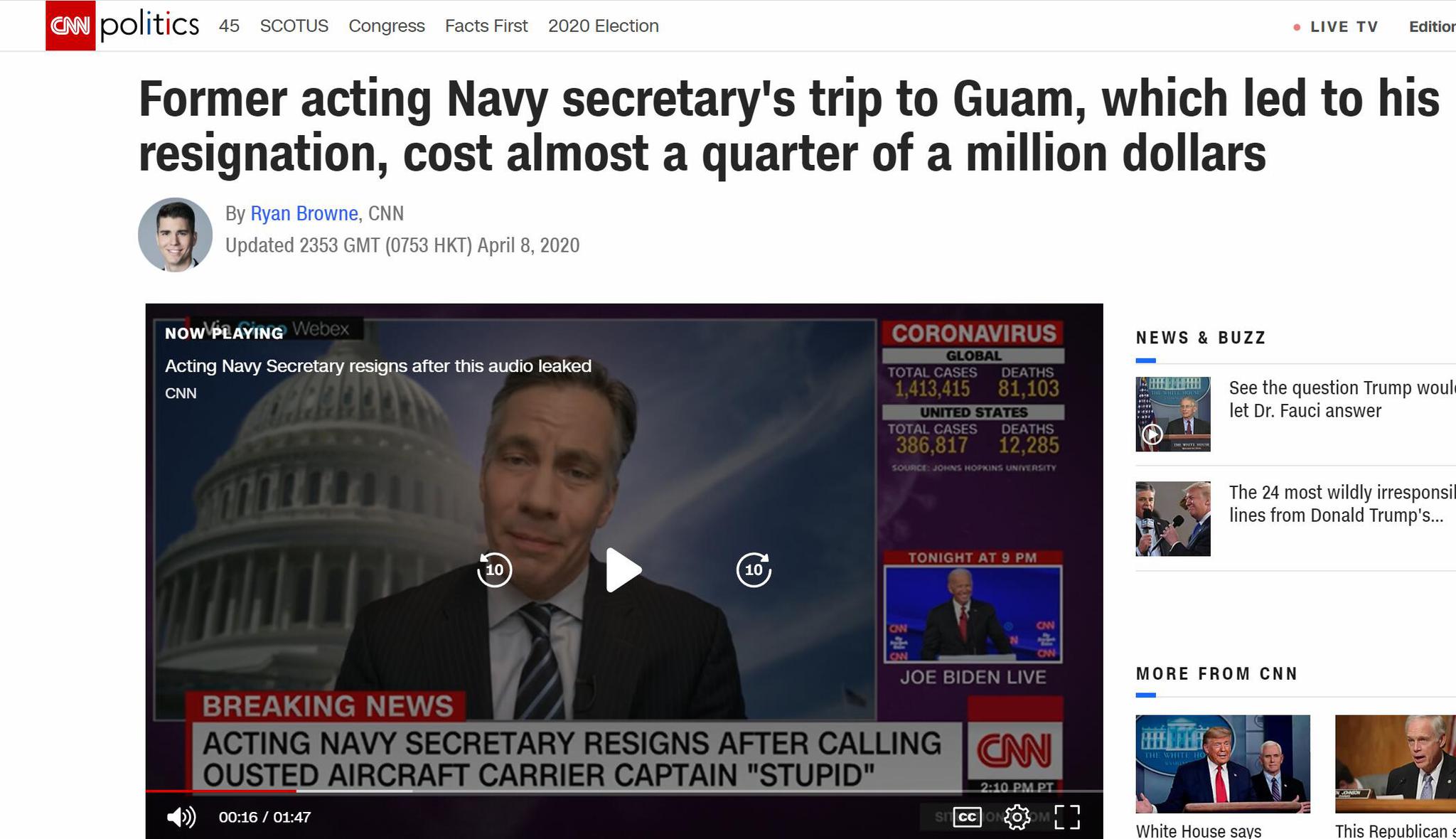 CNN quoted a US Navy official as saying that Modley went to Guam on Monday (6th) to address the crew of the USS Roosevelt and reprimanded their former captain Crozer. The official revealed that the trip to Guam cost US $ 243,000.
But one day later, on the 7th, Modley resigned.
How to calculate the cost of USD 243,000? CNN revealed that Modley was travelling to Guam on a C-37BVIP special plane modified by a Gulfstream jet business jet. The cost of each flight hour of the aircraft is 6946.19 US dollars, the flight time of the Guam trip is about 35 hours, so a total of 243151.65 US dollars was spent.
On the evening of the 7th local time, Modley announced his resignation. In his resignation letter, he stated that he "submitted his resignation with a heavy heart." The previous day, the exposed recording showed that Modley on the "Roosevelt" aircraft carrier accused Crozer of "naive or stupid" and accused him of sending a letter of assistance outside the command system for "betrayal." On March 31, Crozet sent a letter to the senior military for help due to the outbreak of the new crown outbreak of the aircraft carrier, but Modley was quickly dismissed.
For insulting and dismissing Krose, Modley initially responded by saying "to insist on every word he said, including swear words," but eventually apologized under pressure. "Washington Post" said on the 7th, the acting Navy Secretary's series of actions has caused a huge controversy, so that the US Navy into another political crisis, a number of Democratic lawmakers asked him to resign immediately. At the same time, the scandal also highlighted the increasingly tense US military and political relations under Trump.
Senior officials of the US Navy have been mobilized frequently in recent years. In November last year, Modley succeeded Spencer, who was dismissed due to interference in the judicial judgment of the Navy, and acted as the Secretary of the Navy. American media said that although the navy is deeply entangled in corruption and ship accidents, analysts and some lawmakers believe that Trump's involvement in the Pentagon has worsened the navy's problems. A retired U.S. general revealed that whenever the navy scandal or commander made inconsistent remarks with the president, the White House reached out.