Original title: Philippine Minister of Education tested positive for new crown virus and is being quarantined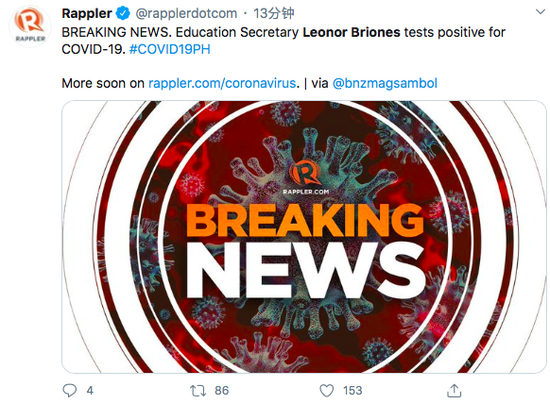 [Overseas.net April 9 | Full-time War Zone] Comprehensive ABS-CBN, Rappler and other Philippine media reports, Philippine Education Minister Leonor Brian (Leonor Briones) New Coronavirus test was positive. The report said that Brians is currently "asymptomatic" and continues to be quarantined.
This is the second new coronavirus test accepted by Brians. The Philippines '" Daily Inquiry "reported on March 17 that Brians was tested on March 16 and the result was negative. As a preventive measure, Brians began to isolate himself very early.
In the current epidemic, the Philippines has entered a state of health emergency. Among the participants in the two government meetings, some were found to be diagnosed with new coronary pneumonia, and several Philippine Ministry of Education officials and staff also segregated themselves. At the same time, some cabinet officials in the Philippines also received tests, including the Minister of Transportation, the Minister of Finance, etc., the results were negative. (Overseas Network / Li Meng)