Original title: US Survey: Why is the highest government economic aid in history difficult to implement?
In order to alleviate the severe damage to the US economy caused by the new coronary pneumonia epidemic, the US government has recently launched the largest ever economic aid plan of US $ 2 trillion. However, according to several New York Times, Associated Press, National Broadcasting Corporation and other US media reports, although the bailout application has been formally launched, on key issues such as which companies should get it, when they can get it, and even if they dare to get it, regardless of the US Enterprises large and small are facing difficult choices.
When will the loan be issued? Bank: "It's completely unclear" The
US government plans to lend US $ 350 billion in 2 trillion bailouts to small US businesses. According to a survey by the National Broadcasting Corporation of the United States, when the plan was launched the next day, the loan applications received by the banks were already flying. At this time, the US Small and Medium Business Administration, which is responsible for disbursing funds to various banks, was unable to process the application in time due to "technical failure".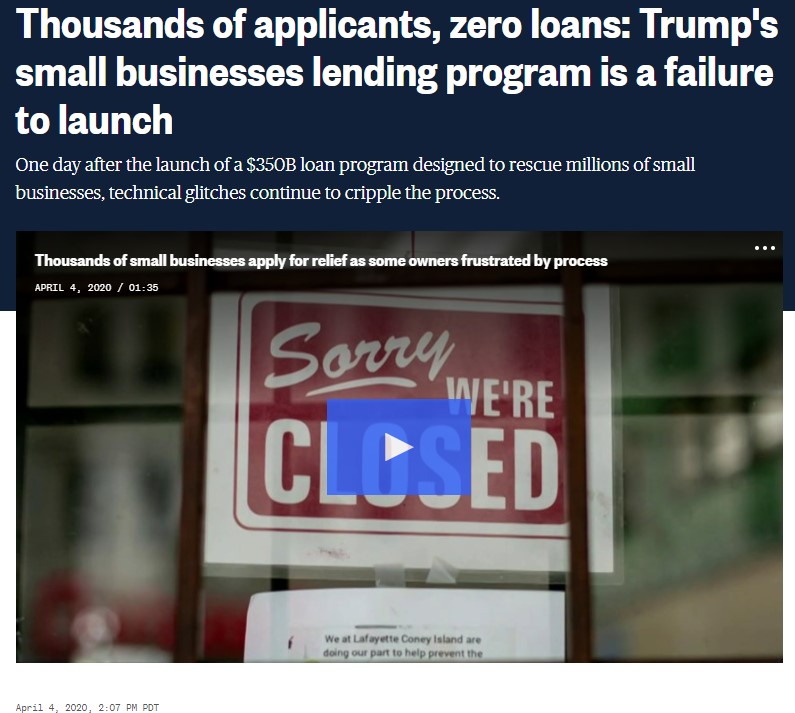 △ US media reports: Zero thousands of applications accepted: Trump small business loan program that is start to defeat
the article pointed out that the Authority is usually a The number of loans processed each year is around 60,000. However, "tens of thousands" of applications have poured in on the first day of the plan. As of last Saturday, the Authority processed 28,000 small business loans from banks. Application. However, the overloaded operation resulted in technical failures, and many banks indicated that they could not submit applications online.
The definition is too "broad", and real small businesses may be "squeezed out of the bureau."
The National Broadcasting Corporation article pointed out that small businesses in the US employ half of the labor force in the private market. Without capital injection, half of small businesses may not last for two weeks. However, it is still a big question mark as to how many such companies can really get a share from the 350 billion relief.
The Associated Press report reported that the definition of a "small enterprise" whose relief plan is too "broad" actually provided convenience for many large and medium-sized enterprises. However, the really difficult small enterprises did not have enough resources and strength to compete in this application. May be "extruded". Because according to regulations, as long as there are no more than 500 employees in each business branch, 350 billion loans for small businesses can also be allocated to major US restaurant chains, hotels, gyms, and even international fast food and hotel giants, and " Regardless of the company's turnover and whether it belongs to a large parent company ".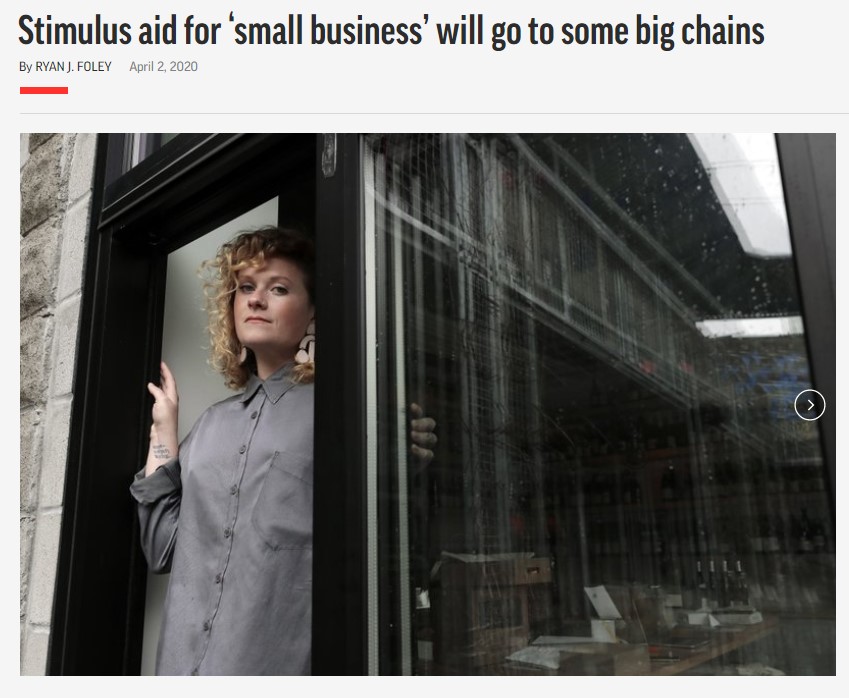 △ US media reports: the so-called "small business" stimulus money will be given to large chain companies
US Applepie Capital Chief Development Officer Ron Field In an interview with the Associated Press, Man said: "This is a hard fact for me to admit, but this relief is only $ 350 billion. Every big hotel and hotel chain will stare at this money. This is not It will be enough. "The
report also pointed out that self-employed people and independent contractors at the bottom of small businesses are not allowed to start applying. They must wait until after April 10 to act, but by that time, the bank will already be "overwhelmed."
Large companies are afraid of slashing their staff.
In addition to the loans for small businesses, the US government has also pledged a total of $ 17 billion in loans to large companies involved in national security. However, "The New York Times" pointed out that as to whether big companies dare to take it, it is "not easy to say" at present. The report pointed out that many large companies are quite cryptic about the loan terms and even feel "angry". The report quoted Boeing CEO David Calhoun as saying that if the airline believes that the government's terms are too tough, it may also raise funds through other means. Among the clauses, the most worrying one for large enterprises is that the Ministry of Finance can ask "recipient companies to exchange stocks for government support."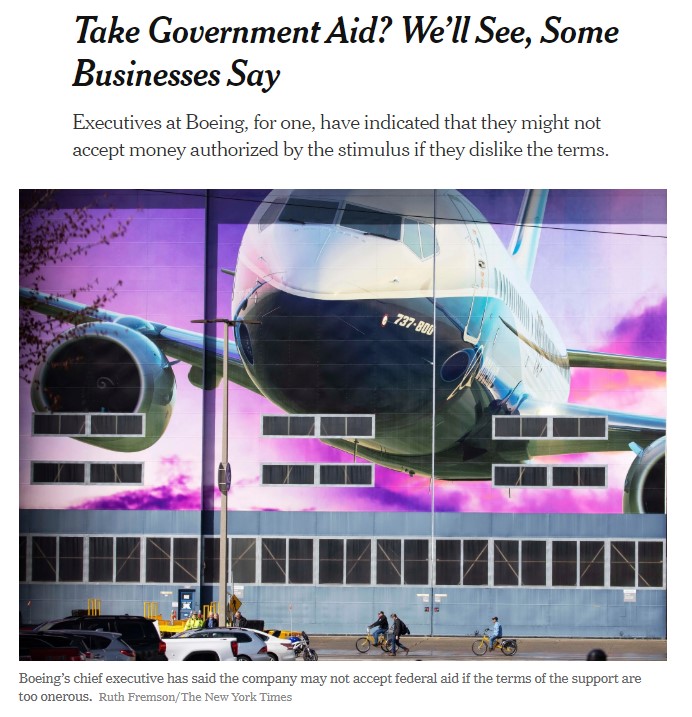 △ US media reports: take government assistance? The company said it was "not easy to say."
Prior to this, trade unions representing several major airlines in the United States had urged the Treasury to "do not exercise power and acquire equity in airlines." The statement pointed out that if the government insists on this, then the company's executives are likely to refuse to accept loans, and "resulting in more layoffs."
The New York Times quoted Moody 's report last week that if there were no loan assistance, the three major companies, American Airlines, Delta Air Lines and United Airlines, could only last for four to five months. Downsizing plan.