Original title: New York Governor 's brother: Easy self-healing misleading, I lost 12 pounds in 3 days
(Observer Network News) Last week, CNN host Chris Como was diagnosed with new coronary pneumonia, and He experienced a difficult week: he lost nearly 12 pounds in 3 days, trembling to knock off his teeth, and had hallucinations after a high fever. In this regard, the host of the "net red" said that the idea that new coronary pneumonia can easily heal itself is too misleading.
However, Como's condition has recently improved.
Comprehensive "New York Post" reported on the 6th, Como's wife said that although Como is still "very listless", but his condition has improved, the high fever has dropped in the past three days, and the oxygen content has remained at Normal levels, and X-rays taken on the 5th showed that his lungs had returned to normal.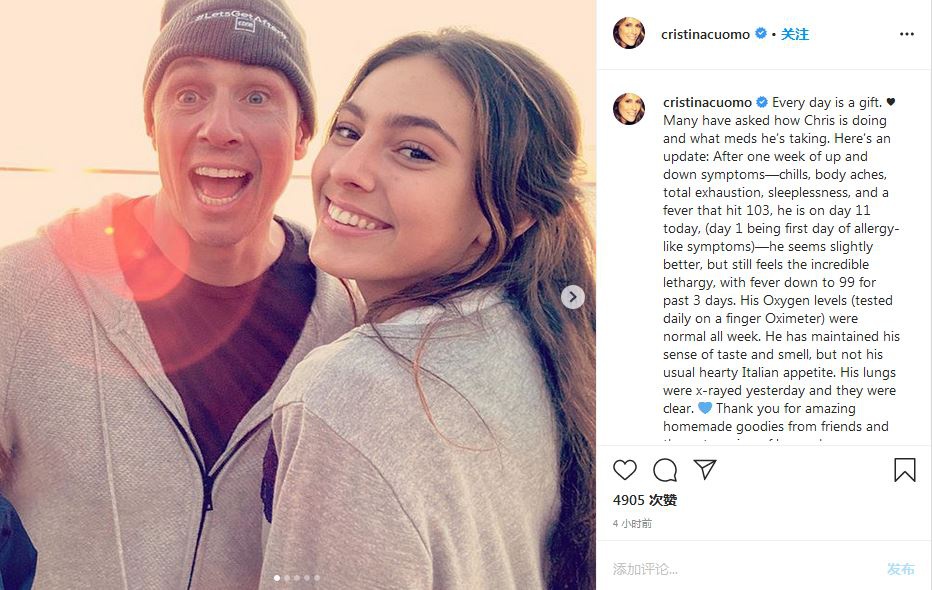 Como wife issued Instagram map
but according to Cuomo said himself, since the diagnosis, he had a very tough week. On the 31st of last month, Como said that he had been infected with the new coronavirus. He had been in contact with people who had been diagnosed with new corona pneumonia and had symptoms of fever, chills and shortness of breath after that. He claimed that he is "self-isolating in his basement" and will continue to host his programs there.
Subsequently, Como's symptoms became more severe. On the 1st, when accepting the CNN connection, he exposed his feelings of new coronary pneumonia. "I have never experienced any high fever like this. My body is painful and trembling, but I can't do anything about it." At the same time, he also admitted that because of the trembling too much, he knocked off one of his teeth.
Como said that because of the high fever, he even had hallucinations and dreamed of his dead father.
On the 2nd, he continued to emphasize the severity of the new coronary pneumonia in the online program. "Unless you are lucky enough, unbelievably and incredibly lucky, some people have high fevers of 38 degrees and 39 degrees for 8 days, 10 days and 12 days. I just want to tell you what kind of suffering patients suffer."
" I 'm not trying to make you feel panic. I 'm just trying to calm everyone down. I lost 13 pounds (about 12 pounds) in three days. I 'm a big guy. At the beginning I had 208 pounds. My wife is now making food for me So I 'm not lacking in nutrition now. I 've been eating, drinking, and drinking. It 's the disease that keeps me sweating. "
Finally, he refuted the view that" new coronary pneumonia "can easily get through:" 80% of people can heal themselves, yes. That's it. But if you think you can get through it easily and don't care about it, it is really misleading. "
Como is 49 years old and is the host of CNN's evening show" Como Prime Time ". Since the outbreak of the new crown epidemic in the United States, he has repeatedly connected his brother and Governor of New York State Andrew Como. In the program on March 16, Andrew once called Chris "the second favorite son of mom". In the 30th program, Chris once asked Andrew "whether he will run for president" seven times and got the latter's denial of seven consecutive companies.