Original title: New York City Park will bury the dead body of the new crown pneumonia? The mayor responded that the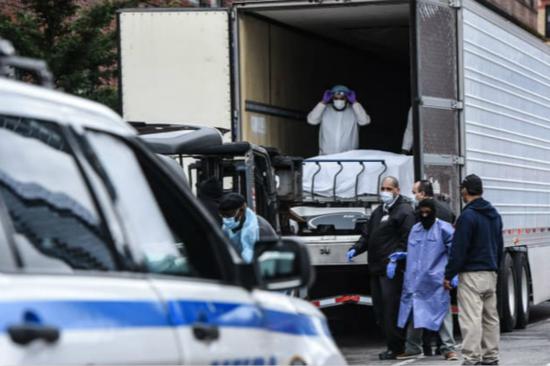 picture shows New York medical workers (Picture: Getty)
[Overseas Network April 7 | Wartime Epidemic Time Zone] Local time on the 6th, New York City Council Health Committee Chairman Mark Levine said in a tweet that the New York City Park will be used to temporarily bury the remains of the deceased with new crown pneumonia. As soon as the tweet came out, it immediately attracted the attention of the American media. On the same day, New York Mayor Bai Sihao expressed his position.
According to the US CNBC report, on the 6th local time, Bai Sihao said that New York City is currently preparing to bury the dead body of the new crown pneumonia on public land until the city 's mortuary and cemetery can bear the rapidly increasing number of deaths.
"If we need temporary burial to survive the crisis and difficulties, then we will collaborate with each family and make appropriate arrangements, and we have the ability to do so." Bai Sihao further denied that "New York Park handles the remains", saying, " Obviously, in history we have used Hart Island (to bury the body). "
Hart Island is located in the northeastern part of the Bronx District of New York City, where the remains of one million people are buried. According to New York City, Hart Island is a public cemetery, and the Bureau of Correctional Services has managed the burials in the area for the past 150 years. "We will strive to give each family dignity and respect, and now the focus is on trying to get through this crisis." Bai Sihao emphasized that New York City has the ability to deal with it.
Just as Bai Sihao made this remark, Levine, who published the news, also clarified on Twitter that if the mortality rate drops enough, there is no need for a plan to bury the body in New York Park, "Today , I talked to many people in the city government, and I was assured that there would not be any burials in New York City parks. Everyone clearly pointed out that if needed, (burial) would be on Hart Island. "(Overseas / Li Meng)