Original title: India with 1.3 billion people has reached the brink of an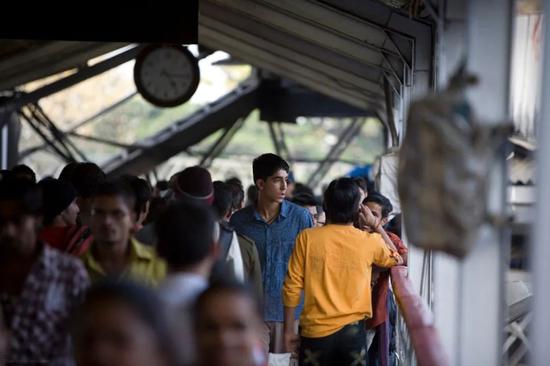 Under the epidemic of
, what should Indians do? / "Slumdog Millionaire" In the
face of the confirmed cases and death curve that began to climb, in addition to praying and firming confidence, India obviously needs to come up with more effective measures.
Since the emergence of the first imported neopneumonia case at the end of January, India has been the focus of attention in the development of the global epidemic.
With a little pre-judgment, you can see that the 1.3 billion people here, the huge gap between the rich and the poor, and the complex ethnic and religious beliefs will all magnify the difficulty of epidemic prevention and control.
On March 23, Mike Ryan, director of the World Health Organization's emergency plan, said that in a sense, whether humans can achieve a decisive victory against the new crown epidemic will depend largely on India's ability to control the virus.
On the same night, Indian Prime Minister Modi issued a televised speech, announcing that from zero on the 24th, the country will enter a 21-day blockade period.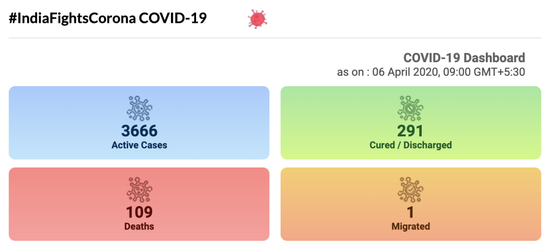 As of April 6, data from the Indian government website showed that there were 3666 cases of local infections and 109 deaths.
Compared with the epidemic figures in Europe and the United States, the situation in India seems to be considerable. However, in many media interviews and reports, experts pointed out that the number of confirmed diagnoses in India is seriously underestimated, because so far, India is still one of the countries with the least virus detection in the world.
At 9 o'clock on the evening of April 5, at the call of Prime Minister Modi, the Indian people who were in the national blockade staged a 9-minute candle lighting event. Gan Luting, a teacher at Yunnan University for Nationalities and now a Ph.D. student at the University of Delhi, photographed the scene of a neighbor 's lighting of a hole for New Weekly.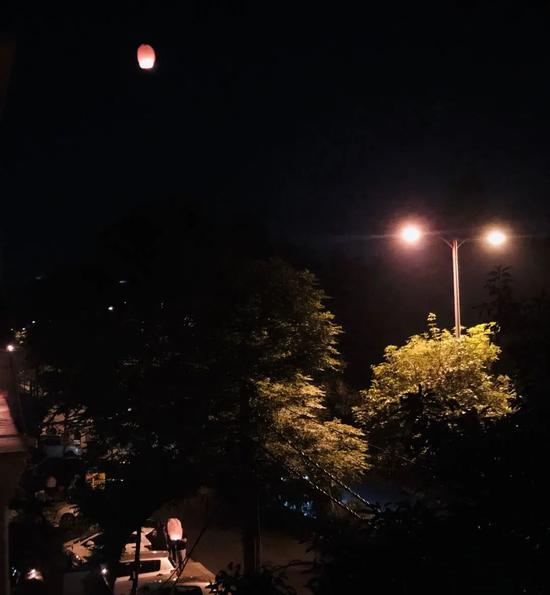 New Delhi, India, during the candle
event, some residents put up Kong Ming lanterns. / Photo courtesy of Gan Luting
Prior to this, Modi addressed the people of the country: "In the darkness of the virus spread, we must continue to move towards the light and hope." Gan Luting also explained to us that the Indian epic "Ramayan 》 The influence of local people believes that the light brought by candles can help them overcome darkness and difficulties.
Although this action does not have any real meaning to fight the epidemic, it seems that through the candlelight of the warm colors, everyone can step out of their own island and return to the common society.
But in the face of the confirmed cases and the number of deaths that began to climb, in addition to praying and firming confidence, India clearly needs to come up with more effective measures.
"India may be proof that humans are not ready for COVID-19." coronavirus
On January 30, the first confirmed case of new infection pneumonia appeared in Kerala, India. The patient was a medical student returning from Wuhan. According to reports, there are about 500 Indian students in Wuhan, most of whom are studying medicine.
Because several of the initially diagnosed international students have been cured and discharged, and the early cases were all imported from overseas travel, India has only cut off the links with other severely affected areas in the world.
At the beginning of February, India suspended the application of Chinese e-visas by Chinese citizens, and subsequently announced that all types of visas were temporarily invalidated. In March, citizens of countries such as Italy and Iran were also banned from entering.
At the same time, India also established a 24-hour global hotline and mailbox to respond to expatriates, and sent aircraft and medical teams to Italy and Iran to assist local expatriates to screen for viruses and evacuate as soon as possible.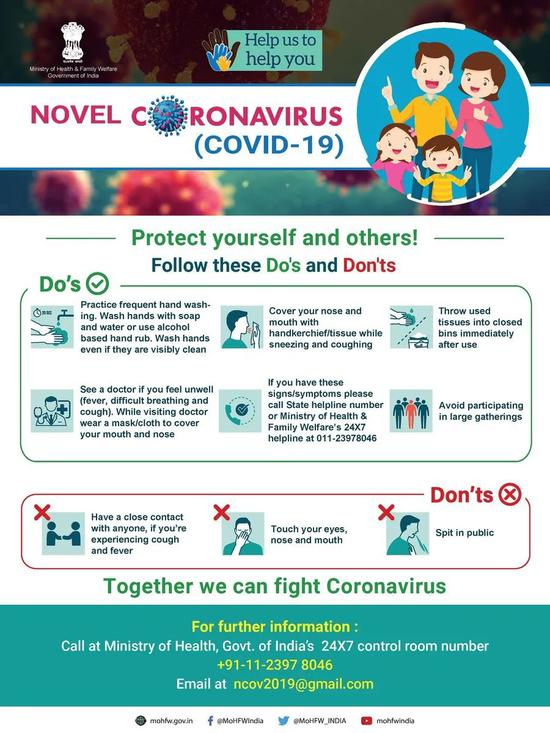 Domestically, on March 10, Prime Minister Modi set an example and called on everyone to reduce the gathering and cancel the traditional festival of Holi, the Hindu festival.
From March 10th to 12th, Baldev Singh returned to Punjab from Italy to participate in the local Sikh tens of thousands celebration, and was subsequently diagnosed with new coronary pneumonia. Singh later led to the isolation of 40,000 people in 20 local villages and 27 people Being infected, he also became India's first super communicator.
At the same time, in a mosque in southern Delhi, believers from India and around the world held a rally for about half a month. It is reported that an Indonesian believer brought the source of transmission, and later confirmed cases in many parts of India have been confirmed to be related to the rally.
On March 13, the government of the Delhi Capital Territory announced that it was strictly prohibited to gather more than 200 people.
On the same day, the Indian health department issued a statement saying that COVID-19 "is not a public health emergency for India". Officials also told reporters that "we don't have to panic too much".

The official Twitter of the Indian media, the fewer words, the more shocking the information.
In mid-March, officials from the World Health Organization told global media reporters in Geneva: "All we need to convey to all countries is this message-test, test, test."
India apparently did not really receive this message.
On the one hand, officials of the local health department hold different opinions.
According to the Indian Medical Research Council, India has so far only used 38% of its testing capabilities. As of April 3, a total of 66,000 people had been tested for viruses.
Balram Bhargava, director of the Indian Medical Research Council, believes that the WHO 's recommendations are too early for India. Once a large-scale virus test is taken, it will cause more panic among the people.
The health department also gave a piece of "evidence": In the first half of March, 826 samples collected from patients with respiratory diseases in 50 public hospitals in India showed that they were negative for the new coronavirus test. In addition, the hospital has not yet reported to them the surge in admissions for respiratory diseases.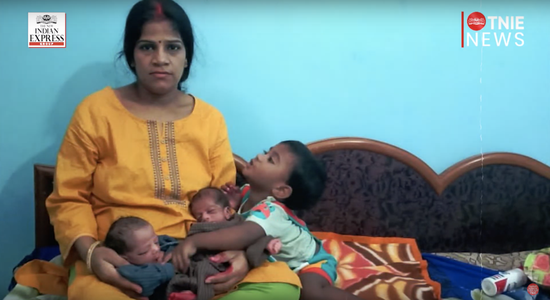 A pair of twins born during the epidemic were named "Corona" and "Covid" (the new crown disease). / YouTube screenshot
On the other hand, India's own detection capabilities are also limited.
In proportion, only 18 of every million people in this country with a population of 1.3 billion have been tested. Only those who have been to a high-risk country, have a history of contact with a confirmed case, or are a doctor in a hospital that has admitted a patient with severe respiratory disease are in the category of "these 18 people" and can go to a public hospital for free testing. Others going to a private hospital for self-testing must pay a fee of Rs 4,500.
According to data reported by the BBC on March 20, Indian laboratories are able to provide virus test results within 6 hours, and one laboratory can test 90 samples per day. Next, this number can be doubled. If about 50 public laboratories are devoted to testing, India 's testing equipment will be increased to 122, giving about 8,000 results per day.
Former Minister of Health K Sujatha Rao told the BBC reporter, "I know that large-scale testing is not a solution to the problem, but the tests we conducted seem to be too limited. In order to limit the spread of the virus in the community, it is necessary to increase the detection range. of".
As far as India is concerned, those areas that are "quiet" are really frightening compared to areas where the virus is outbreak. A new report jointly published by three American universities and the Delhi School of Economics shows that in mid-May, India may be infected with as many as 1.3 million new coronaviruses.
Commenting on the current global epidemic, the British Guardian pointed out that every country in the world must personally pay for the wrong path they took when they first encountered the virus. India may be proof that humans are not ready for COVID-19.
It is somewhat gratifying that Kerala, which was hit hard by the virus, has the best public health system in India and is one of the most tested areas, reflecting relatively real data.
There, Covid-19's case fatality rate is currently only 0.7%.
Suddenly, , the most stringent policy of
India 's 21-day closure policy officially came into effect at 0:00 on March 24 closure.
The streets became empty, the originally busy railways and stations also quieted down, and people were isolated at home. At every distance on the street, you can see the checkpoints set by the police, and only those with relevant certificates or engaged in basic services can pass.
This strictest national policy in history shows India's determination to fight the virus. To this end, India also used the "Epidemiology Law" enacted in 1897 during the British colonial period. The bill was set up for the plague that year, allowing local state governments to take unconventional measures to prevent and control, and law enforcement personnel can enjoy legal immunity during this period.
A Guardian reporter commented bluntly, "The first dawn after the closure of the country, another tragedy will follow."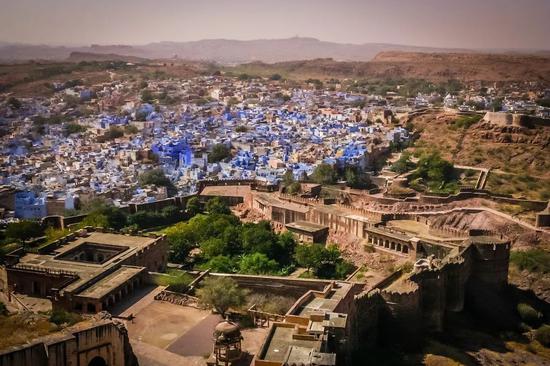 Blue City, Jodhpur, India. / Graphic Creative
Modern India is not a place for social isolation. For the local middle-class and wealthy families, isolation is possible. They can still enjoy the food that has been stored for a long time in their own apartment or detached house, and watch the Mahabharata that was broadcast hundreds of times on TV. And "Ramayana", using technology products to achieve home office, class …
But for the remaining poor, isolation is something that cannot be achieved physically or economically.
Take Mumbai as an example. One sixth of the city 's population lives in slums. According to the latest CFS research, in Dharavi, one of the slums in Mumbai, an average of 1440 people share a toilet. According to a survey by the Mumbai Municipal Corporation, 78% of the toilets in the slums lack water supply. Compared with humans, such an environment seems to be more suitable for the survival of viruses.
The Indian government launched the "Clean India Mission" in 2014 to improve basic sanitation facilities. The project 's implementing agency claims that 100% of Indian households can now use toilets. It is clear that families living in slums are excluded.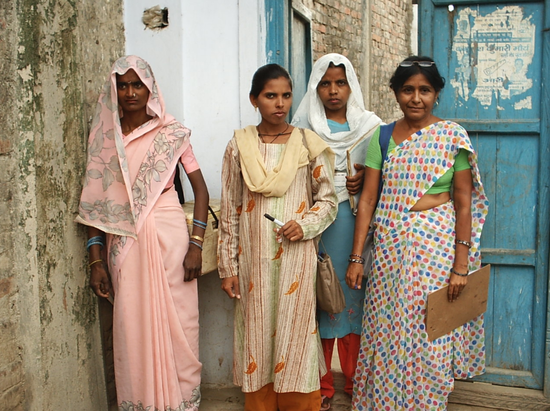 Female female medical staff in India. In 2014, polio was completely eliminated here.
Most of these Indians living in slums came from rural areas to work in big cities. They use a huge number to support the daily operation of a city. Construction workers, mobile phone manufacturing workers, hairdressers, cooks, waiters, takeaways, toilet cleaners …
After dark, these are distributed in various industries. Migrant workers will return to their crowded homes in slums. Over the course of a day, they can receive daily salaries ranging from 138 to 449 rupees (10-41 yuan).
The policy of closing the country cut off their sources of income, and some people had deposits of less than 100 yuan. Forced by the pressure of life and panic about the virus, going home has become their only choice, and many big cities in India have experienced the return of migrant workers. Overnight, they changed from poor to exile.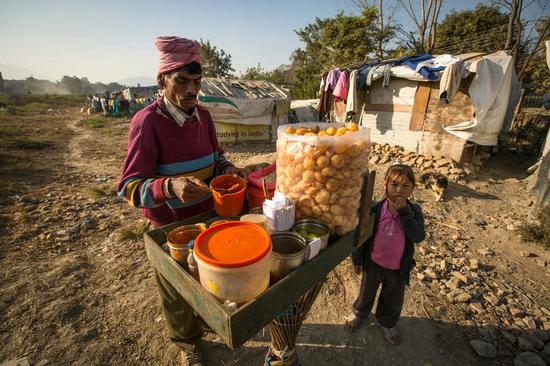 Poor people in Tripsevo District. / Tu Chong Creative
At the end of March, a large-scale return of migrant workers occurred in Delhi. After hearing the rumors of "Uttar Pradesh organization returning home", a large number of workers took the bus designated by Delhi to Uttar Pradesh. However, when the workers arrived but did not see the rumored Uttar Pradesh return vehicles, they could only choose to return home on foot.
Kumar is a member of the trekking army. In an interview with a foreign media reporter, he, his wife and 10-year-old daughter have walked more than 40 kilometers. To return to the village, they still have 260 kilometers to travel.
There are people who can only rely on cookies and smoking inferior cigarettes to feed their hunger. "Before the virus attacks us, we may have died."
These words are not alarmist. A 39-year-old Indian man felt a sudden chest pain 300 kilometers from Delhi to Madhya Pradesh and died. Another 62-year-old Gujarat man was killed on the way home from the hospital. Four migrant workers were also hit by a truck on the way back from Rajasthan to Gujarat at night.
The Indian Express reported on this unprecedented sensational scene with "India is walking home".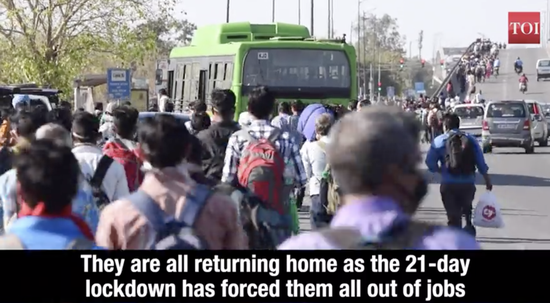 The flow of people is likely to exacerbate the spread of the epidemic and also bring more unknown risks to India's relatively backward rural areas, which is obviously not expected by the Modi government.
As the situation worsened, the government hurriedly arranged transportation, accommodation and food for them. But it was also pointed out that this remedy would in turn cause a new nightmare-tens of thousands of workers crowded each other at the Delhi bus terminal, waiting for their vehicles to arrive.
Delhi Chief Minister Arvind Kejriwal urged workers not to leave the capital. He asked them, "Stay where they are, because gathering means infection."
Rajesh Parikh, director of the Jaslok Hospital in Mumbai, said: "This is our darkest moment. They built our houses, factories, and countries with bare hands, but now we have abandoned them."
Prime Minister Modi publicly apologized for his country, but he also Said: "To win this battle, we must take tough measures."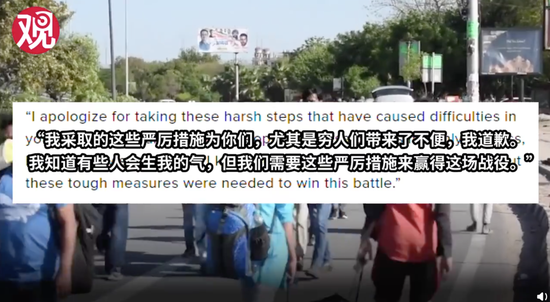 Just a month ago, the Modi government also quickly withdrew all overseas Chinese who wanted to go home, but for tens of millions of people in China want to return There is not much he can do for the family. The government has prepared $ 22 billion in relief funds for the poor, and it will be distributed in cash.
The central government also asked the local state government to prevent the migration of migrant workers, provide basic accommodation for workers, and quarantine the returned workers for 14 days. However, according to the Hindustan Times, the central government has limited authority in front of the local government and they can only directly control Only the police system directly under the Ministry of the Interior.
Under strict blockade and forced isolation policies, videos of many police officers admonishing offenders with sticks, forced exposure, and forced push-ups appeared on the Internet for a time. Some local religious forces also violently clashed with the police, causing casualties.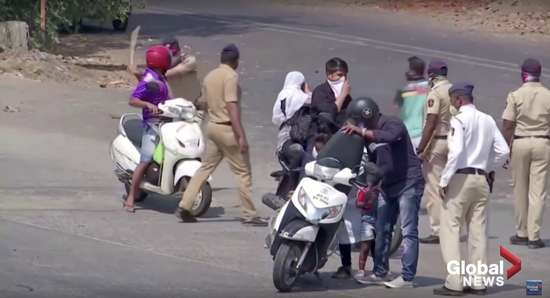 For some businessmen who choose to stay in the city to engage in transportation and retail, the sudden closure of the city also makes them suddenly at a loss.
The Shah brothers are fruit sellers on the outskirts of Delhi. On the evening of the 24th, they wholesale fruit to the market as usual, but were beaten by the police. But after only a day of hiding, the brothers ran back to the market, and they told the BBC reporter that because they still have a family to feed, the people in isolation also need their supplies. They just want a pass that is allowed to complete their work, "People can't beat those who feed you."
Small vendors like the Shah brothers supported the basic supplies of small towns and villages in India. Closing the city meant the supply chain collapsed.
Online stores like Amazon have also been blocked by checkpoints. An online food app also reported that due to the closure of the city, they had to dump 15,000 litres of milk and 10,000 kg of vegetables.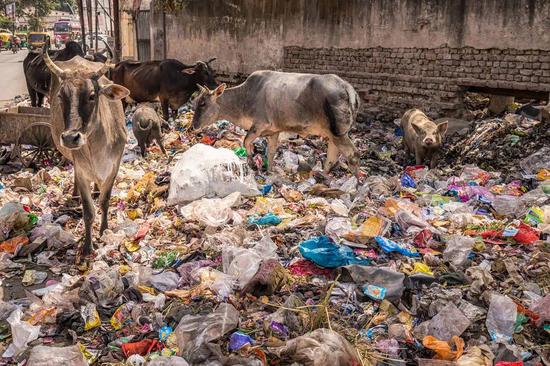 Rajasthan, India, cattle are eating garbage in a dirty community. / Graph insect creativity
Many media reports have raised doubts whether India has created a humanitarian crisis before the outbreak of infectious diseases.
A BBC reporter of Indian descent believes that the Kingdom of China may just put on a deceptive coat for the chaos that is constantly fermenting.
However, some surveys have shown that if the country is not closed, by the end of July, there will be 300-500 million people infected throughout India, of which 30-50 million people will die as a result.
"The key lies in the next three weeks. Can we quickly build a targeted detection and treatment system, and we cannot waste this blockade." Gagandeep Kang, an authoritative researcher in the field of infectious diseases in India, pointed out. Use this time to track hidden infected persons, or become the key to the war epidemic in India.
Faced with the epidemic, what is India's confidence?
Against the virus, India's resources are very limited.
CNN compares the population density of Indian slums Dharavi and New York, where a large number of people live in unsanitary environments. This slum, with a population density of 280,000 people per square kilometer, has experienced infections some time ago.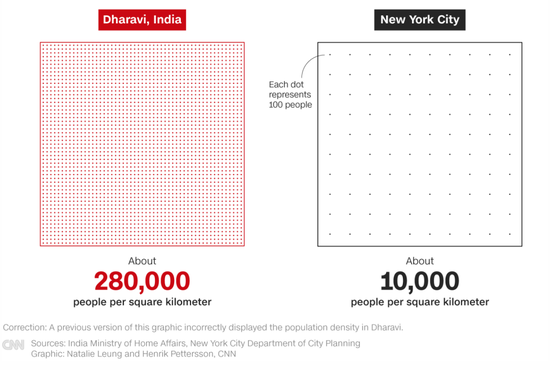 In India, an average of 0.7 beds per 1,000 people, in Italy this figure is 3.4, the United States is 2.9; India has 8 doctors per 10,000 people, in Italy this number is 41, South Korea is 71. On weekdays, most Indians with flu symptoms will not go to the doctor, but will treat themselves or go to the pharmacy.
A more exaggerated figure is that the number of ventilators throughout India is no more than 50,000.
It used to be one of the fastest growing economies in the world, but last year, the growth rate slowed to 4.7%, the lowest level in six years. Last year's unemployment rate also reached a peak in 45 years. The industrial output value of the eight core sectors fell by 5.2%, the worst in 14 years.
India 's expenditure on health care only accounts for 1.28% of GDP, which also means that if the virus is fully outbreak, the situation is unimaginable.
In an interview with New Weekly, Ganlu Ting, who has lived in India for 4 years, pointed out that "India has a high level of pharmaceuticals, especially in generic drugs, and India is also one of the countries where the coronavirus vaccine strains have been isolated early. The overall medical level in India The facilities and facilities are relatively limited, but due to the fact that the number of local diagnoses is still relatively small, there has not been a medical run-up problem. At the same time, the Indian government has begun to modify trains to prepare medical rooms. "
She is worried that if future cases continue to grow, India will Like other countries, the medical system is difficult to support the operation.
The Guardian interviewed doctors across India. They all said that medical staff lacked proper protective equipment, and even included basic masks. "This means that patients with new symptoms of coronary disease may be rejected."
Doctors in Kolkata put on plastic raincoats to test patients, while a doctor in a Delhi hospital wore a motorcycle helmet.
In remote rural areas, the disease has not yet erupted. According to statistics, the main destinations of migrant workers returning home are Uttar Pradesh, Bihar, West Bengal, Rajasthan and Orissa.
The overall medical infrastructure conditions in these areas are relatively poor. For example, government hospitals in Bihar have an average bed for every 8645 people; the average doctor-patient ratio in Uttar Pradesh is as high as 1: 3692. If the epidemic spreads, local medical institutions are simply unable to respond.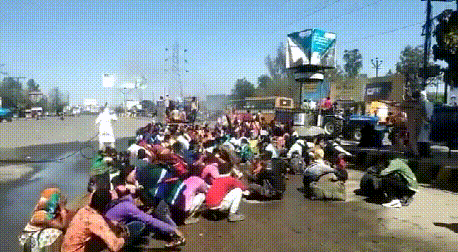 A worker in protective clothing sprayed high-pressure chlorine water to the people, claiming to disinfect them.
"#NoMeat_NoCoronaVirus" on Twitter has become a hot topic frequently tweeted by Indians. The initiator claimed that only people who eat meat will be infected with the virus. In order to curb the rumors and prevent the decline in sales, some people in the poultry industry held a chicken celebration in Hyderabad, and the local senior minister personally tried it to show their support.
Including Weibo's "drinking cow urine" and "smearing cow dung" anti-virus, etc., was initiated by several local politicians and has no scientific basis. Although WHO officials have denounced this rumored practice, "cow worship" has gone from a religious culture to India's local industrial chain.
For example, a company that sells hand sanitizers sells products that are "non-alcoholic" and "distilled water obtained from the cow urine of local cattle." During the epidemic, keywords such as "restricted purchase" and "out of stock" appeared on the online shopping page of the hand sanitizer.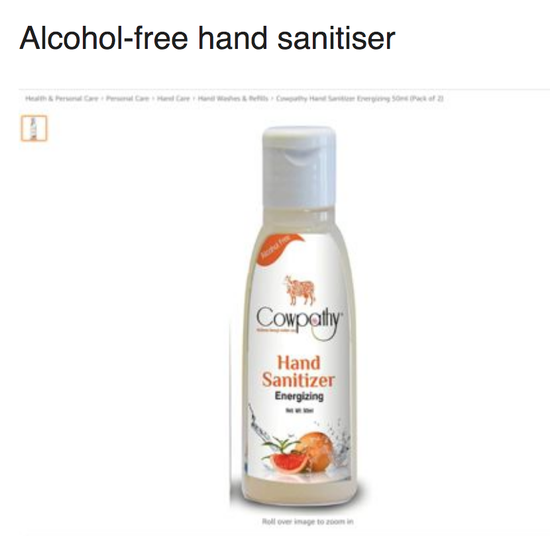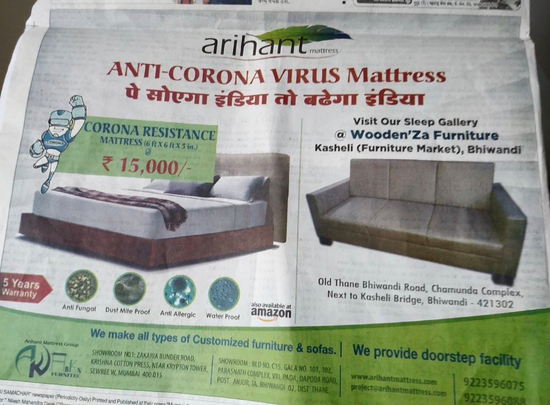 Anti-virus mattresses came into being.
According to the BBC report, medical workers in many parts of India have been attacked, expelled by communities and neighbors.
A video on Twitter captured the scene of a thug throwing stones at two female doctors in protective suits in Indore, Madhya Pradesh, India.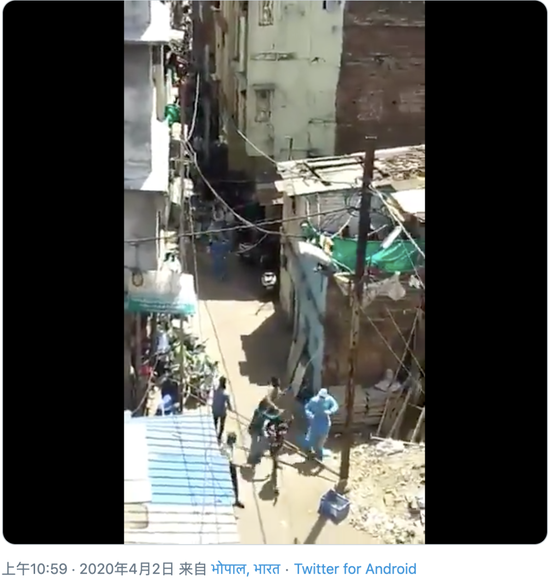 A BBC reporter was informed in an interview that two doctors were attacked on the way to a densely populated area to examine suspected cases, and seven related personnel were arrested.
In a hospital in northern India, quarantined suspected cases insulted medical staff in unpleasant language, "some people will walk around naked to harass female doctors and nurses."
The local government of Delhi asked the police to provide more protection for medical staff.
On the one hand, there is a medical resource that is seriously unbalanced with the population base, on the other hand, various rumors are spreading, and medical incidents are appearing, which makes it difficult to prevent and control viruses in India.
Perhaps it is one of the issues that must be resolved to realize the attitude of the people. On March 22, the early stage of the outbreak, Indian Prime Minister Modi spoke on television and asked the people to come to their doors, windows or balconies at 5 that night. Applaud and ring the bell for 5 minutes for medical and grassroots workers who are fighting on the front line.
Gan Luting also told us that at 5 pm, many of her neighbors applauded on time, or knocked pots and pans, "there was a thunderstorm nearby, which lasted for nearly an hour."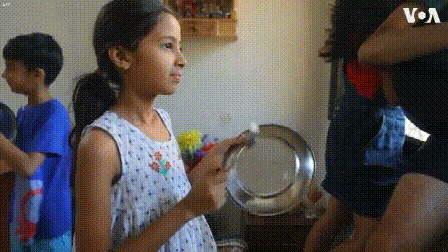 At present, everyone is concerned about what action India will take after the 21-day comprehensive blockade ends.
Will the policy of closing the country be moderately relaxed? Or will they continue to blockade the next stage because they find that the number of infected people continues to increase?
Farzad Mostashari, former coordinator of the US Department of Health and Human Services, believes that "politics, policies, and data will determine people's future direction."