Original title: British NHS doctor: Johnson may be using "non-invasive ventilation" to support breathing.
At 7 pm local time on the 6th, British Prime Minister Johnson was transferred to the Intensive Care Unit (ICU) due to the deterioration of the new coronary pneumonia. A doctor who has worked in the UK for many years said that Johnson may not have used a respirator, and may have used a type of "non-invasive ventilation."
According to a previous report by the BBC, the British Prime Minister's Office issued a statement on the 6th that said that night, Johnson's condition deteriorated, and he was transferred to the intensive care unit of St Thomas Hospital in London on the recommendation of the medical team.
Liu Zheyi, a doctor who has worked in the NHS in the UK for 14 years, told Peng Mei News (www.thepaper.cn) that doctors usually choose to let patients enter the intensive care unit only when they need to use a respirator. Boris 's condition is currently serious. But I do n't know if I have started using a respirator. "It may be that CPAP (Continuous Positive Airway Pressure) (CPAP) is a type of non-invasive ventilation (Non Invasive Ventilation).
It is understood that non-invasive ventilation refers to Positive pressure ventilation of the ventilator connected to the patient through the mouth or nasal mask does not require the establishment of an invasive artificial airway. In the early days, it was mainly used to assist in the treatment of sleep respiratory syndrome. Over the past 10 years, this technology has been widely used to treat a variety of emergency , Chronic respiratory failure. When the patient has abnormal respiratory mechanics, respiratory muscle fatigue and other problems, and the sputum drainage problem is relatively minor, it is the best time to apply noninvasive ventilation. Some studies have shown that noninvasive ventilation support can reduce death and withdrawal Failure, pneumonia, time in the intensive care unit and length of hospital stay.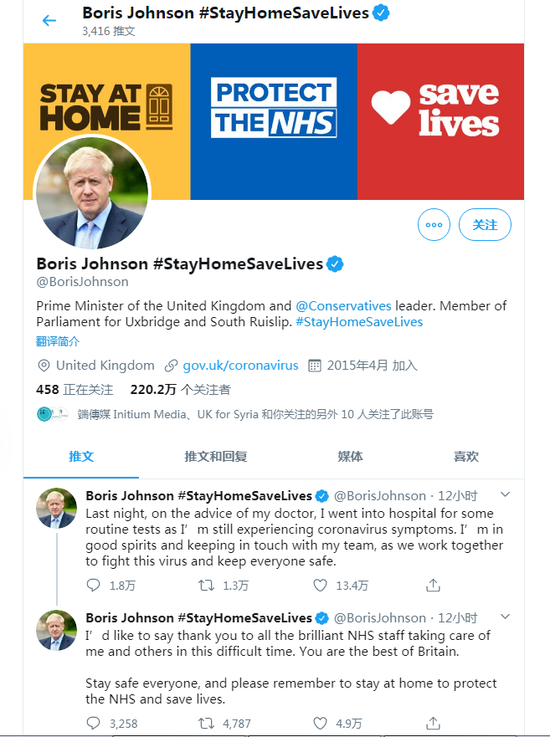 Johnson Twitter
According to the United States Cable News Network (CNN) reported that Johnson is 55 years old and was diagnosed with the new coronavirus on March 27, and has been working from home. Since there are still "persistent symptoms" and fever after 10 days of isolation, Johnson was 4 On the evening of May 5th, he was first sent to a London hospital for "routine examination." Officials of the British Prime Minister's Office on the 5th tried to downplay the severity of Johnson's condition, saying that Johnson was taking preventive measures on the advice of a doctor, not emergency hospitalization. According to media reports such as the British "Times", Johnson received "oxygen therapy" after being hospitalized. Just before he was sent to the intensive care unit on the 6th, Boris Johnson also tweeted at the hospital that he currently " "I'm in good spirits" and maintain contact with the government team. According to a spokesman for the prime minister, Johnson spent a "comfortable" night in the hospital, but he was unwilling to comment on Johnson's report on oxygen inhalation. In addition, Johnson has asked British diplomacy Minister Dominique Rab acted as prime minister under "necessary circumstances."
According to the latest data released by the British Ministry of Health and Social Security on the 6th, Add a new British crown pneumonia in patients with 3802 cases diagnosed, patients achieved a total of 51,608 cases In addition, in the past 24 hours, add new British crown died of pneumonia in patients with 439 cases, the cumulative current total of 5373 cases of death.