Original title: Full text of Queen 's speech: The good days will come back, we will meet again
[Global Network Comprehensive Report] On the evening of the 5th local time, Queen Elizabeth II delivered a special speech to the United Kingdom and the Commonwealth countries on TV and praised Those who have worked in key positions, thank the people for staying at home following the government's regulations, and firmly believe that the anti-epidemic will be successful. According to the video and the full text of the speech released on the WeChat public account "British Embassy in China" on the 6th, the Queen of England said, "Although we may have to endure more suffering, the good days will eventually come back: we will be with friends again Together; we will meet with our families again; we will meet again. "The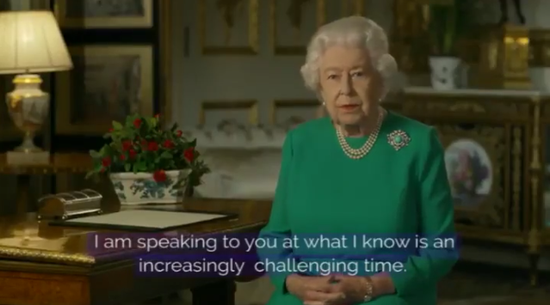 following is the full text of the Queen's speech:
I know that we are facing a period of increasing challenges at this moment. A time when our country 's lives were hit: it brought sorrow to people, economic hardship for many people, and forced tremendous changes in the daily lives of all of us.
I would like to thank everyone who is struggling on the front line of the NHS in the national medical service system, as well as nursing staff and people who maintain the necessary work responsibilities. They leave their homes and work selflessly day after day, supporting our daily life. I believe that all the people are as grateful as you are for your dedication, and your hard work every minute will take us one step further from returning to normal life.
I would also like to thank those who stayed at home in response to the call. Your approach has helped protect vulnerable groups and avoided the pain of losing families in many families. We will work together to deal with the new crown pneumonia epidemic, and I want to assure you that if we are united and unswerving, then we will definitely overcome the epidemic.
I hope that in the near future, everyone will be proud of today's efforts to fight the epidemic. Our juniors will say that this generation of British is as strong as ever. Self-discipline, a humorous character and compassion still cast the country 's qualities. We are proud of ourselves not only in the past, but also in our present and future.
When the British people collectively applaud the medical staff and the workers who hold on to important positions, the expression of national spirit will be remembered; the rainbow drawn by the children will also be the most representative symbol.
In the Commonwealth and around the world, we have seen heart-warming stories of people concentrating on helping each other—delivering food and medicine, caring and greeting neighbors, or transforming businesses to help fight the disease.
Although self-isolation is sometimes painful, people with or without faith may find that this is an opportunity for us to slow down and reflect in prayer or meditation.
This reminded me of the scene in 1940. I gave a speech for the first time with the help of my sister. At that time, we were children and we were here at Windsor Castle, speaking to the children who were evacuated from their homes because of safety. Today, many people will once again feel the pain of separation from loved ones. But at the moment, it is the same as at that time, and we know that this is correct.
Although we have faced various challenges before, this time the challenges are different. Now, we are working together with all countries in the world, using the most advanced science and our love, to fight the epidemic together. We will win, and success will belong to each of us.
We should be comforted. Although we may have to endure more suffering, the good days will eventually come back: we will be with friends again; we will be with our family again; we will meet again.
But now, I extend my most sincere thanks and blessings to everyone.
(The above full text comes from WeChat official account "British Embassy in China")