Original title: New York City has more than 1500 police diagnosed, and shops have reinforced wooden boards to help themselves
. The situation in New York City, the world's largest city with the newest pneumonia epidemic, is still grim. As of the 5th local time, a total of 63,306 cases were diagnosed early and 2,624 cases were dead. In this city of 8 million people, more than 1,500 police officers have been diagnosed, and nearly 6,500 people have taken sick leave, which is equivalent to one out of every six police officers absent from work.
Recently, luxury shops in downtown New York have installed wooden boards outside the shops to deal with possible social disorder and robbery. Police data show that from the state of emergency on March 12 to the end of the month, there were 254 robberies against commercial shops in the city, an increase of 75% over the same period last year. However, the number of other criminal cases is declining.
New York Police Department Chief Superintendent Monaghan wrote to the White House on Monday for help, saying that police officers are forced to patrol and perform tasks without protective equipment, facing the risk of infection and infection. On April 3, the Mayor of New York, Bai Sihao, authorized the police force to forcibly recruit private enterprises that hoard medical supplies, and called on Trump to recruit medical personnel and mobilize the army throughout the country to support New York and other epidemic-affected areas.
a Louis Vuitton store in a Soho, Manhattan, New York with wooden board attached from: The New York Times, based on
John Hope According to Kings University data, as of the morning of April 5, local time, the United States has cumulatively diagnosed 312,245 cases of new coronary pneumonia and 8503 deaths. Among them, New York, as the hardest hit area, was diagnosed with 63306 cases and 2624 cases died of illness.
As the nation 's largest city, New York City, with a population of 8 million, is maintained by a 36,000 police force. However, police chief Dermot Shea (Dermot Shea) revealed on the 2nd that 6,498 police officers have taken sick leave, equivalent to one-sixth of the total number. Including two sergeants and a deputy chief in charge of counter-terrorism operations, 1354 internal police officers and 169 civilian personnel were diagnosed with new coronary pneumonia.
In two jurisdictions in Manhattan, a third of police officers are absent this week. In response, the luxury shops here have recently installed wooden boards outside the shops to deal with possible social disorder and robbery.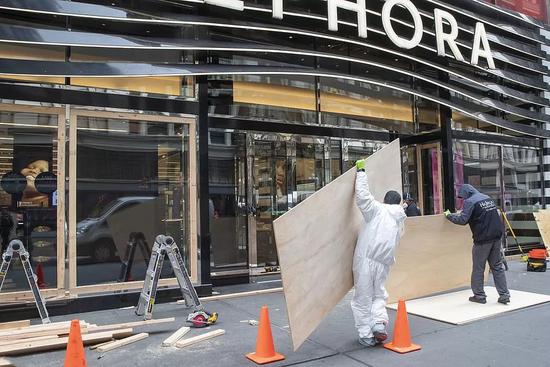 staff with luxury wooden window, door map from: The Associated Press the same below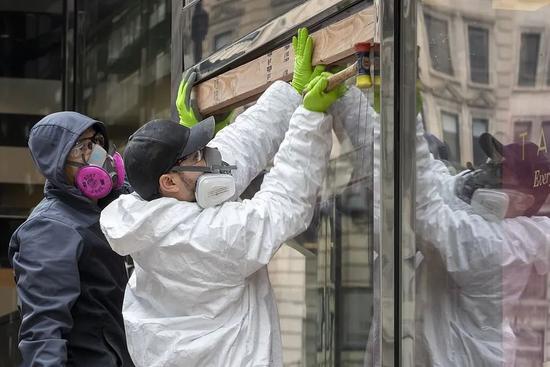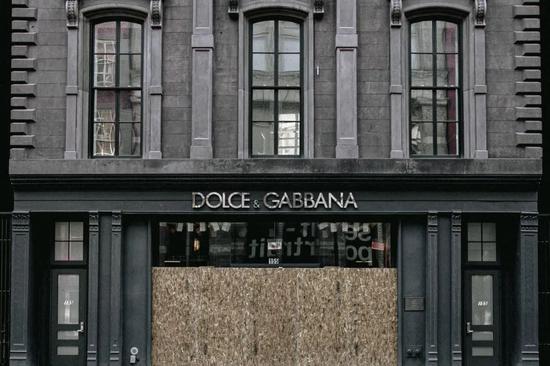 Manhattan Du Jia Ban Namen store "New York Times"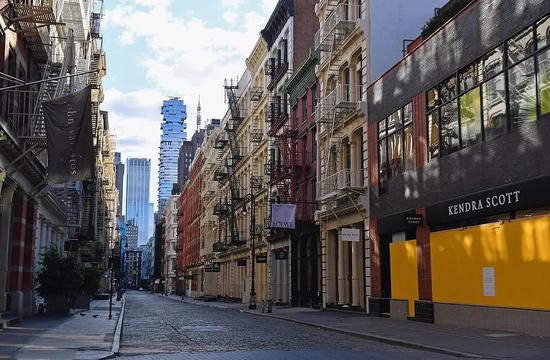 Manhattan Soho Pedestrian Street, very deserted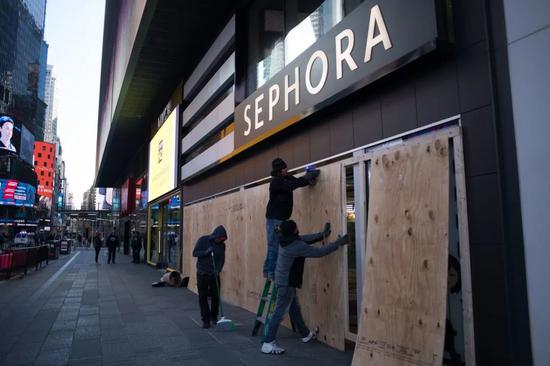 Times Square's Sephora store reinforced wood plan from: "Wall Street Daily "
, according to the New York police force, from March 12th mayor declared a state of emergency until March 31, the city's total of 254 robberies occurred for commercial shops, an increase of 75% over last year. There has been growth in all districts.
However, the number of various serious crimes (such as rape, murder, and assault) fell by 20% compared with last year, from 4,670 to 3,740. Correspondingly, more than 30 robberies involved supermarkets or convenience stores, a four-fold increase from last year. The number of robberies against restaurants has increased from 28 last year to 51.
On the other hand, the New York Post quoted law enforcement sources at the end of March as saying that tens of millions of dollars of illegal gambling income had been wiped out due to the cancellation of major sporting events, and the New York Mafia was hit by a "historical" blow.
On the 20th, New York Governor Como announced that all non-essential industries were suspended, and many retail stores were closed. Cosmetic brand Sephora sealed the windows of another store in Times Square and Manhattan. The company said in a statement, "Our goal is to have a chance to open the door and to ensure the best experience for consumers."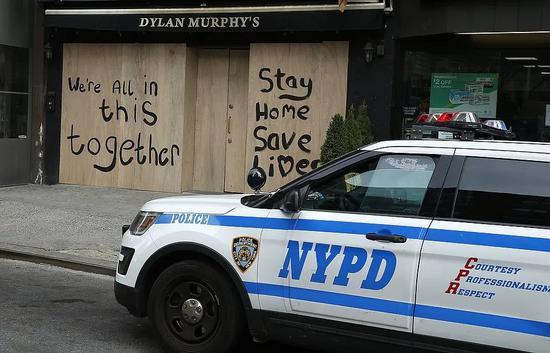 has The wooden board outside the shop reads: "We will support together" Picture from: Social media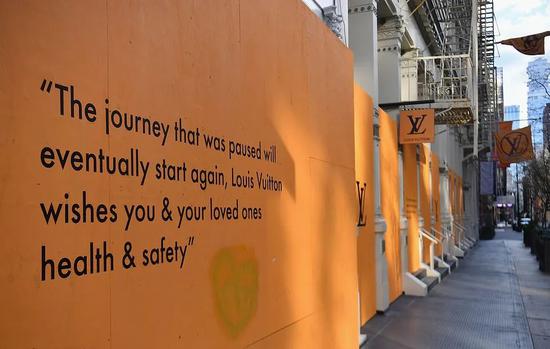 "The suspended journey will eventually restart, Louis Vuitton wishes you and your loved ones a healthy and safe life. "
In response, the New York Police Force also stepped up its patrols. On the 27th, New York Mayor Bai Sihao warned that those who violate the "social isolation" policy will face a penalty of up to $ 500. However, the police themselves are in danger of lacking protective materials.
On Monday (30th) local time, New York Police Department Chief Superintendent Terence Monaghan wrote to the White House for help, saying that police officers were forced to perform room-entry tasks without protective equipment and requested more masks.
Alex Vital, the head of the police and social justice project, believes that the police face the risk of being infected and transmitted to others, and it is necessary to implement "social isolation". As of Friday, there have been 12 police officers killed in New York City due to pneumonia.
On that day, New York Governor Como signed an executive order allowing the government to forcefully requisition and distribute necessary medical supplies. Mayor Bai Sihao welcomed this, and authorized the police force, fire station and sheriff's office to forcibly requisition companies that hoard supplies.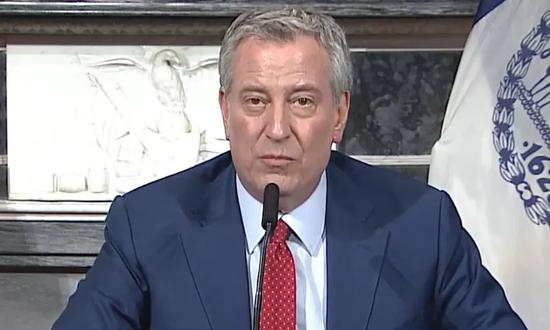 New York City Mayor Baisi Hao said on Tuesday authorized the Force compulsory acquisition of private companies hoard medical supplies video capture
"We know there are many The reserves are not used passively, they are placed in offices and warehouses, which is unacceptable … I believe many people will be happy to provide, but if there are private organizations intending to prevent the state government from obtaining the necessary life-saving supplies, I have authorized the police Use law enforcement capabilities to ensure that these materials are immediately handed in and distributed to the most needed places in the hospital system. "
Bai Sihao also shouted that Trump took" unprecedented "measures: the mandatory recruitment of medical workers across the country and mobilization Army, where reinforcements are most needed, such as New York.
"I told the president to do what no president in modern history has done, to recruit medical personnel and to ensure that our military medical personnel do not stay at the base. We need them now." across
Soon after the speech, mobile phone users New York City Received a text message, calling on those with medical licenses to "support medical institutions in need."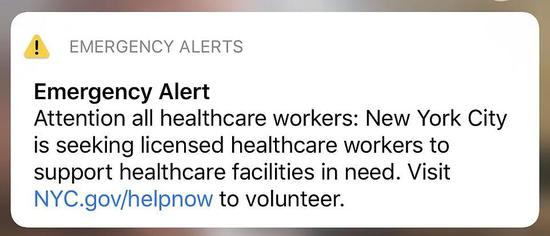 Picture from: Social Media
Author Guo Han