Original title: New York State's new crown pneumonia deaths dropped for the first time, Trump: We are beginning to see light at the end tunnel
[Global Network reported reporter Zhang Xiaoya] integrated a number of foreign media reports, local "Maybe this is a good sign." On April 5th, US President Trump expressed optimism at the White House press conference on the new crown pneumonia epidemic regarding the federal government's response to the new crown virus: "We are beginning to see the light at the end of the tunnel."
CNN The report said that at the press conference on the evening of the 5th, Trump expressed optimism about the (Federal) government's response to the new crown epidemic.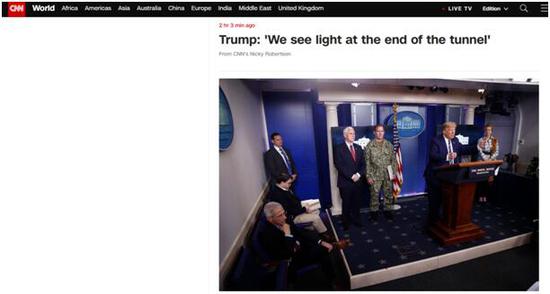 "We see the light at the end of the tunnel. Things are happening and things are happening. We are beginning to see the light at the end of the tunnel. Hope that in the near future we will be proud of everything we have done (effort)." Trang Pu said.
The Russian satellite news agency also reported on Trump's words of hope.
"Maybe this is a good sign," Trump said on the 5th. "There has never been such a thing before, but we are beginning to see the light at the end of the tunnel."
Russian satellite agency also said that Trump made this statement On the occasion, the number of new deaths of new coronaviruses in the United States epidemic center, New York State, has declined for the first time in recent days. New York Governor Andrew Como said on the 5th that New York State added 594 new cases of new coronary pneumonia deaths on the 4th. This is the first time the number of deaths in a single day has fallen since the outbreak of new coronary pneumonia in New York State.
In addition, US Vice President Pence also said that the number of cases (curves) in various states of the United States has begun to flatten. "New cases have declined slightly," Pence said, and all governors who have spoken to him have reported a flat trend. He also emphasized that, as Trump said, "the end of the tunnel is bright", "we will go through the difficulties faster than we initially thought."

Johns Hopkins University, the latest According to the data released, as of 9:40 on April 6, Beijing time, there were 337,274 cases of new coronary pneumonia and 9633 deaths in the United States. Among them, there were 2256 deaths in New York City alone.