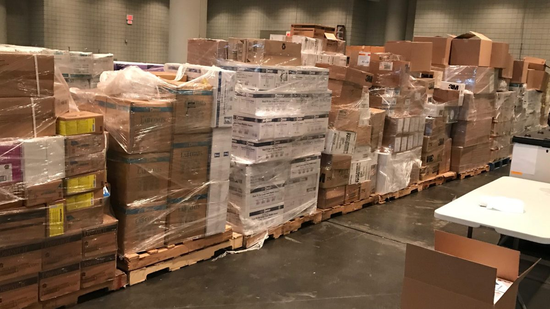 People in New York are dying in large numbers, medical staff are fighting the disease, the government is raising materials everywhere, and profiteers are hoarding wildly.
According to statistics from Johns Hopkins University, as of April 4th, US time, the number of new crown diagnoses in the United States has exceeded 305,000 and more than 8,300 deaths; of which nearly 114,000 were diagnosed in New York State and more than 3,500 died; the epidemic was hit in New York 63,000 people were diagnosed in the city and nearly 2,000 people died. It is no exaggeration to say that New York is Wuhan in the United States, and it is still not under effective control. Neighboring New Jersey has more than 34,000 people diagnosed, making it the second-largest epidemic area in the United States.
Under the impact of the severe epidemic, the medical systems in New York and New Jersey are under heavy running pressure; they urgently need a large number of protective equipment to ensure the basic safety of medical staff. Many hospitals are still unable to meet the needs of the most basic protective equipment, and even need to reuse disposable protective equipment.
Twitter Ma Yun But the US Federal Reserve has little left, and New York State can only purchase and accept donations from businesses everywhere. The anxious red-eyed Governor of New York, Mr. Kumer , publicly buys a lot of money on every day , directly saying "contact us when it is available." It is worth mentioning that , Cai Chongxin and Huawei have all donated anti-epidemic materials to New York.
In such a tragic disaster situation and material tensions, there are still profiteers frantically hoarding medical supplies in an attempt to make a national windfall. Such shameless behavior can hardly be described as cannibalistic buns.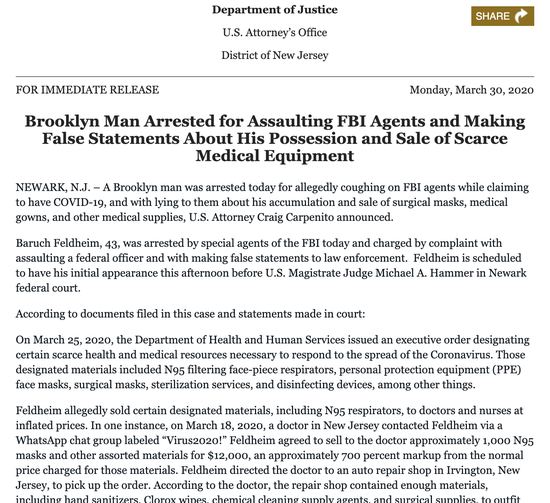 The Federal Department of Justice and the Department of Health announced the day before yesterday that they arrested a hoarding businessman in Brooklyn, New York this week, and raided the latter's protective medical supplies for high prices. When the law enforcement department opened the warehouse, they were stunned by the sight in front of them. In the current state of the New York State epidemic, there are still local merchants hoarding so many protective equipment (PPE): 192,000 N95 masks, 13 Ten thousand medical masks, 598,000 pairs of medical gloves, as well as a large number of protective clothing, disinfectant paper towels, disposable hand sanitizer and disinfectant sprays.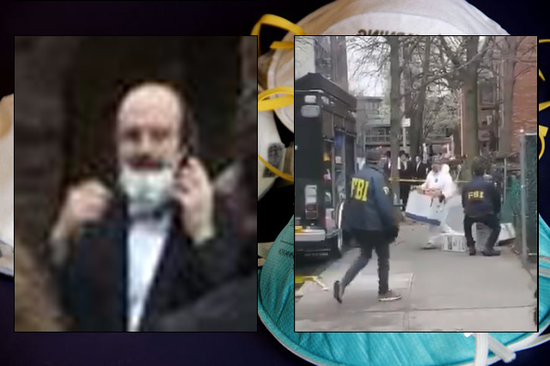 The profiteer, Baruch Feldheim, a 43-year-old Brooklyn resident in New York, has been arrested and is facing criminal charges of lying by law enforcement and attacking law enforcement officials. Unfortunately, his Jewish identity may exacerbate the stereotypes of the American people.
The epidemic was urgent. The US Federal Department of Justice and the Department of Health immediately checked the materials and delivered them to the health departments of New York State, New York City, and New Jersey to support the medical personnel who rescued patients on the front line. U.S. Secretary of Health Hazard said that combating the hoarding of necessary supplies would help deliver the most urgently needed protective equipment to the heroic medical personnel fighting on the front lines.
If according to the current market squabble, the market price of these materials is close to 2 million US dollars. According to the statistics of ProPubulica, a non-profit organization, New York State, which is the most severely affected by the disaster, now pays for medical supplies at several times the price of all the protective materials available on the market: they buy an N95 mask for an average of $ 7.50, A pair of medical gloves costs 20 cents.
How did the federal government find this big profiteer? He is too greedy. Court documents show that Feldheim sold 1,000 N95 masks and other supplies to a doctor in New Jersey on March 18 for $ 12,000, which is about seven times the price. When picking up goods at his auto parts warehouse in Irvington, New Jersey, the doctor saw that there was enough protective material in the warehouse to meet the needs of a hospital, so he chose to call the police.
Amazon Since e-commerce platforms such as and eBay have completely banned the sale of such materials, Feldheim mainly sells his materials through the WhatsApp chat group (sounds the same as domestic micro-commerce). On March 23, Feldheim also tried to sell a large amount of protective clothing to medical personnel in New York and ship it at his Brooklyn residence.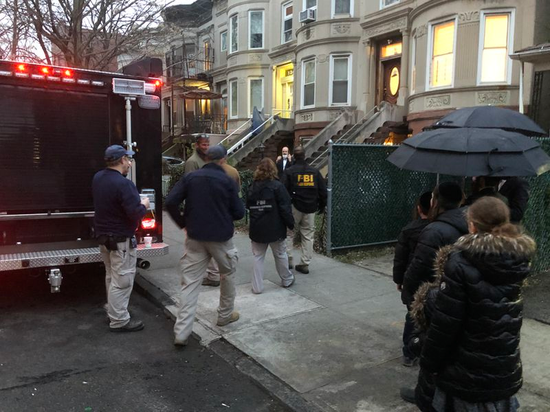 After receiving the alarm, FBI agents secretly inspected the Brooklyn residence in Feldheim for a few days, and saw many empty boxes of N95 masks stacked at the door, and people were constantly coming out of the house holding boxes and bags. Obviously, all medical supplies are installed. On March 25, law enforcement officers discovered that Feldheim received another shipment of medical masks from Canada, and empty mask boxes were stacked at the door.
On March 29, when law enforcement came to Chafeldheim with a clear identity, he first said that he was only a part-time worker, and then claimed that he was infected with new coronary pneumonia, and tried to scare them off by coughing at law enforcement personnel. But this only added a charge of assaulting law enforcement personnel. In addition to seizing Feldheim's auto parts warehouse in Irvington, New Jersey, law enforcement subsequently found 80,000 masks in another warehouse in Linden, New Jersey.
Due to attacks on law enforcement officers, Feldheim faced up to one year in prison and a fine of $ 100,000. False statements are faced with up to five years in prison and a fine of $ 250,000.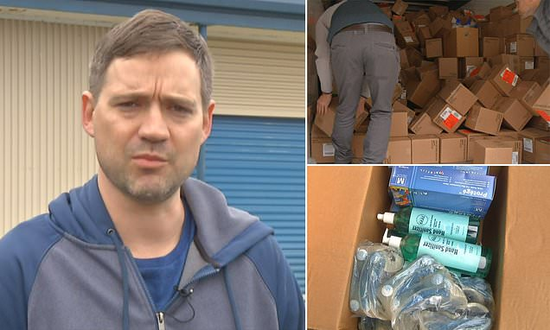 In mid-March, a pair of brothers in Tennessee, the United States, hoarded 18,000 bottles of disposable hand sanitizer in a frantic manner, preparing to resell online at high prices to make a fortune. They bought almost all the physical store inventory in the surrounding area. Subsequently, Amazon and eBay successively cracked down on hoarding behaviors, blocked their online stores, and cooperated with the state attorney generals to investigate such behaviors. After receiving the official letter from the Ministry of Justice of the state, the brothers had no choice but to donate their hand sanitizer inventory to the local government and church, but their investigation was not cancelled.