Original title: Sharp Reference | "Multi-Country Restrictions on Grain Exports" makes people suddenly realize that China's "red line" is too right!
People take food as the sky.
According to Bloomberg News, with the spread of the epidemic, some people around the world began to hoard grain and daily necessities. Many governments have also launched grain inventory programs to ensure adequate food supply.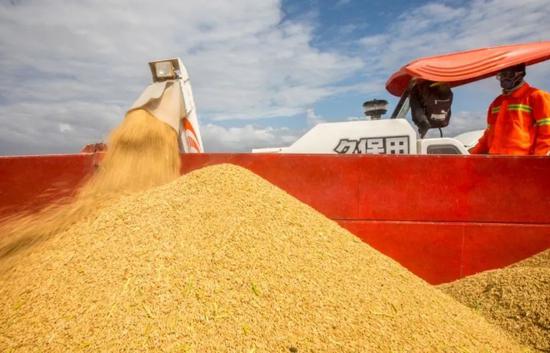 ▲ Information picture: On April 7, 2019, at the Wanbao Mosang Agricultural Park in Mozambique, the newly harvested rice was loaded into a tractor and prepared to be shipped to the warehouse. (Xinhua News Agency)
Wheat and rice suppliers such as Kazakhstan and Vietnam have recently begun to restrict grain exports.
The signal sent by this move makes the international community worried about the possible "food shortage" in some countries in the future, and "whether or not to hoard food" has also become a hot topic for netizens from various countries.
  Can't buy food with money? Experts warned that "food nationalism"
because of the new crown pneumonia epidemic, many countries' spring cultivation work has not been smooth this year.
For example, the U.S. Embassy in Mexico announced on March 16 that it would stop visa interviews in the United States indefinitely, including H-2A visas issued to short-term agricultural workers, which greatly affected American farmers dependent on foreign workers.
Germany, France, Italy and other countries have also experienced shortages of agricultural workers, because they have also adopted strict border control measures, and foreign agricultural workers cannot go to agriculture at this time.
The land does not wait for people. In order not to miss the farm, the French agricultural department has called on all the unemployed to "act and work."
Japan's "Fuji Sankei Shimbun" pointed out that restricting population movement has caused "a devastating effect" on agriculture.
The report said that if the impact of measures such as restricting population movement continues for a long time, it may lead to a reduction in supply and a further increase in food prices. In this way, the people's dining table will also be greatly affected.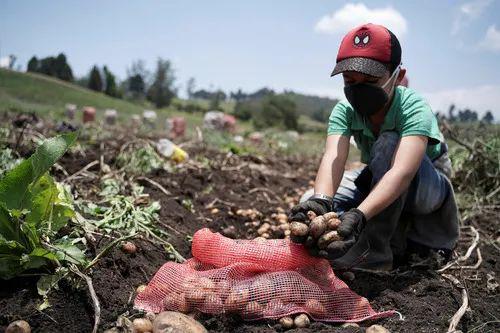 ▲ On March 27, a Colombian teenager wearing a mask collected potatoes in the field. (Reuters)
If the price is only rising, the problem may not be so difficult to solve, but a more alarming phenomenon is that the current international trade may appear to be rich and unable to buy food-
multiple countries join Restricted agricultural product export queue, Kazakhstan stopped exporting flour, corn and sugar, etc. Egypt decided to stop exporting all kinds of pulse products in the next 3 months, Indian rice export almost stopped …
Researchers at the Royal Institute of International Studies M. Benton warned that there are now signs of "food nationalism" and will be further exacerbated in the future.
He pointed out that if food supply is insufficient, society will "collapse"-in 2008 and 2011, when food prices soared, many countries in Africa, Asia and the Middle East have experienced turbulence.
  The Ministry of Commerce stated that no imports will lead to a domestic food supply shortage.
"Unless we take quick action to protect the most vulnerable links, ensure the smoothness of the global food supply chain, and mitigate the impact of the spread of the epidemic on the entire food system, we will face a food crisis Risks. "
When discussing the impact of the epidemic on food and agriculture, the Food and Agriculture Organization of the United Nations (FAO) wrote on its website.
FAO predicts that the worst situation may occur in April or May.
But the agency also pointed out that there is no need to panic in the world, and the total global food production is sufficient. If countries learn the lessons of 2008, the food crisis can be completely avoided.
FAO's statement is true, and statistics from the US Department of Agriculture show that this year's global output of rice and wheat is expected to reach a record 1.26 billion tons. The US think tank Peterson Institute for International Economics also pointed out that some grain export bans were "wrong tools used at the wrong time."

Peterson
▲
Peterson Institute of International Economics website
Despite this, some countries still plan ahead and lay out food procurement in advance. For example, Algeria and Turkey issued international tenders to bid for wheat; Morocco decided to cancel wheat import tariffs until mid-June; Cuba has recently announced that it will implement a food ration system to prevent hoarding.
The international food market fluctuates, and how China, the world's most populous country, has solved the problem of eating has naturally become the focus of all parties.
"Let's see, once grain can't be imported, what will China do?" Some netizens commented under the news about the grain export ban.

However, this netizen was obviously "thinking too much." At the routine online press conference of the Ministry of Commerce on April 2, Wang Bin, deputy director of the Consumer Promotion Department of the Ministry of Commerce, said that China's average annual consumption of rations is more than 200 million tons In 2019, China's stock balance of three major staple grains of wheat, corn, and rice was more than 280 million tons, which is completely self-sufficient and will not lead to a shortage of domestic grain supply without imports.
"Consumers have no need to worry about the shortage of food supplies and the sharp rise in prices, and there is no need to focus on bulk purchases to store food at home," he emphasized.
  Expert: Strictly adhering to the red line of 1.8 billion acres of arable land is of strategic significance,
"There will be no shortage without imports." The enthusiasm behind this sentence has also made many netizens sigh, but fortunately the Chinese people are firmly in their hands.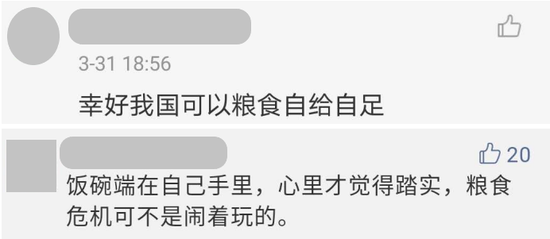 The "1.8 billion acres of arable land red line" is generally regarded as the key factor of China's "grain confidence".
"Food is a big deal. For many years in a row, the No. 1 document of the Central Government was all about the work of 'three rural issues'. It is because of the importance that we have for many years that we can only walk in the face of the international market." Bai Ming, deputy director of the institute, said.
He told Xiaorui that for a country as large as China, food production capacity is crucial, and production capacity comes from land, and strictly adhere to the 1.8 billion mu red line in order to leave enough buffer space and increase production capacity when needed.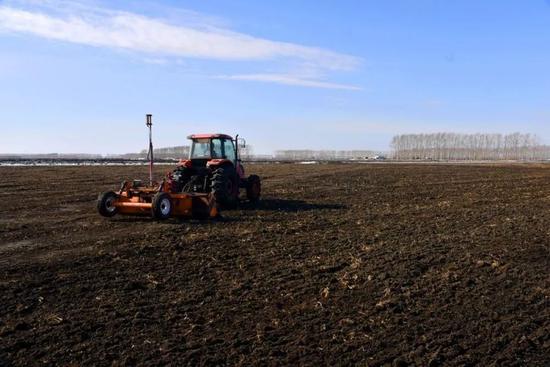 ▲ Youyi Farm in Heilongjiang Reclamation District carried out land leveling operations. (Xinhua News Agency)
"There is food in my hands and I am not worried." This is particularly evident in this epidemic prevention and control battle. Some netizens who did not have much concept of the "1.8 billion mu red line" before finally realized it The foresight of this policy.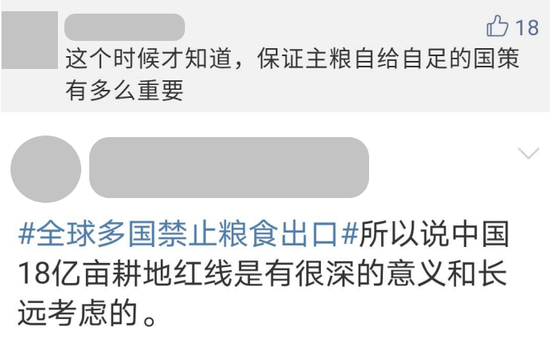 Bai Ming pointed out that even if there is no outbreak of this epidemic, the 1.8 billion mu red line needs to be adhered to all the time. This not only focuses on the short-term market equilibrium, but also has strategic significance and helps respond to changes in the external environment.
At the press conference on April 2, Wang Bin also said that during the epidemic, the country continued to introduce policies and measures to support agricultural production. This year's grain harvest is a high probability event.