Original title: After Captain "Roosevelt" was fired, the United States was angry all over-a
new crown epidemic broke out on the ship, writing to the captain of the US Navy, "Captain Roosevelt" Brett Crozer A good news and a bad news.
The good news is that after the distress letter was exposed, the US military decided to arrange for the evacuation of about 3,000 of the nearly 5,000 crew members on board.
The bad news is that he was fired.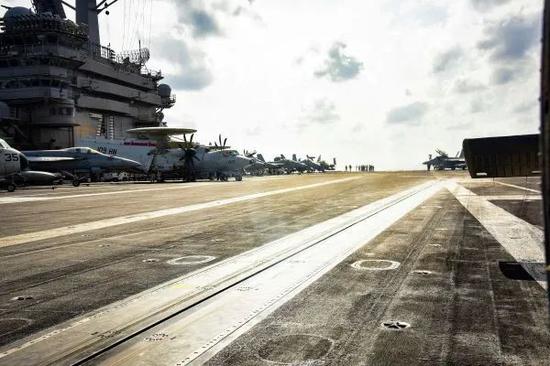 ▲ This is the deck of the aircraft carrier "Theodore Roosevelt" photographed on March 18. (Xinhua / Reuters)
Acting U.S. Navy Secretary Thomas Modley announced at a Pentagon press conference on April 2 that Croze had been relieved of his command on the "Roosevelt" and expressed his Ze "lost confidence in the ability to lead the warship."
When questioned by the media about the reasons for the dismissal, Modley replied this way: Kroze was removed because he showed "extremely bad judgment", and the widespread release of a distress letter led to a "storm" of public opinion.
▲ CNN report screenshot
On the day before, Modley also assured the media that Croze sent a letter to the high-level actions that "will definitely not lead to any form of retaliation."
According to Modley 's latest statement, although there was no evidence that Croze had leaked the letter, he sent the letter to about 20 to 30 people, and it was sent through an unsecured channel.
"In my opinion, this is part of his responsibility." Modley said.
Although Modley has repeatedly stated that "dismissal" is by no means retaliation. But to some American netizens, this statement is obviously very pale.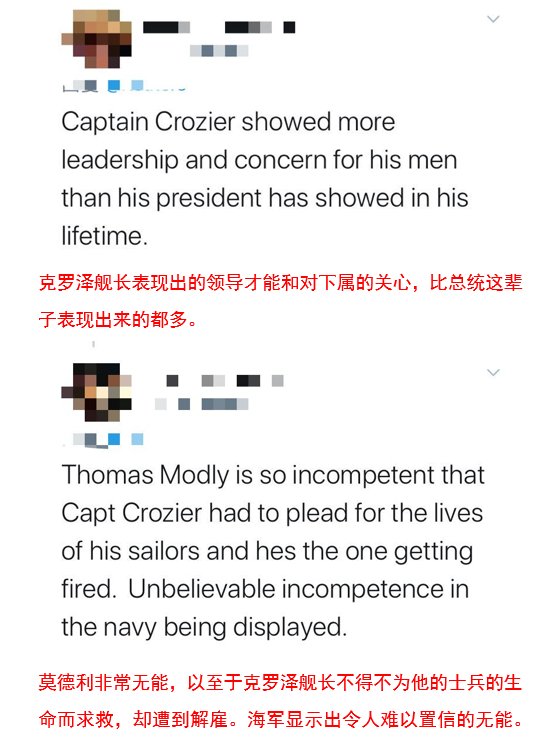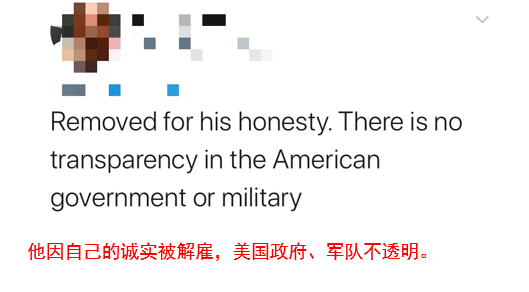 Soon, Kroze's disturbed voice swept the United States, and many American media and politicians were on the list.
A high-level Democratic Party of the US House of Representatives Military Committee issued a statement on the 3rd, saying that the captain had reason to worry about the health and safety of the crew, and the dismissal of Crozer was an "overreaction."
Senator Mark Warner wrote directly on the social network that, in his view, Captain Crozer is a patriot, and he just wants to do his best to do the best for his crew.
"I don't know why he was punished for it-especially so many lives are at stake." Warner wrote.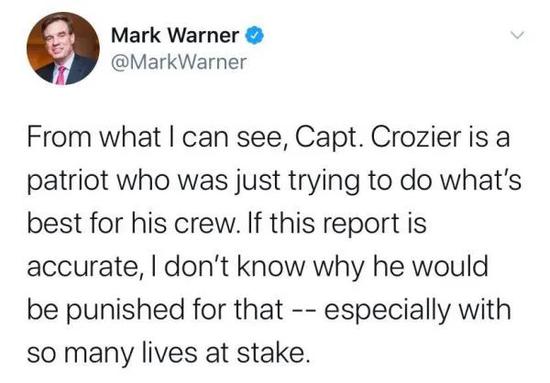 ▲ Mark Warner Twitter screenshot
The wife of a former officer of the "Roosevelt" also stood up in solidarity.
Obviously, in the eyes of more Americans, this captain fired by the US government is the real hero of the United States.