Original title: masks export embarrassing way: China suddenly refused to standard, quality issues must be given
Chinese Ministry of Commerce said it would strengthen cooperation with relevant departments of medical supplies export quality management, to crack down on fake and shoddy behavior, strict quality control, maintain export order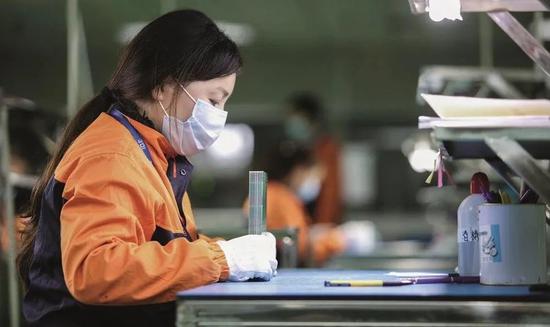 paper "Finance" reporter Zhang Jianfeng and Wang Ying
Recently, the export of anti-epidemic materials, including masks, has been exposed to quality problems. It is reported that Spain claims that the sensitivity of the new crown detection box produced by Chinese companies is low, and the Dutch media have stated that there are quality problems with more than 600,000 masks purchased from China. Constant negative news cast a shadow over the outlet of the mask.
Only half a month after the Chinese KN95, KP95 and other mask production standards were included in the approved list, the US FDA removed the above-mentioned Chinese mask production standards from the approved list on March 28, again causing the market to pay attention to the quality of export masks. .
In this regard, the market has different views. Some people believe that the above-mentioned changes in the US's attitude toward Chinese masks have political considerations. However, some market people have analyzed the reporter of Caijing. N95 is mainly used by front-line medical staff and has hemodialysis index requirements. Relatively speaking, there is no such requirement for KN95 in China, but there is no problem in protecting KN95 for ordinary residents.
"Finance" reporter found that the United States does not recognize the Chinese mask standards, for mask manufacturers that have obtained the US FDA certification, exports to the US business, the impact is not significant.
It is inevitable that behind the frequent problems, some domestic small and medium-sized mask manufacturing companies cut corners and cut materials, and some companies have incomplete knowledge of export certification.
In order to ensure product quality and safety and standardize the export order, on March 31, the Ministry of Commerce, the General Administration of Customs, and the State Drug Administration jointly issued an announcement: starting April 1, companies exporting new coronavirus detection reagents and medical masks to The customs must provide a written or electronic declaration at the time of customs declaration, promising that the export products have obtained the Chinese medical device product registration certificate and meet the quality standards of the importing country (region).
Chinese standards were first recognized and then rejected.
From orders and inquiries, to reports of quality problems and reversals, the story is a true portrayal of China's mask export business since March. The United States has changed from the previous recognition of Chinese mask standards to rejection.
As of 8:00 on March 31, Beijing time, there were more than 60,000 newly confirmed cases of new coronary pneumonia abroad, and a total of 680,000 confirmed cases. Among them, the total number of confirmed cases in the United States exceeds 160,000.
The epidemic situation abroad is still serious. China has already begun to support the international community, and masks have become one of the foreign aid materials. Many domestic mask manufacturers have also applied for EU CE certification and US FDA certification, and have started exporting masks.
In the early stage, under the gap of masks, the European Union opened a green channel, allowing some anti-epidemic materials (such as a type of sterilized medical masks) to be listed on the EU market even if they have not obtained CE certification. The US Centers for Disease Control and Prevention has also included Chinese standard masks such as KN95 in the list of suitable replacements for N95 masks.
On March 17, the United States Centers for Disease Control and Prevention (CDC) announced that when the supply of N95 masks is insufficient, including masks produced in Japan, South Korea, Australia and other 7 countries, it is a suitable substitute for N95 masks. Among them, including KN100, KN95, KP100, KP95 produced by Chinese standards GB 2626-2006 and GB / T 18664-2002.
The above measures are considered to be a positive for the export of masks.
On March 28, the US FDA issued a new announcement that included Australia, Brazil, the European Union, Japan, South Korea, and Mexico in its authorization list, removing Chinese standards from the list. According to regulations, masks and most medical equipment exported to the United States require FDA approval.
In the current United States, KN95 masks are easier to buy than N95. Before the epidemic, N95 masks cost about $ 1 per piece in US stores, and have now risen to $ 12 or more, highlighting the shortage of US N95 masks.
The United States Centers for Disease Control (CDC) has stated that the performance of KN95 masks is basically the same as N95 and is one of many "suitable alternatives" to N95 masks.
The US's endorsement of China's mask standards has puzzled the outside world.
"The domestic production standards for masks and the US FDA-approved standards are actually similar." A person in the mask manufacturing industry pointed out to a Caijing reporter that he did not quite understand the United States' refusal to recognize the Chinese standard production method.
Some market participants also pointed out that there are certain political factors for the United States to move away from its dependence on Chinese medical materials and equipment.
"Finance" reporter found that "Chinese standard GB 2626-2006" mask standards, and the US FDA medical mask certification in most of the performance requirements are consistent, but there are some differences.
According to "Chinese Standard GB 2626-2006", KN95, KN100, filtration efficiency using sodium chloride particulate matter detection is ≥95%, ≥99.97%, KP95, KP100 filtration efficiency using oil particulate matter detection is ≥95%, ≥99.97 %. These standards are the same as the US NIOSH standards.
In addition to the US FDA-registered medical mask certification performance indicators provided by a testing agency, in addition to the filtration efficiency index for particulate matter, a hemodialysis index has been added.
A person in a mask manufacturing company told a reporter from Caijing that domestic N95 medical masks require synthetic blood penetration protection indicators to prevent patient blood from splattering on the masks and there is no such requirement for KN95. "But ordinary residents wear KN95, which is sufficient to meet the needs of prevention and control of new crown pneumonia."
Some market participants told the Caijing reporter that in the American concept, only sick people and doctors wear masks, and ordinary residents do not need to wear masks. The United States N95 is currently used more by front-line medical personnel, and may require higher standards.
"Finance" reporter found that the US FDA does not recognize China's mask production standards matters, has little impact on FDA-certified mask manufacturers.
"The United States does not recognize Chinese standards. In fact, the implemented standards are different, and the FDA certification is obtained. The production standards of masks exported to the United States are conducted in accordance with their standards. "A person in the mask manufacturing industry told a reporter from Caijing that most of the company's exports to the United States are disposable medical masks, and N95 masks are rare.
Previously, many domestic mask manufacturers, such as Joyson Electronics (600699.SH), Hongda Industrial (002002.SZ) and other companies, have obtained FDA certification. Hongda Xingye passed the FDA-certified mask products, which are disposable protective masks.
According to incomplete statistics from the reporter of Caijing, more than 10 companies in the A-share listed companies that produce masks are applying for export certification of masks.
The company's investigation data show that there are currently 4,994 companies in the domestic business that include the import and export of masks, including about 1,698 companies involved in the export of medical masks.
Attention should be paid to the quality of
masks. At present, the export of masks continues. However, quality problems from overseas feedback still need to be taken seriously by domestic mask manufacturers. The frequent negative news reflects some chaos in the export of Chinese masks.
Some analysts have pointed out that some overseas medical supplies suppliers are not in the official designated directory and are privately purchased, and the product quality may not meet the relevant standards.
"State-assisted foreign aid masks, there will be designated enterprises for docking." A mask manufacturing company person told the Caijing reporter. "The company currently has both foreign aid and business exports, and customers have no problem quality of the exported products."
with the Compared with professional mask companies, there are also many cross-border novices in the market. The threshold for the production of masks is relatively low, which has attracted a number of small and medium manufacturers to switch to production of masks. What are the quality of these "shift" masks that have been launched in a hurry?
Some insiders admitted that the quality of domestically produced masks is uneven. In particular, small enterprises and companies that subsequently convert masks are not as rigorous as traditional mask manufacturers in terms of raw material procurement, production specifications, and product testing.
He explained that some speculators directly omitted the most important filter layer meltblown cloth in the middle and replaced it with ordinary non-woven fabrics, which did not have the effect of filtering viruses. In addition to the quality of the core material meltblown cloth, in the procurement of raw materials, some small and medium manufacturers do not have too detailed requirements for nose bridges, earbands, etc., which will ultimately affect the actual use of masks.
In addition to cutting corners on raw materials, the quality of the sterilization process is also hidden.
The aforementioned person took the sterilization process required for masks as an example. A standard process for resolving and disinfecting a mask takes 7 days to half a month. But in fact, in order to rush the construction period, some companies have omitted this process, sprayed 84 disinfectant, and pulled it out of the factory. "How can such a product meet foreign certification standards?"
It is puzzling that some of them exist. Mask manufacturers with quality problems claim to have obtained international certification and can provide relevant test reports.
"Taking EU CE certification as an example, such reports may come from certification notified bodies that are not officially authorized by the European Commission." Some third-party testing agencies said that unofficial certification fees may only cost thousands or 10,000 and can be issued within a few days. Inspection reports, but such reports are likely to be disapproved by overseas customers. "Some mask manufacturers do not understand. For the sake of cost savings, the choice of this type of certification body has led to huge legal risks in the subsequent export process."
Masks The chaos in the market has also attracted great attention from regulators.
On March 30, the Ministry of Commerce stated that it would strengthen the quality management of medical supplies export with relevant departments, severely crack down on counterfeit and shoddy products, and strictly control quality and maintain export order. At the same time, we also hope that foreign buyers will choose product suppliers that meet the above quality requirements. In fact, before that, domestic market supervision departments and public security organs at various levels have quickly investigated and dealt with a number of cases of manufacturing and selling fake and inferior masks.
Some people in the industry suggest that mask export companies should first measure whether the products can meet the relevant national standards, and more importantly, whether they can meet the quality standards of the exporting regions. Quality reports, certificates of conformity and related documents, otherwise, the future is endless.
"Foreign trade export companies must be more cautious and cooperate with formal mask factories. Once the quality of the epidemic prevention materials that are not relevant is exported abroad, not only will they face claims risks but also damage the country's image. Especially at this public opinion level, any flaws are possible. It will be magnified or even distorted, "he said.
A person from a listed company producing masks told a reporter from Caijing that the company has obtained EU CE and US FDA certifications, but before obtaining the above certifications, we signed an agreement with importers and exporters to prohibit them from exporting the purchased company masks. To Europe, America and the United States to avoid unnecessary trouble.