Original title: Italian experts have finally found that isolation at home is useless …
According to Reuters on March 30, Andrea Crisanti, a professor of microbiology at the University of Padova, Italy, said on Monday that Italy's measures to prevent the transmission of the new crown virus It doesn't seem to work and the strategy should be changed.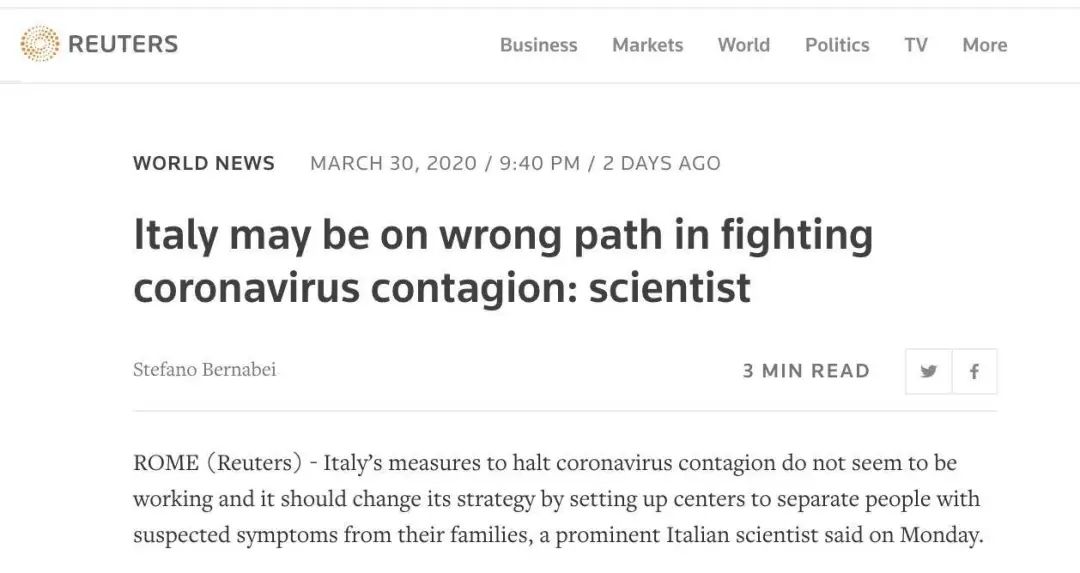 Crisanti said in an interview with the media, "Have anyone asked why the infection is still happening despite these restrictions? Are these people who are sick at home infecting their families? … In our opinion, these The infection occurred at home. "
He said that many of the new cases may be transmitted by family members at home, and the Italian government should set up isolation centers like China to isolate patients with suspected symptoms from their families instead of leaving them at home. isolation.
It is reported that Italy has carried out a national blockade for 3 weeks, but currently the number of deaths from new coronary pneumonia is the highest in the world. In the past 3 days, 5,000 to 6,000 new cases have been diagnosed daily in Italy.
According to the latest data released by the Italian Civil Protection Department, as of 18:00 local time on March 31, Italy has 77,635 cases of new coronal pneumonia, 12,428 deaths, 15,729 cured, and 105,792 confirmed cases, compared with March 30, 18 A total of 4053 new cases were diagnosed and 837 deaths were added. Italy 's National Institute of Health Silvio Brucefaro said on the 31st that according to the growth curve, the Italian epidemic has entered a plateau. At 12:00 on the 31st of Italian time, the Italian national flag was lowered at half mourning to mourn all the victims of New Crown Pneumonia.