Original title: After Captain "Roosevelt" wrote "Help Letter" , Governor Guam: New Crown virus negative sailors will be allowed to disembark
[Global Report] more than 200 people were diagnosed on board, US "Roosevelt" carrier carrier 3 After writing a "help letter" to the top of the US Pacific Fleet on May 30, asking more than 4,000 crew members to disembark and isolate as soon as possible, according to the latest news from CNN, the Governor of Guam, Lou Leon Guerrero, April 1 Japan announced at a press conference that sailors with a negative new crown virus test on the USS Roosevelt, which is docking in Guam, will be allowed to disembark.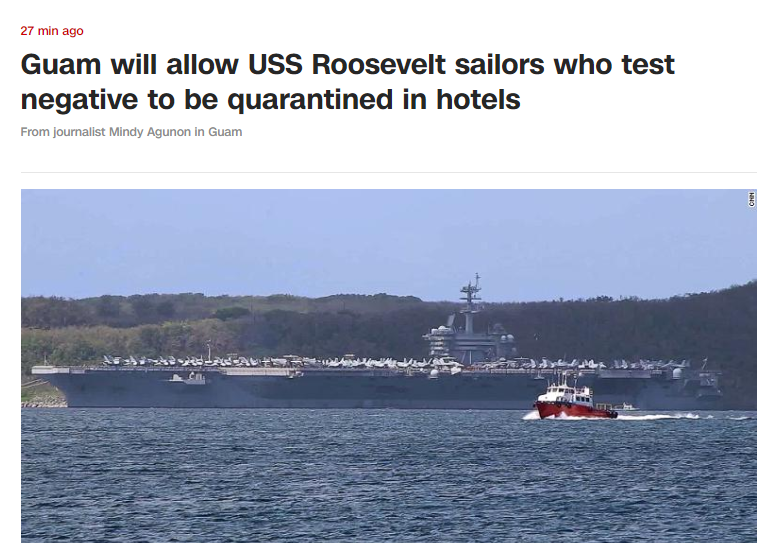 It is reported that Guam Governor Guerrero said that the sailors who had disembarked would be allowed to stay in a Guam hotel room for quarantine and they would need to undergo routine medical examinations.
At this press conference, Major General John Menoni, commander of the United States Mariana Joint Theater, said that a plan was being developed to remove as many sailors from the Roosevelt as possible.
CNN said that at least 70 people have been infected on the US Navy's Roosevelt aircraft carrier with the new crown pneumonia epidemic, and the ship's commander warned senior navy officials that decisive action must be taken to save the crew's lives. According to the latest report from Fox News Network, the number of new crown pneumonia diagnosed on the aircraft carrier has exceeded 200.
On March 30, due to the rapid spread of the new crown pneumonia epidemic on the ship, the captain of the USS Roosevelt, Brett Krozel, wrote a "help letter" to the top of the US Pacific Fleet, asking for permission to allow more than 4,000 crew members on board Disembark isolated.
"We are not fighting, and the sailors do not have to die. If we don't take action now, we can't take care of these people we trust most-our sailors." Krozel said in the letter.
Regarding the content of this letter, Acting Secretary of the United States Navy Thomas Modley told CNN reporters on March 31 that he had heard about the situation of Crozeer's letter, and the Navy is working hard to let the crew leave the carrier. . He said: "I heard the content of this letter this morning and I also know that our commanders have noticed this letter in the past 24 hours. We have been working hard for the last 7 days The crew moved to the barracks on Guam. The problem now is that Guam currently does not have enough beds. We must communicate with the local government to see if we can get some hotel rooms or build tent-like facilities. "