Original title: US media: New Crown epidemic exposed that the West is behind China in this respect for 5 years. The
US Vox website published a article entitled "Express Service to Help China Through the New Crown Virus Crisis, the United States Must Catch Up" in the article, author Sheila In the article, George George Parkin said that timely home delivery services have helped a lot during the epidemic in China, while the United States and other Western countries have been behind China for 4 to 5 years in logistics and e-commerce. At a time of outbreaks in North America and Europe, this lagging status quo stands out. Here is an excerpt from the article:
At the peak of China 's new crown pneumonia epidemic, more than half of the country 's population lived in some form of home isolation. However, even if they are dormant behind locked gates and checkpoints where people are on guard, grocery and takeaways are usually delivered in as short as 20 minutes, and parcels with cellphone chargers and pajamas can be delivered in hours. Up.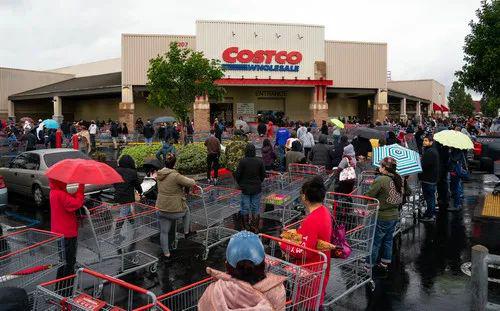 ▲ On March 14th, outside a supermarket in Los Angeles, people queued for the door to shop in the rain. Xinhua News Agency reports that
China's huge e-commerce infrastructure was built for fast delivery: Prior to the New Crown virus crisis, Amazon invested billions of dollars to reduce the delivery time promised to Prime members from two days to one day (countdown from parcels Started leaving the warehouse), its Chinese competitor JD.com said that 90% of its own orders can be delivered within 24 hours.
Global e-commerce consultant, "New Retail: Born in China, to the world," a book co-author Michael Zhaku Er said:. "On logistics, e-commerce and retail, China is leading the West than 4-5 years"
With This is especially true as the North American outbreak worsens, with more and more people being told to avoid the crowd and stay at home every day. The surge in demand for food and daily necessities has led to crowds of people in front of open supermarkets, empty shelves at grocery stores, and toilet paper seemingly endlessly snapped up-and now, this demand even exceeds us The largest range of online drop-shipping networks.
On the Amazon platform, shipments of certain non-essential products are expected to be delayed by up to a month, and the company is in a hurry to replenish inventory and send high-demand products such as hand sanitizers and household cleaning products. The company told third-party merchants on March 17 that it would suspend receiving shipment requests for non-essential items in its warehouses, leaving many merchants using its drop-shipping service in trouble. In France and Italy, the e-commerce giant has completely stopped shipping these products, according to it, to help workers maintain the recommended social distance.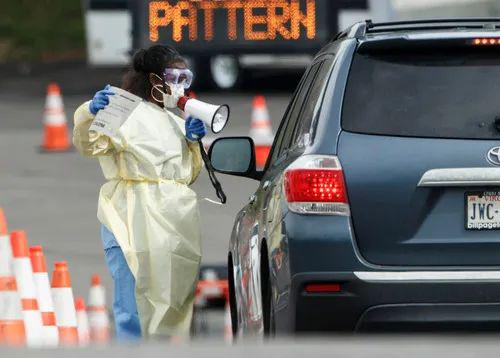 ▲ On March 19th, in Arlington, Virginia, medical staff guided the vehicle at a "do not get off" new crown pneumonia detection point. Xinhua News Agency (photo by Shen Ting)
The situation of the grocery delivery business is not much better: On March 17, Amazon suspended Prime Pantry service in response to the surge in orders. At the same time, social media is full of complaints about sold-out products, undelivered orders, and inadequate delivery capabilities on platforms such as Amazon Fresh, Instacart, Wal-Mart, and Shipt.
For some customers, this may just be annoying; but for people with disabilities or the elderly who rely on these services, it may be dangerous. In Toronto, my 97-year-old grandmother has been struggling to arrange her weekly Wal-Mart grocery orders since March 17, but the earliest delivery or pickup time was in mid-April. From countless complaints on social media, American stores are facing similar delays.