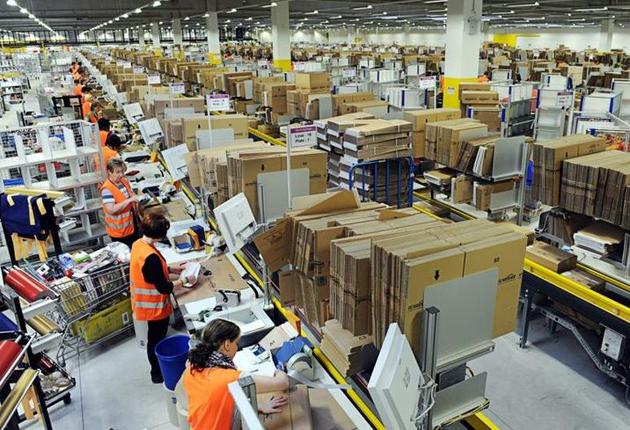 Amazon Morning news on March 29, Beijing time, an internal document learned by Reuters shows that due to growing demand and shortages of workers, will provide higher salaries to recruit its own warehouse staff to complete the Whole Foods supermarket (Whole Foods) grocery selection and packaging.
This initiative, called "labor sharing," shows us that the e-commerce giant is reallocating its huge workforce in response to the surge in demand for online food sales. This is because during the COVID-19 outbreak, millions of Americans were trapped in their homes.
Amazon provides users with online grocery purchase services mainly through Amazon Fresh, which ships from its own grocery warehouse, and Amazon Prime Now, which ships from Whole Foods supermarkets.
"A surge in Prime Now business has created opportunities for labor sharing," Amazon said in an email to warehouse workers in Maryland. Warehouse workers in other states where Amazon operates grocery services have received similar information, Including California, Nevada, and Tennessee.
Selected workers are earning $ 19 an hour, another increase after Amazon announced a pay raise earlier this month, which increased by $ 2 an hour. The position at Amazon Fresh requires employees to work in the freezer, while the position at Prime Now requires employees to select and pack products for online orders at Whole Foods when time is tight.
An Amazon spokesperson confirmed the move late Friday, saying, "With the significant increase in demand for grocery orders, we are providing temporary job opportunities for employees in the distribution network to add additional revenue streams. "
Since the $ 13.7 billion acquisition of Whole Foods in 2017, Amazon's share in the grocery industry has doubled. It has expanded grocery delivery services to more than 2,000 cities. Amazon Fresh and Amazon Prime Now claim to deliver goods quickly within hours.
Since the outbreak, in order to avoid going out as far as possible, grocery delivery has become the main channel for people to obtain household necessities. Due to the growing demand, customers often find that items in the Amazon store are out of stock and the delivery window cannot be opened. The company has announced that it will recruit 100,000 full-time and part-time jobs across the United States to improve the distribution network of Amazon Fresh and Whole Foods. (Sakura)