Original title: The Governor of New York announced the list of donations and tweeted to thank Huawei
(Observer.com) The new crown pneumonia epidemic in the United States is getting worse, and New York State has become the epicenter of the US epidemic. Many companies and individuals have begun to donate to the State of New York to help them survive the crisis, including Chinese company Huawei.
On the 26th local time, Andrew Cuomo, Governor of New York State, announced a list of corporate / individual donations on the state government website. Como expressed thanks to these donating companies and individuals. Como said that the generous donations of these companies and individuals will play a key role in New York State's fight against the new crown epidemic, and their donations will improve the capacity of New York State hospitals for emergency services and provide people with the help they need.

New
New York State Government website. The
donation list includes companies and individuals such as Goldman Sachs, L'Oreal, SoftBank, Facebook and singer Rihanna. It is worth noting that Chinese company Huawei also appeared on the list. The list shows that Huawei donated 10,000 N95 masks, 20,000 protective clothing, 10,000 pairs of gloves and 50,000 goggles to New York State.
donated by Huawei in the red circle.
donated by Huawei in the red circle.
Subsequently, Como also thanked Huawei by naming Huawei on Twitter.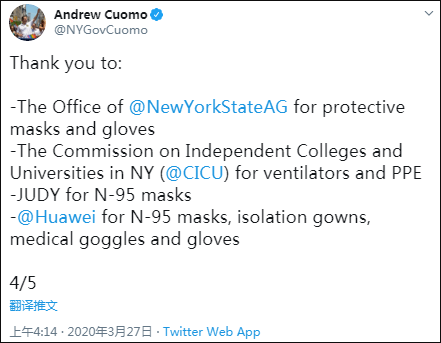 Como Twitter Screenshot
According to the New York state government Web site data, as of 27 local time, the state's new crown the new 7377 cases of pneumonia cases, a total of 44,635 cases diagnosed, 134 new cases of deaths, a total of 519 deaths .