new cool products are free to try for the first time, and there are many high-quality to share unique life experiences, come to Sina public test , Experience the most cutting-edge, fun, and fun products in various fields ~! Download the client and get exclusive benefits!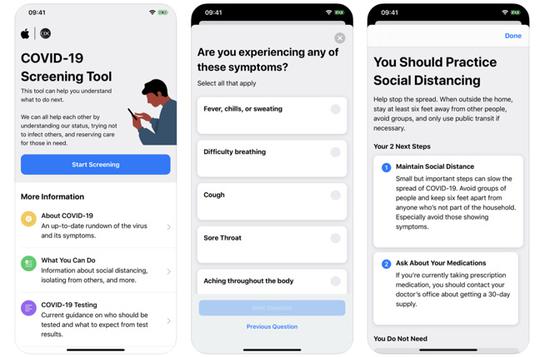 Apple In the early morning of March 28, Beijing time, and the White House said on Friday that the company has released an app and a website in cooperation with the Trump administration and multiple federal agencies to guide users from the US Centers for Disease Control ("CDC") for guidance on diseases caused by the new crown virus.
White House officials said the app, called "COVID-19," would be available for download in the app store, asking users about symptoms, location, and risk factors, and then providing them with the latest guidance from the CDC. In addition, the app will use CDC's official information to answer common questions about New Coronavirus disease. At the same time, the new website www.apple.com/covid19 will also provide the same information, and users of Windows PCs, Android phones and other non-Apple devices can access this site.
Apple stated that it will not collect answers provided by users to the aforementioned applications and websites, and will not send answers to the company itself or any government entity.
For more than a week, Apple's California headquarters has been implementing blockade orders. Company CEO Tim Cook said earlier this week that the company has donated 10 million protective masks to US medical organizations after using the supply chain team to find and buy masks. (Tang Feng)