Original title: Trump: The United States has tested 300,000 people, the world's first!
(Observer Reuters) 25 noon local time, Trump tweeted on social media, said: "just learned that the United States so far did the number of new crown viral nucleic acid detection, more than any other country!"
"Facts on the past eight days, more than the number of US detection of Korea (also a very successful tester) the total number of tests in eight weeks. Well done! "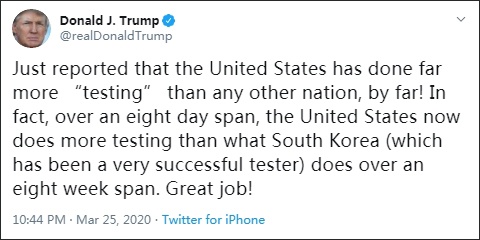 National public broadcasting company (NPR) 24 said today that, The United States and South Korea confirmed the first domestic patient on the same day on January 21 this year, but the intensity of the next test in the two countries was very different.
By providing a large number of tests quickly, the curve of the number of patients diagnosed in South Korea in a short period of time has slowed. And the United States has been slower, and it has not accelerated testing until a few weeks later.
As of March 20, South Korea has conducted 300,000 tests across the country. US officials announced on Tuesday (24) that this threshold was crossed.
However, it is worth mentioning that South Korea's population is only 51 million, which is equivalent to one person for every 170 people; while for the 327 million people in the United States, one person per 1090 people is tested.