Original title: Send a Big Mac to mention it, and the Prime Minister and Deputy Prime Minister welcome it! Countries "high-spec" welcome Chinese materials.
Source: Beijing Youth Daily
| Yu Hui At
this time, Chinese materials have been sent to foreign countries.
The latest example is Russia. Yesterday, Russia came to pick up supplies. On the evening of March 24, Russia sent a military transport aircraft AN-124 and landed at Hangzhou Xiaoshan Airport.
  Open from mentioning military aircraft, over Watergate
According to "Global Times" reported, AN-124 in the 1980s was the world's largest strategic heavy transport aircraft, is now the world's second largest transport aircraft, mainly used to transport tanks, missiles, bridges, aircraft Large-scale equipment and supplies such as fuselage and train cars.
This plane is used to transport medical supplies donated by Ma Yun to Russia. The famous Russian poet Pushkin was posted on the supplies. "Everything is instantaneous, everything will pass."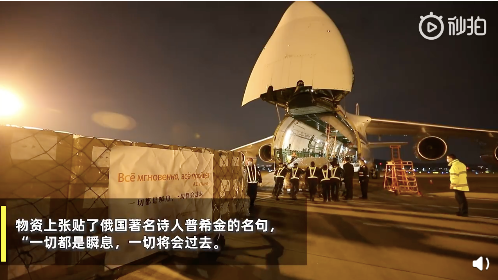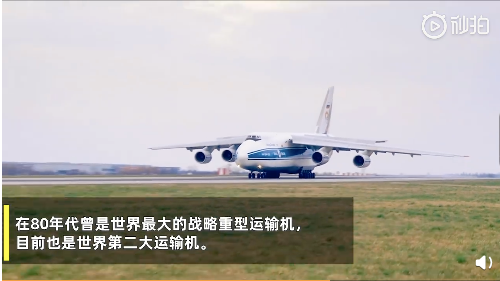 Ma Yun also donated medical supplies to other countries.
On the evening of March 18, Jack Ma donated a batch of medical supplies to France, Slovenia, and Belgium. When he arrived at the Liege Airport in Belgium, he was treated as "crossing the water gate". Crossing the water gate is the highest courtesy for civil aviation to welcome VIPs.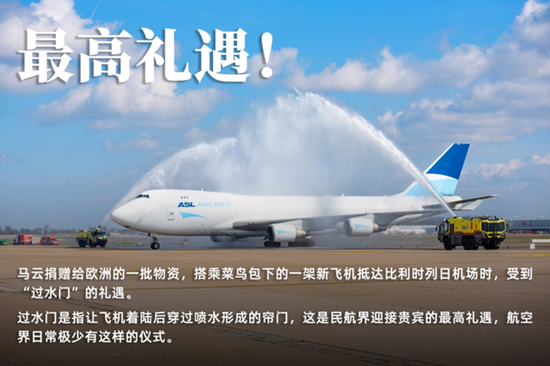 The president tweeted a special
plane to China to welcome more than just Russia.
A few days ago (March 21), the Serbian government sent its own plane to Guangzhou to pick up Chinese medical rescue personnel and return the relief supplies.
The batch of anti-epidemic materials includes masks, gowns, protective clothing, goggles, and nucleic acid detection kits. The packaging of epidemic prevention materials is labeled "Hardcore friends, travelling together with wind and rain".
At that time, "China's aid plane will arrive on Saturday", "China's rescue will arrive soon, everyone must be confident" and other content was the Serbian TV's daily headline last week.
After the plane arrived, Serbian President Vucic also personally came to greet him.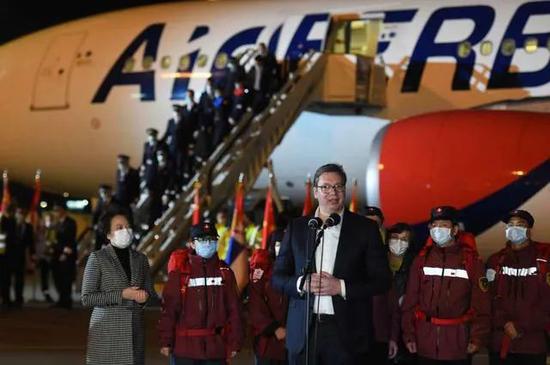 Ecuador also received Chinese supplies.
On March 23, the Chinese Embassy in Ecuador donated anti-epidemic supplies to the Ecuadorian government in Quito. Ecuador's Vice President Otto Sonnen Holzner attended the ceremony.
The Chinese donation of epidemic prevention materials includes medical protective clothing and infrared thermometers.
According to the Xinhua News Agency, Songnen Holzner expressed his gratitude:
"China is the first country to provide aid to Ecuador with anti-epidemic materials. It can be described as sending coal in the snow, and Ecuador will keep in mind. Ecuador attaches great importance to learning from China's valuable experience I hope that the momentum of the epidemic can be curbed as soon as possible. "
In addition, the President himself thanked him on Twitter.
On March 23, two planes carrying 130 tons of Chinese protective materials arrived at Schwechat Airport in Vienna, Austria.
The goods were shipped to Tyrol, Austria on the 24th, and some of the goods will be sent to the border of South Tyrol, Italy, to be received by the Italian government.
According to the World Wide Web report, after receiving the supplies, Austrian President Vanderbilent wrote a message on social media to thank China.
"Thank you to everyone who made this joint operation possible, especially China's support, because we need help very much. Only by being united can we overcome this crisis." The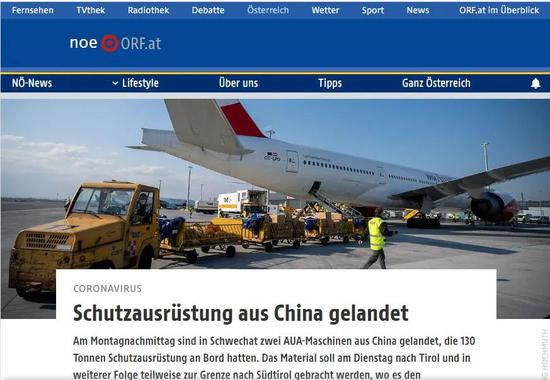 Prime Minister and Deputy Prime Minister went to the airport and
noted that Zhi Zhijun, Many countries have begun to purchase materials from China.
Today, Foreign Ministry spokesman Geng Shuang said to the outside world that we have not adopted any measures to restrict foreign trade and have always supported encouraging enterprises to expand their exports in an orderly manner.
He said, "As far as I know, the current purchases in Azerbaijan, Bosnia and Herzegovina, Brazil, Brunei, Czech Republic, Djibouti, Greece, Hungary, Italy, Japan, Qatar, Mexico, Portugal, Russia, Serbia, Turkey, the United Kingdom and many other countries Fang has signed a procurement contract with Chinese companies, which mainly includes testing reagents, masks, protective clothing, goggles, etc. "
Some of the purchased materials have arrived and the relevant countries are welcoming" high specifications ".
For example, the Czech Republic.
On March 20, the Czech government's anti-epidemic materials purchased from China arrived at Prague International Airport (operated by China Eastern Airlines charter). Czech Prime Minister Barbis, First Deputy Prime Minister and Minister of Internal Affairs Hamacek, and Deputy Prime Minister and Minister of Finance Hillelova attended the airport to greet them.
And Hungary.
On the morning of March 24th local time, a batch of anti-epidemic materials purchased by Hungary from China arrived at Budapest Liszt Ferenc International Airport.
According to CCTV reports, Hungarian Prime Minister Orban, Minister of Innovation and Technology Parkovic, and Chinese Ambassador to Hungary Duan Jielong went to the airport to pick up in person.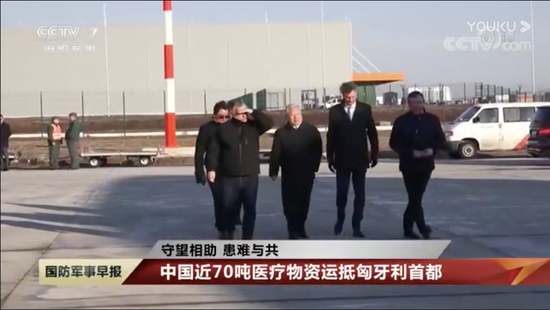 The total weight of this batch of medical supplies is nearly 70 tons, including more than 3 million masks, 100,000 new crown virus detection reagents, 86 ventilators, 100,000 protective clothing and 100,000 pairs of gloves.
Information | Global Network Guangming Daily Xinhua News Agency CCTV and other