Original title: For US aircraft carriers in Chinese military exercises, directly hit!
According to the "Capitol Hill" report, Acting Secretary of the United States Navy Thomas Modley said on the 24th that there were three sailors' new crown virus positive on the USS Roosevelt aircraft carrier performing tasks in the Philippine Sea. A confirmed case was found on a warship.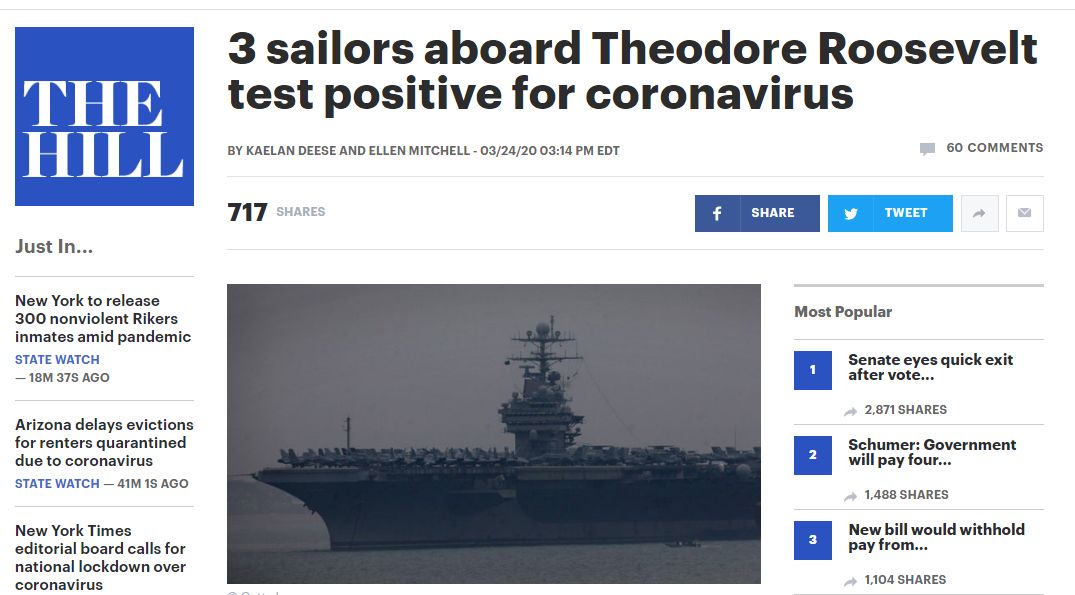 Source: U.S. Capitol News Network
According to the U.S. Capitol Report, Acting Secretary of the Navy Thomas Modley said on March 24 that "Roosevelt" aircraft carrier tested positive for 3 sailor new crown virus. This is the first time that the U.S. military has found a confirmed case on a warship on a mission.
At a press conference at the Pentagon, Modley said that the three sailors had been quarantined and they would be sent off the aircraft carrier on the 24th. "Everyone who has been in contact with these three sailors has been found, and they are being under quarantine," .
placed Modley said US Navy Secretary of Operations Michael Gildi also said at a press conference that the "Roosevelt" aircraft carrier will continue Perform tasks. He said: "We don't think it is necessary to recall this aircraft carrier … This matter needs to be evaluated on a daily basis." According to reports, the "Roosevelt" aircraft carrier has about 5,000 sailors, dozens of fighters and other types of aircraft.
The "Roosevelt" aircraft carrier left the port of San Diego, California, in the United States in January this year, sailing towards the Western Pacific. 15 days ago, the aircraft carrier's last stop was in Da Nang, Vietnam. The Fox News Network reported that the mission was to conduct military exercises against China.
According to previous reports, the US Navy 's Seventh Fleet released information on March 21 stating that U.S. medical personnel had boarded several ships of the Seventh Fleet, including the "American" amphibious assault ship and "Blue Ridge" on March 14. The amphibious command ship and the "Roosevelt" aircraft carrier carried out virus detection on the crew.