Original title: This moving plot also appeared in Italy!
In the battle against the new crown epidemic in Wuhan, we once witnessed the huge efforts and even sacrifices of medical staff of countless heroes.
Now, this scene is also being performed in Italy, the plot is equally touching!
The old man named Gino Fasoli is 73 years old. According to the Italian media, he was an Italian doctor who had retired in 2016 and should have been living in his home in Sulmona for years. However, with the outbreak and raging of the new crown virus epidemic in Italy and facing a serious shortage of medical staff, the 70-year-old doctor resolutely chose to pay and came to the front line of Italian epidemic prevention to fight with many other medical staff.
Sadly, he was unfortunately infected with the new crown virus and died on March 14.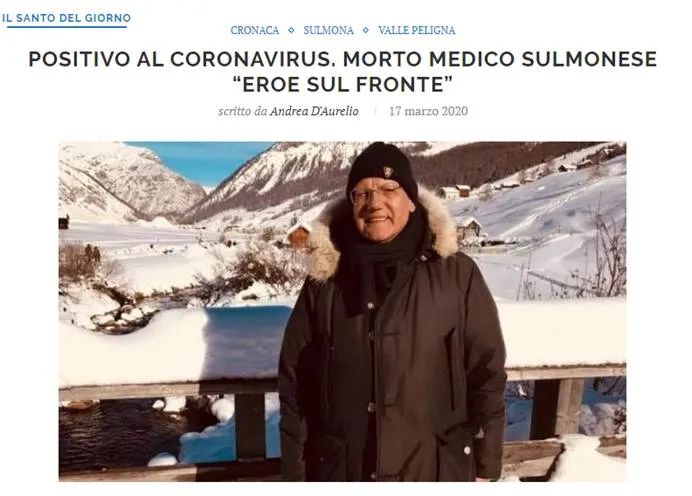 According to the Italian media Onda TV, before the outbreak of the epidemic, the old man did not take a rest after retirement. He would often return to the hospital where he worked before to help the doctors who took sick leave to look after the patients. Before retiring, he was not only a well-respected doctor in Brescia, Italy, but also a member of the "Doctors Without Borders" organization, which provided medical assistance to Africa and even was abducted in the process. Fortunately, it was finally put back. His experience has also made his sacrifice extremely sad for his family, friends and former patients.
The Italian media and the public therefore called the old man "the hero of the front line".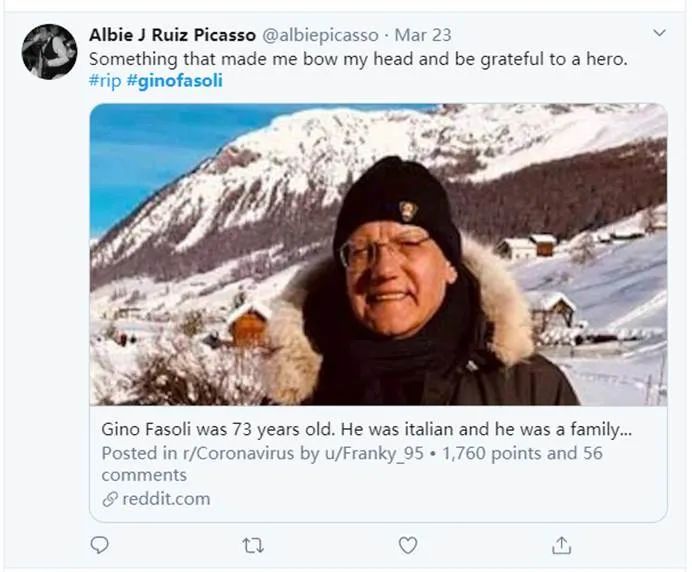 But Gino Fasoli is just one of many retired doctors who are supporting Italy's anti-epidemic work. The following anesthesiologist named Giampiero Giron has recently become a target of praise for the Italian public, because the 85-year-old man has also recently expressed his willingness to respond to the national call and return to the front line to fight the virus at any time.
According to Italian media reports, the old man believes that in this situation, as a doctor, he should make a dedication or even sacrifice to save the patient's life, and believe that it has nothing to do with his age.
"Even though my Hippocrates vow was made a long time ago, this vow will never expire," he said.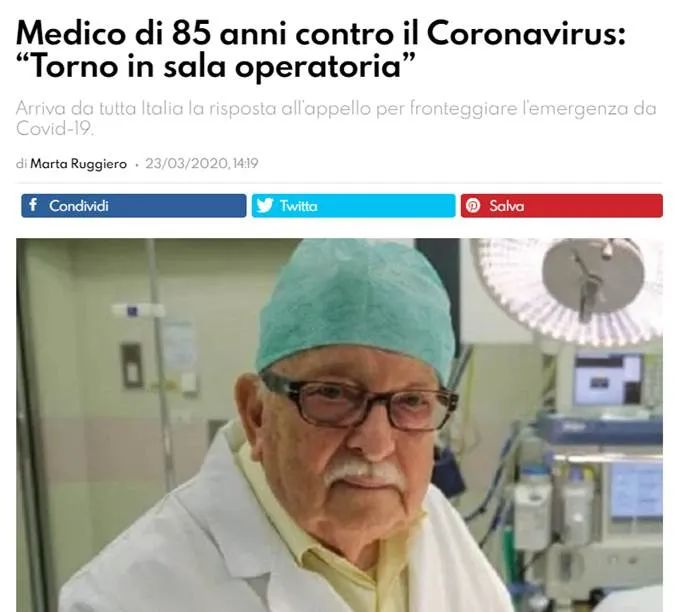 And, like the 73-year-old doctor, the 85-year-old doctor also has a glorious history. According to the Italian media, he participated in the first Italian heart transplant performed on November 14, 1985, and served as an anesthesiologist for that operation. Even after he retired, he has been helping in the hospital, and even anesthetizes patients in the operating room, three times a week … .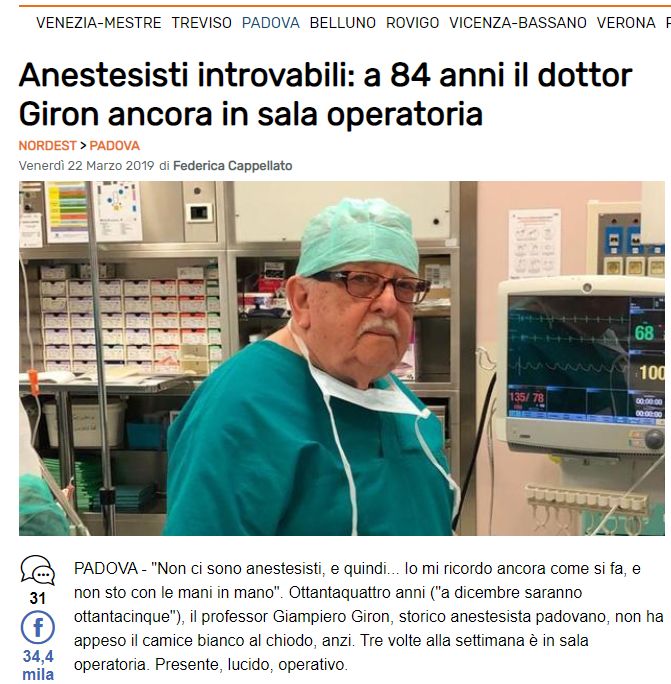 Of course, in addition to these returning veterans, a large number of young and middle-aged medical staff are also showing their passion and selfless dedication in the fight against the new crown virus in Italy.
Recently, a picture of a doctor in Italy with a mask on his face was covered with bloodstains, and he got a high praise of 160,000 on the Italian network.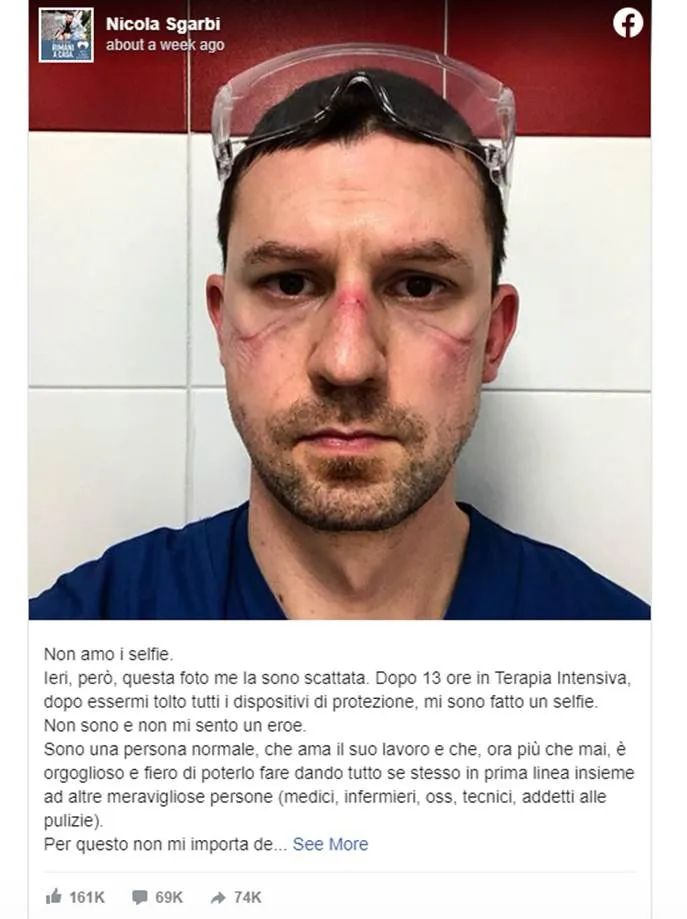 According to Italian media reports, the doctor, named Nicola Sgarbi, is from Modena, a city in northern Italy.
However, he does not feel that he is a hero, that he is just an ordinary person who loves his work, and is proud that he can work at the front line and give everything with a group of great people.
At the same time, another group of Italian doctors posted on overseas social media tweets were bruised with masks, and currently have received 150,000 likes from netizens around the world.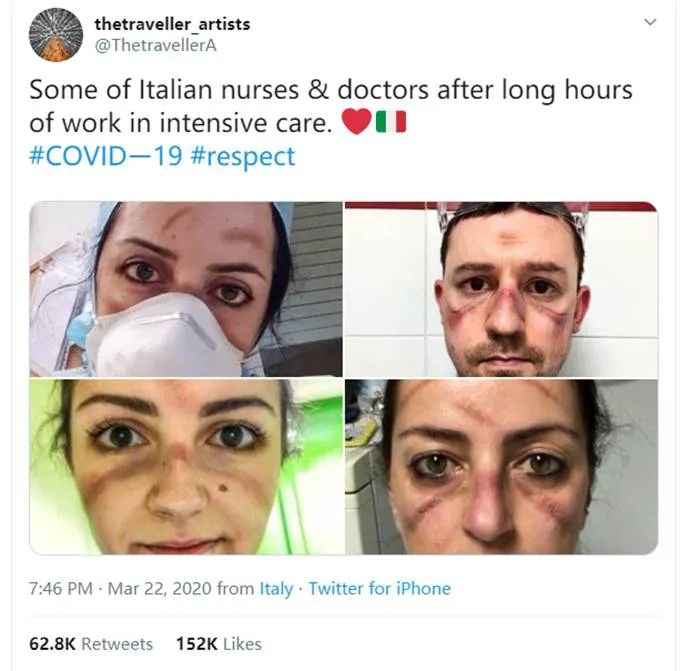 "I have full respect for these heroes!" A netizen wrote in a message.