Original title: The number of new diagnoses and deaths in Italy is too alarming …
Italy has added 6,557 confirmed cases, with a total of 4,825 deaths.
Italy 's civil protection department head and Commissioner of the New Corona Virus Emergency Committee said on the 21st that as of 18:00 on the day, the cumulative number of confirmed cases of New Coronary Pneumonia in Italy rose to 53,578, with a total of 4,825 deaths and 6072 cured cases.
Statistics from this department show that the cumulative number of neonatal pneumonia deaths in Italy increased by 793 from the previous day, and the cumulative number of confirmed and cured cases increased by 6,557 and 943, respectively, from the previous day.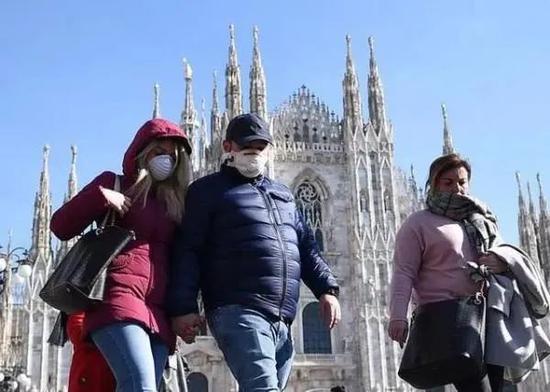 Borelli said at a video conference that night that, of the currently confirmed cases, 17,708 patients received general treatment in the hospital, 2857 received treatment in the intensive care unit, and 22,116 were isolated at home.
In order to prevent the further spread of the new crown pneumonia epidemic, Italy entered the state of "capped cities" on the 10th, and closed all shops except food stores and drug stores nationwide from the 12th, and closed all parks and other public places from the 21st, but Public transportation, logistics, post offices, banks and food production industries are maintained in normal operation and operation to ensure basic living services to the public.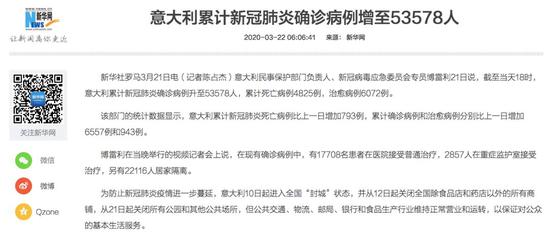 Xinhua reported Screenshot
  latest news
  Italian Prime Minister announced that the country stop all non-essential production activities
local time on the evening of 21, Italian Prime Minister Conte announced live via social media, in order to curb the spread of the new crown epidemic pneumonia as soon as possible, the National stop all non-essential Production activities should be implemented remotely when not necessary. In addition, he also emphasized that supermarkets will continue to operate and people should not queue up to buy food.
Conte said that the current epidemic is the worst crisis that Italy has encountered since World War II. Prevention and control measures need time to show results. Italians must persist and not lose hope for the future, unity can overcome the epidemic.
Source: Xinhuanet, CCTV News