Original title: Italian expert: Highly suspected of new crown virus or had been concerned about the emergence of the northern part at the end of last year.
Giuseppe Remuzzi, a well-known Italian medical expert, said in an interview with US media that Italy may have been back in November last year. And in December, unexplained pneumonia with a high degree of suspected neocoronavirus pneumonia already appeared.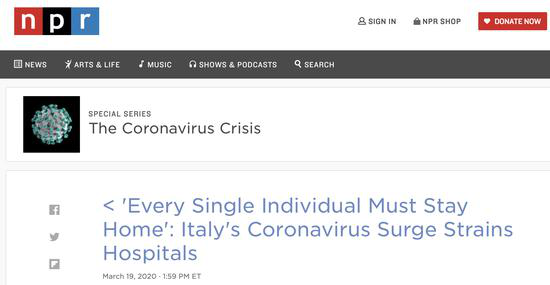 Giuseppe Remuzzi is the director of the well-known Mario Negri Pharmacological Institute in Italy and throughout Europe.
In an interview with the National Public Radio Network (NPR), he made this statement when asked why Italy behaved "unprepared" after the outbreak.
Also interviewed was a surgeon and oncologist Dr. Carlo Vitelli from Rome. The interview is as follows:
  transcript of the Berger, NPR host: Italy's health care system is perfect, and every citizen has the opportunity to get treatment. But now hospitals and health care workers are overwhelmed. This has led to heated discussions. The Italian College of Anesthesia, Analgesia, Resuscitation and Intensive Care has published a guidebook, which clearly reveals such information, which In the case of insufficient medical resources, patients with the greatest hope for survival can have the opportunity to receive intensive care.
  Dr. Carlow Waitley: If you only have one ventilator and you are facing a child patient who needs intubation and a 99-year-old elderly patient with multiple diseases, I mean, (Ventilator) This does not require tossing a coin to decide.
  NPR Moderator Bergley: Dr. Wetterley is a surgeon and oncologist from Rome. He had just perforated appendix surgery a few hours ago with a young man who had come into contact with a person from the epicenter of the epidemic in northern Italy.
  Dr. Carlow Waitley: Just finished emergency surgery on this patient in isolation. I don't know if he will become infected. I don't think so, but you can never be sure.
  NPR moderator Burgry: As of Thursday night, the death toll in Italy has exceeded 3,400. In response to the epidemic, Italy has entered a state of war emergency.
Giuseppe Remuzzi, co-author of a recent article in The Lancet, gave a bleak forecast.
  Giuseppe Remuzzi: In four weeks from the publication date (March 11), the number of people infected in Italy is expected to reach 40,000, and an additional 4,000 beds in intensive care units will be needed.
  NPR moderator Burgry: Health officials are accelerating the creation of beds. The old bazaar in Milan is being transformed into a 500-bed new crown pneumonia emergency hospital. Hospitals across the country are setting up inflatable tents outdoors to classify patients. Remuzzi said other countries can learn important lessons from Italy, including the ability to urgently transform general hospitals into new crown pneumonia hospitals and provide specialized training for doctors and nurses.
  Giuseppe Remuzzi : Our dermatologists, ophthalmologists, and pathologists are also learning how to help patients use ventilators.
  NPR moderator Burgry: Some people questioned why Italy was caught off guard when the outbreak broke out on February 21. Remuzzi said he hadn't heard the latest news from the GP until now.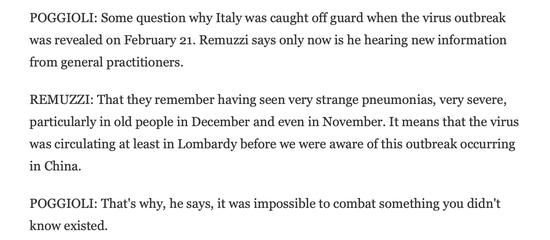 Giuseppe Remuzzi : They remember experiencing very strange pneumonia, which was very serious, especially when they were seen in elderly people in December or even November. This means that the virus had already spread in Lombardy, at least before we realized the outbreak in China .
  NPR moderator Burgry: That's why he said that people cannot fight against unknown existence.