Original title: China's aid for medical supplies arrived, Venezuela's vice president said four "thanks"!
According to the Venezuelan government website and Reuters news, on March 19 local time, a group of medical aid materials arrived in Venezuela from China, including 4,000 sets of new crown virus detection kits, protective clothing, gloves, etc.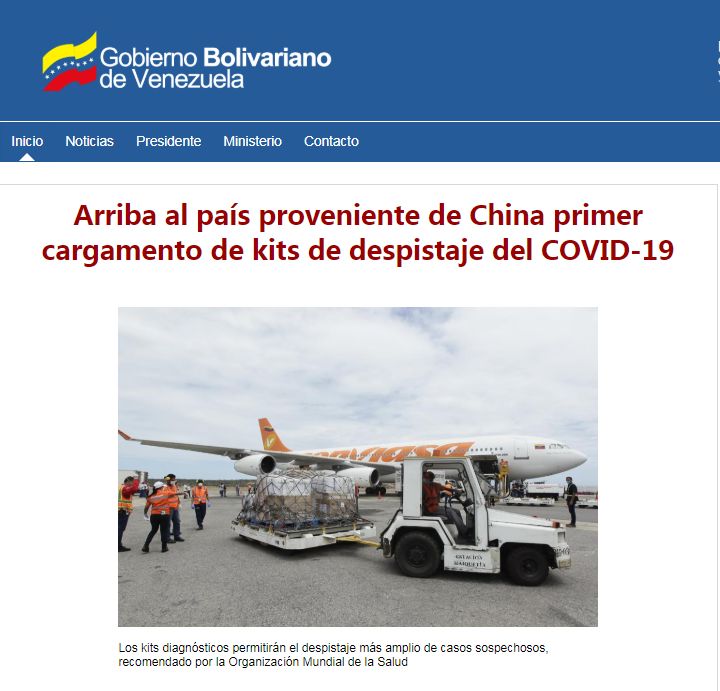 (
Venezuelan government website) It is
reported that on the same day, Venezuelan Vice President Delsie Rodriguez went to Miketia Simon Bolivar International Airport to receive the first batch of aid supplies. She said at the airport, "We received 4,000 sets of (New Crown Virus) test kits and all the medicines and reagents needed for these kits. We also received protective clothing, protective clothing provided by (China) for the (China) Health Center. Eyepieces, gloves and air purifiers. "
"We want to thank the People's Republic of China, the President of the People's Republic of China Xi Jinping, the Chinese Government and the Chinese people for their generosity (assistance), and the friendly and cooperative spirit they have shown," said Rodriguez.
In addition, Rodriguez also mentioned that on the 19th local time, the Venezuelan government's anti-epidemic team will also hold a video conference with Chinese experts. She said that Venezuelan President Maduro had asked China to send experts to help Venezuela fight the epidemic. "As far as it is currently exhibiting, this is a virus that is not familiar to humans. And China (in the battle with the new crown virus), (they) are winning."
Venezuela announced for the first time on the 13th Two new cases of coronary pneumonia were confirmed. The government subsequently declared a state of vigilance across the country, required schools to be suspended, closed all restaurants, bars and nightclubs, and asked people not to hold any kind of family gatherings and large-scale gatherings. Flights to Colombia, Panama and Dominica for 30 days.
Maduro issued a televised speech on the 16th, announcing the implementation of "social isolation" nationwide starting at 5 am local time on the 17th, local time, calling on all people to stay at home as far as possible to control the spread of the new crown pneumonia epidemic in the country.
According to the global real-time epidemic data released by Johns Hopkins University in the United States, as of 15:43 Beijing time, there have been 42 confirmed cases of new coronary pneumonia in Venezuela.