Original title: Outbreak report "dishonest" Report of British "Guardian" was banned.
Reference News Network reported on March 19 that AFP reported on March 17 that Egypt reported "dishonest" 17 cases of new crown pneumonia in the country as The reason is to revoke the press card of a Guardian reporter and condemn the head of the New York Times Cairo branch.
The report said that the Egyptian National Information Agency said in a statement: "These reporters are eager to publicize incorrect data, which cannot be a reason for them to invoke a study that is not publicly and scientifically not recognized."
Responsible for the qualification of foreign media "This shows that they intentionally and dishonestly harmed Egypt's interests," said the
British journalist Ruth Michaelson in the Guardian, citing Canadian epidemiologists, Egypt has more than 19,000 new crown pneumonia infections.
According to French media, the Egyptian National Information Agency also condemned Dekran Walsh, the chief of the New York Times' Cairo branch, quoting the same number on Twitter. Walsh deleted the tweets after sparking a strong reaction from Egyptian netizens.
According to the report, the North African country officially notified 166 confirmed cases and 4 deaths, including 2 Germans and 2 Egyptians.
Michaelson and Walsh declined to comment.
A Guardian spokesman said: "We regret reports from Egypt about the Guardian or the ban on our reporters. We have provided the Egyptian government with comments and responses to our reports in the normal manner Opportunity. "The
Cairo authorities have warned that anyone who spreads false information related to the new crown virus will face severe measures.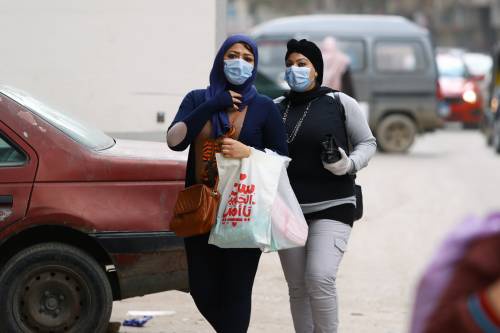 picture on March 17, two women wearing masks walking on the streets of Cairo, Egypt. Xinhua News Agency