Original title: In an emergency, the U.S. military returned 500,000 copies of testing materials from Italy.
Reference News Network reported on March 19 (Reporter Yan Qi) According to the US "Defense 1" website reported on the 18th that the US Air Force from Italy to the United States on the 16th 500,000 copies of New Coronavirus testing materials were shipped home. The US Department of Defense confirmed the news that day.
A photo posted on the social networking site on the 17th showed that a C-17 aircraft was filled with trays for reagent kits, and the photo publisher was allegedly a crew member performing the task. Although the photos were subsequently deleted, the Defense 1 website claims to have confirmed their authenticity.
On the afternoon of the 18th local time, U.S. Air Force Chief of Staff Dave Goldfein officially confirmed at the Pentagon press conference: "We have just completed a significant transport mission in Memphis." This aircraft carrying 500,000 copies of test materials The C-17 took off from Aviano Air Force Base in Italy on the 16th and arrived at Memphis International Airport in Tennessee at 1am local time on the 17th.
Pentagon spokesman Jonathan Huffman said at the press conference that the shipments were swabs for the detection of new crown virus. However, there have been previous media reports that this shipment includes a test box set. According to people familiar with the mission, these materials will soon be distributed throughout the United States.
US Air Force Brigadier General and Medical Officer of the Joint Staff, Paul Fredericks, said the supplies included both US products and products from other countries. However, he did not mention the proportion of national products in the batch.
Goldfein said that the Air Force is "delivering test kits to support the Department of Homeland Security and the Department of Health and Human Services to ensure that their needs are met." The
report said that the US military is expected to have similar missions in the coming days.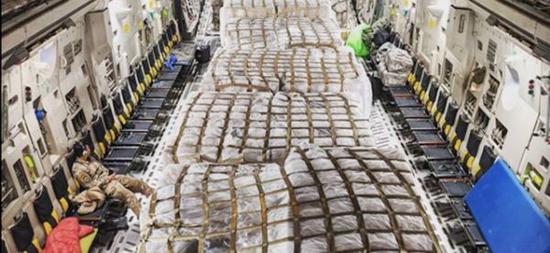 On March 17, a photo posted on a social networking site showed that a C-17 aircraft was filled with trays for reagent kits. The "Defense 1" website has confirmed its authenticity.