Original title: The Trump administration is finally "zooming in", but …
refer to the news website reported on March 18 (text / Zhang Luyu) "We are zooming in." Surrounded by several senior advisers, President Trump said at the White House that the government is considering a plan to issue a $ 1,000 check to every citizen to help everyone survive the crisis, but He hinted that details were yet to be worked out.
What excites the market is that this is just one of several major measures of the Trump administration's economic stimulus package. The Trump administration is said to be seeking a US $ 1 trillion economic stimulus package to support the economy that has been hit by the new crown epidemic.
The plan also includes deferred tax approvals of up to $ 10 million for businesses and up to $ 1 million for individuals.
"If realized, it will become a rare large-scale economic stimulus measure that exceeds 20% of the federal government's annual fiscal expenditure ($ 4.7 trillion)," the Nihon Keizai Shimbun website commented.
Stimulated by the "big move", the US stock market rebounded. By the close of March 17, all three major stock indexes rose by more than 5%.
It is understood that the economic stimulus package of the White House was originally $ 850 billion, which may increase to $ 1 trillion. On March 16, the office of Senator Minority Leader Schumer said Schumer would propose a rescue package of at least $ 750 billion. The program will include expanding the scope of unemployment assistance benefits and providing assistance to SMEs.
"In terms of scale, the differences between the two parties have become smaller and smaller. This fully shows that the situation in the United States is more serious. Because the two parties will not cooperate because of last resort." Because the two parties' differences lead to the delay of the tax reduction plan, this huge economic stimulus policy may not be repeated in the process of launching.
He said that only from the details announced so far, cash distribution and tax reduction will have a short-term stimulus effect on the US economy. However, the plan starts with stimulating consumption. Under the circumstances that the current epidemic has caused the public to reduce consumption and economic downturn, some failures may occur.
"How effective the plan will be depends on how effective it is in alleviating the epidemic." Sun Lipeng said.
In Sun Lipeng's view, pushing a large-scale economic stimulus plan under the circumstances of huge US debt is a bit like drinking water to quench thirst.
The US Treasury website shows that as of March 16, the total US debt has exceeded $ 23.5 trillion.
"The stimulus policy is expected to play a role in the short term, and in the long run, it will definitely squeeze the US government spending." Sun Lipeng said.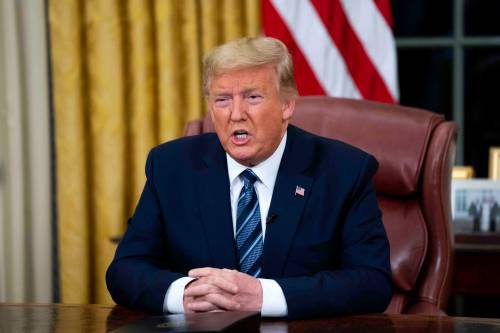 Map is US President Trump. Xinhua News Agency / French