Original title: 500,000 masks arrived in Spain from China, Spanish netizens: "Thank you China"
[Global Reporter Hou Jiaxin] On March 17, local time, a cargo plane taking off from Shanghai, China arrived at Zaragoza Airport in northern Spain . The plane carried 500,000 masks donated by China to Spain.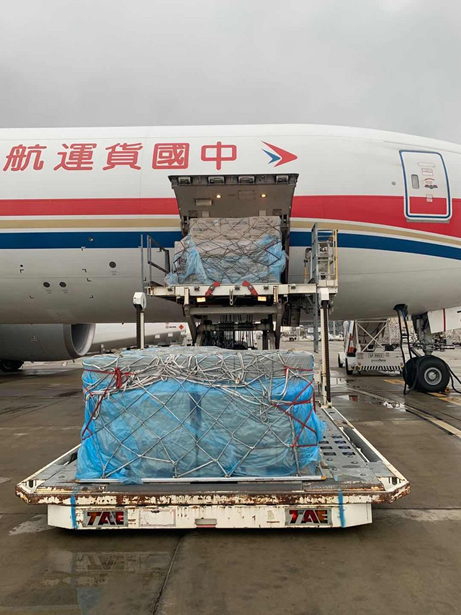 (500,000 masks arrived in Spain. Source: Xinhua News Agency Twitter) The
official website of the Spanish Ministry of Health announced on the 17th that "this afternoon, a plane carrying A cargo plane with 500,000 masks flew from Shanghai to Zaragoza Airport. The masks were donated by (China) to (Spain) and will be distributed (to various places) in the next few hours. "↓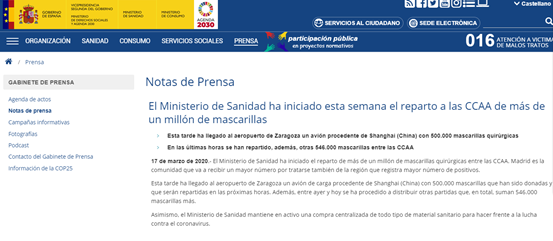 (Screenshot of the official website of the Spanish Ministry of Health) The
news also mentioned that the health department has begun distributing masks. It is understood that Madrid will receive the largest number of masks, as the epidemic there is the worst.
The news of the arrival of Chinese aid materials was also posted on Twitter by the Spanish Ministry of Health, which aroused the attention of netizens.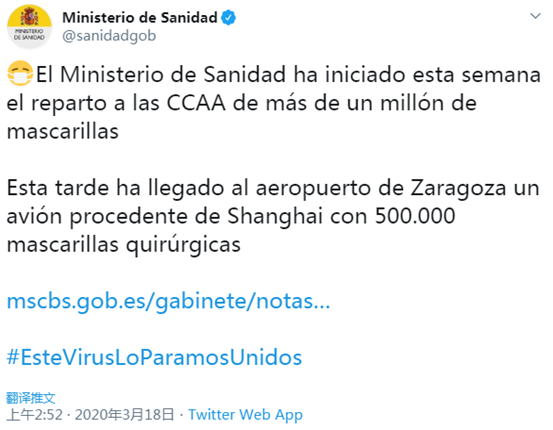 (
of Twitter from the Spanish Ministry of Health) The
Spanish domestic epidemic is severe. After learning that Chinese medical supplies have arrived in Spain, many Spanish netizens have expressed their gratitude.
Many netizens said "Gracias" (Spanish: Thank you), "Thank China". ↓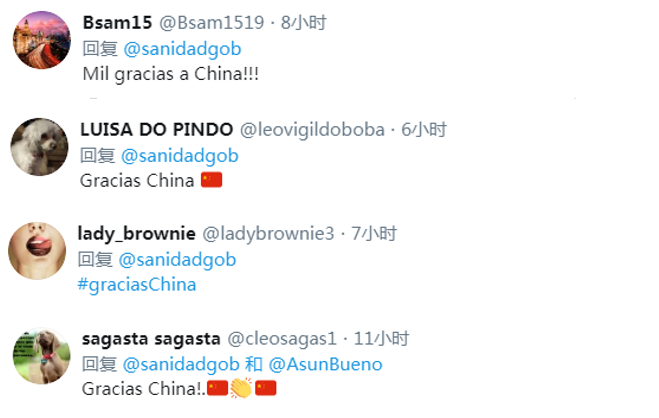 Some netizens are beginning to look forward to when these masks will reach their area.
One netizen said, "Look at when can (these masks) arrive in Malaga?" ↓

Another netizen said, "Let's see when they reach the Andalusia region, we are in (materials ) Very scarce situation! "↓

Of course, some netizens think of the EU. A netizen asked, "Where is the EU?" This netizen was also accompanied by a moving picture. The protagonist in the picture kept looking around and seemed to be looking for something. ↓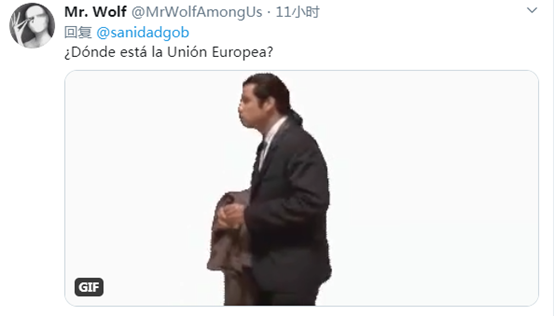 Of course, what people are most concerned about is the development of the future epidemic in Spain. A netizen said, "I hope this is to provide sufficient supply for all health workers to start. There is no doubt encourage the widespread use of masks is a good thing, I think this helps prevent the spread of the virus." ↓

Chinese Embassy The Spanish ambassador's website released news on the 16th. On March 15th, State Councilor and Foreign Minister Wang Yi had a telephone conversation with Spanish Foreign Minister Gonzalez. Wang Yi said that China and the West have long-term friendship and have always understood and supported each other. China will not forget Spain's precious understanding and support for China's fight against the epidemic. China has decided to urgently provide a batch of medical material assistance in accordance with Spain's needs and open up commercial channels for Spain to import much-needed personal protective equipment and medical equipment. In addition, Wang Yi also mentioned that China will also encourage friendship cities and enterprises to provide assistance, and is willing to strengthen the exchange of experiences, coordinate arrangements for experts from both countries to hold medical video conferences, and consider sending medical expert groups at an appropriate time.
Real-time statistics released by Johns Hopkins University in the United States show that as of 14:33 on March 18, Beijing time, the number of confirmed cases of new coronary pneumonia in Spain has reached 11,826, with a cumulative death rate of 533.