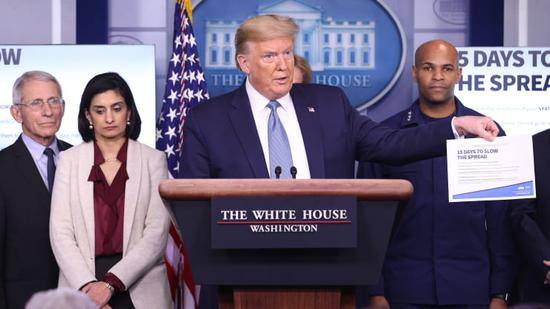 Beijing time March 17 news, Trump said at a news conference on Monday that the US economy may fall into recession due to the new crown pneumonia epidemic. This is the first time he has acknowledged the terrible consequences of an outbreak.
Trump said the worst-case scenario is that the crown virus epidemic could end in July, August or later. After the virus disappears, the US economy may rebound dramatically.
Trump also said that the US government might consider a blockade of "certain areas" or the "hot spots" of the epidemic, but said he did not consider a complete blockade of the country.
Trump said the current focus is on fighting the virus itself.
During Trump's speech, U.S. stocks fell again in late trading, and all three major stock indexes fell more than 10%. The opening of the major US stock indexes triggered the fusing mechanism on Monday, and trading was suspended for 15 minutes.
U.S. Treasury Secretary Steven Mnuchin also said earlier on Monday that demand for stocks would surge if the coronavirus threat eases.
"Once the epidemic is over, there will be a lot of suppressed demand. The epidemic will eventually end," Mnuchin said.
Mnuchin also said that he believes that major US banks will be able to cope with this market downturn, which is different from their performance during the 2008 financial crisis.
Concerns about the new crown virus and global efforts to slow its spread have paralyzed multiple industries and threatened industries such as the catering and entertainment industries.
As state and city leaders in the U.S. take unprecedented steps to curb the spread of the virus, the potential damage to these businesses is expected to intensify.
Editor-in-chief: Zhang Yujie SF107