Original title: French Emergency Officer: Even masks cannot be supplied. How can they be called developed countries?
[Text / Watcher Network Cao Shixiong] The crisis of the new crown epidemic made French public hospitals aware of the cruel reality. On March 16, local French time, after French President Macron decided to adopt a stricter closure policy, Philippe Juvin, a former member of the European Parliament and the director of the emergency service center of the Georges Pompidou European Hospital in France, was invited to participate. French TV show "Quotidien". In the show, he condemned France's inability to qualify as a developed country in the field of health care during the epidemic. He sarcastically said, "How can you call a country (even a developed country) that can't even supply masks?" The
original text of the video conversation is as follows:
Moderator: You mean that we are an underdeveloped country in the field of health care?
Philip Juven:
So how do you explain that no country can afford you masks?
If you find you have a cough, come to my hospital and then I decide not to put you in hospital.
So what actually happens?
I will check you, but I won't test you for new crown virus.
I will let you go home and tell you: "Isolate at home for 14 days, and remember to wear a mask when buying bread. I will give you a prescription so you can buy a mask." When
you get to the pharmacy, people there will I said to you, "We have sold out our masks."
So how can you call a country (for developed countries) that even masks cannot supply?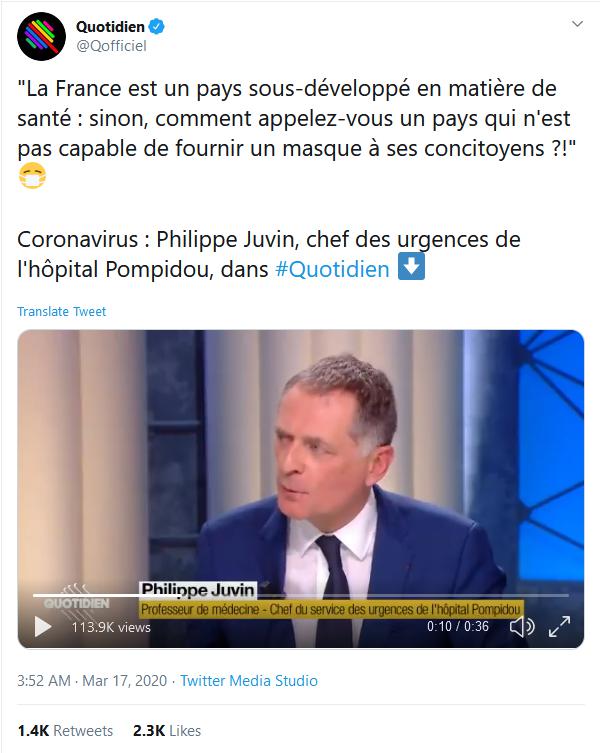 map since Social Media