Original title: Ms. Li, who returned to the United States to seek medical treatment, has more problems …
In addition to concealing her condition before returning to China by plane, she also received criticism from some Chinese Americans.
Recently, a case of imported neocoronary pneumonia in Beijing has attracted public attention. According to Pang Xinghuo, deputy director of the Beijing Centers for Disease Control and Prevention, yesterday, the confirmed case, named Li, arrived at Beijing Capital Airport on March 13 with his husband and children on the Air China CA988 airliner from Los Angeles.
Pang Xinghuo also introduced that the domestic domicile was in Li, Chongqing, and she lived in Massachusetts (Massachusetts) in the United States. She reported that she attended a company meeting in the United States from February 26 to 27, and one of her colleagues was diagnosed To confirm the case, she herself also developed fever and other discomforts on March 1.
In addition, Pang Xinghuo also mentioned that Li Mou said that she had been denied three applications for the new crown virus virus nucleic acid test when she visited the United States on March 3, 5, 10, and 11. Fly back to China for medical treatment in Los Angeles.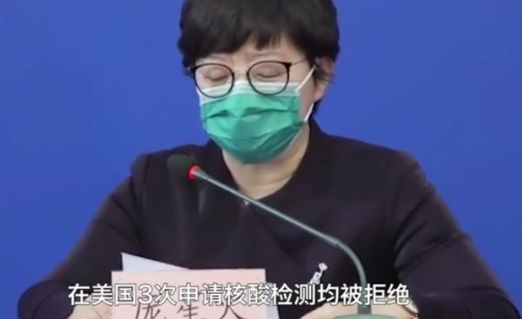 However, with the fermentation of this case in public opinion, people gradually discovered that this Li Mou problem may be more serious and excessive than imagined.
For example, a recent report from the Beijing Daily pointed out that Li had taken a lot of antipyretics before boarding in Los Angeles, and concealed his condition from the flight attendants. He also said that he did not have a companion. He said he was a little uncomfortable and asked the flight attendant to arrange himself to sit in the back row of the plane.
Until 2 hours before the plane landed, this was originally like Li Mou who ran back to China for treatment from the United States, and then revealed the truth, saying that the company she worked for was confirmed and she had a fever, but she took antipyretics and said I have my husband and children on the plane.
"Global Times" reporter also confirmed this. A passenger who was on the same plane as Li and who was several rows away from the seat where Li started, said that after the plane landed in Beijing, the flight attendant broadcast said that epidemic prevention personnel should be on board for inspection, so everyone waited for about an hour. I saw Li's family being taken off the plane first. Other passengers then disembarked.
The passenger also said that although everyone's protection measures were in place on the airliner and many people wore goggles and masks, she believed that Li's approach was "extremely selfish and unforgivable, and I hope she can be punished by law." .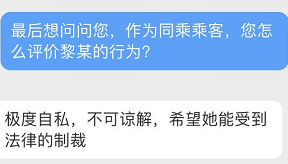 On the other hand, this case of Li Mou also attracted the attention of many Chinese in Massachusetts. "Global Times" reporters saw the chat records of two groups of local Chinese, showing that Li is an employee of the Massachusetts-based biotechnology company Biogen, whose company appeared on a large scale at a meeting on February 26. A cluster of cases, the outbreak was discovered in early March.
In these chat records, someone also claimed that Li was "diagnosed" in the United States, but she was "not satisfied" with medical treatment in the United States, so she violated the quarantine requirements and came all the way from Massachusetts to Los Angeles and then returned to China by air. But she lied that the United States had not tested her.
"How many people will be in trouble this way," said one of the chats.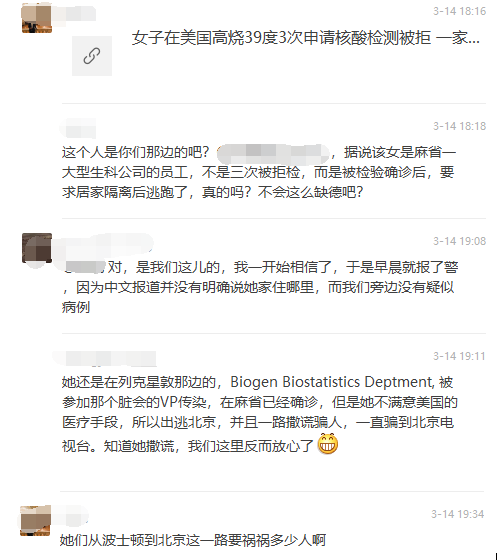 Another person familiar with American flight traffic said that there is a direct flight to Beijing from New York, not far from Massachusetts where Li is located, but she chose to fly from the east coast of the United States to the west coast, and then fly back to China from Los Angeles. .
The person said that considering the low wearing rate of masks in the United States, it can be expected that there may be many infected by Li Mou along the way.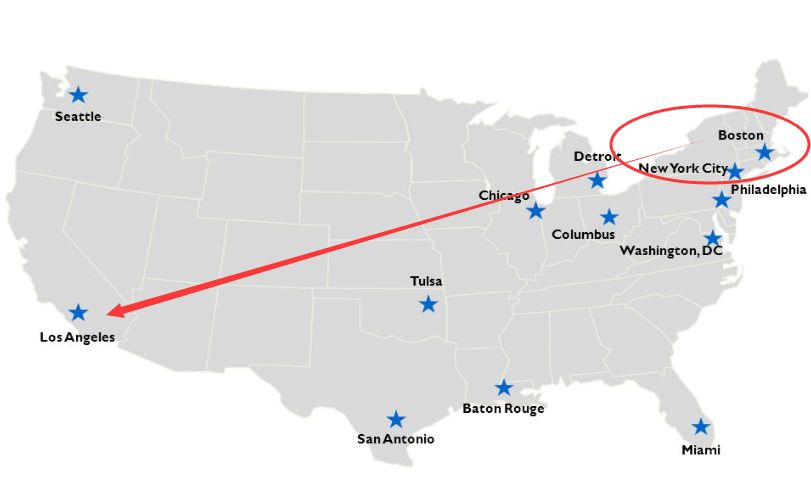 But someone who claimed to be a colleague of Li Mou posted on a forum called "North American Chinese e-Net": "She is already serious, and the hospital will not allow her to be hospitalized or treated."
This person claimed that he was a close contact of Li Mou, and although he was finally allowed to do virus testing, he was told that "resources are tight, and the (testing) time will be notified later."
The person also wrote in a post: "The hospital … clearly stated that if it is positive, without any treatment before it needs to be on the ventilator, rest at home … may we also return home if we have been diagnosed?"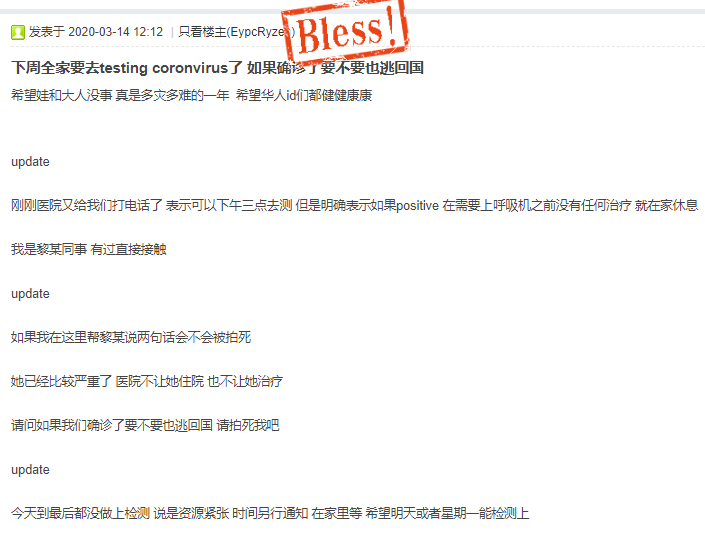 For the above information, " Global Times reporters are currently verifying, but we checked the local US media reports and found that the Massachusetts-based biotechnology company in the United States did hold a large conference on February 26. In just a few days after the meeting, several confirmed cases of new coronary pneumonia occurred. This is also in line with the information that Li has been confirmed that she attended a local meeting on February 26, and someone was diagnosed with the infection.
According to the Boston Globe, Biogen, after realizing the situation was wrong, notified the company on March 5 of the clustered outbreak and requested employees to work remotely. Other media said that on the 9th, the company required employees who participated in the meeting to self-isolate at home.

The Boston Globe also reported in an update updated on March 10 that these employees who had attended the meeting and later appeared with suspected symptoms, ran to the local hospital to apply after the company notified the epidemic information on March 5. Tested for a virus, but was rejected because it did not meet the stringent virus testing standards set by the US Centers for Disease Control and Prevention.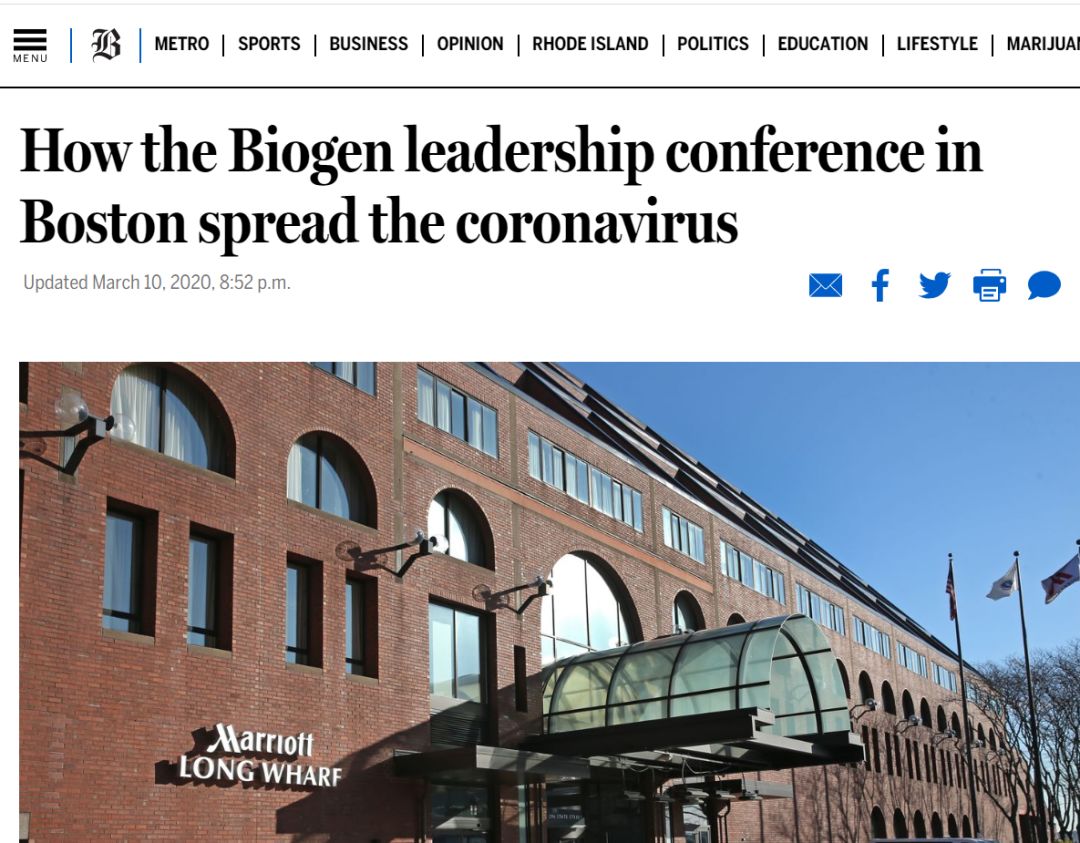 Even as a large number of company employees rushed to the hospital for emergency testing, Biogen once asked employees not to go to the hospital for testing, because this has caused a lot of pressure on the emergency room of the local hospital.

Biogen itself reported to the local authorities on March 3 and 4 that a cluster case had occurred at the company meeting and asked about the test, but it was also rejected with insufficient test standards.

But the report also added that as of March 6, local hospitals had set up temporary testing stations to cope with the surge in demand for testing caused by Biogen's clustered cases.

A report from a medical information website in the United States on March 9 also showed that the official had agreed to test employees of Biogen at the time. Biogen had also told employees at that time that they should stay at home and isolate themselves, and wait for the official to contact them for testing .

After the test standards were relaxed for Biogen employees, Massachusetts official data released on March 9 showed that at that time they had detected 32 confirmed cases related to the company, accounting for all 41 confirmed cases in the state at the time. Nearly 80%.


Since then, the number of "confirmed cases related to Biogen" has also become a part of the daily official outbreak notification of the local authorities, and the number has increased from 32 cases on March 9 to 104 people on March 14, accounting for the day A total of 75% of the 138 confirmed diagnoses-it can be said that the Biogen meeting has become the "South China Seafood Market" in Massachusetts.


So, from the above information, although we are temporarily unable to verify Li 's allegations of "fleeing to China after diagnosis", from the above-mentioned US media reports, we can find that Li should have known that the company had gathered before returning Sexual outbreak, and has been notified by the company to quarantine at home, waiting for official contact to test.
As for why she still ran to Los Angeles in this situation, took the opportunity to conceal her illness and return to China, and put her and others at risk, whether this reckless behavior is as true as that posted by the North American Chinese e-network said that it was because she felt that Treatment in the United States is not working, and still needs further verification.