Original title: It is difficult to get a ticket to return to Europe and the United States, and 180,000 seats are sold out instantly
. Is it really so difficult to buy a return ticket?
Yesterday afternoon, a poster flying from London to Geneva via Shanghai on a 787 business jet spread through the circle of friends. The information on the poster showed that the price of this seat starts from 180,000 yuan.
Yesterday evening, it was reported that the official charter flight was sold out within two hours after the ticket was released. According to the news learned by the reporter from the operator Jinlu Business, the business jet has indeed received more than 100 reservations. Demand is mainly from London.
At the same time, China Eastern Airlines (600115), a new flight from London to Shanghai that was launched last night, was sold out overnight. Is it really so difficult to buy a return air ticket now?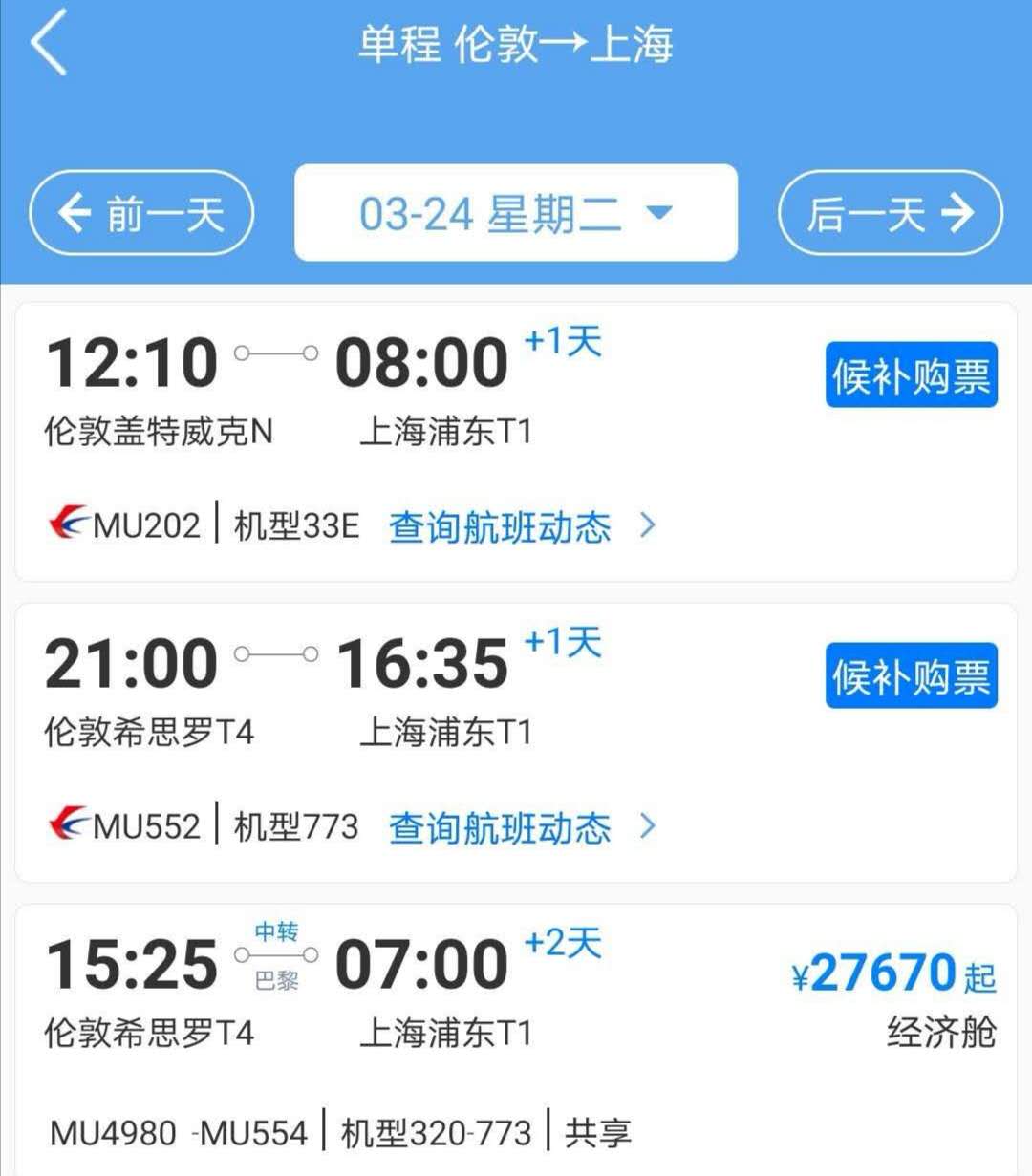 Why is it difficult to get a ticket to return to China
? Since March, China 's new crown epidemic has been under certain control, but the number of confirmed cases of new crown pneumonia outside China has increased by 15 times in two weeks, and it has exceeded 50,000 cases, involving more than 120 countries and area.
Faced with an increasingly severe epidemic situation abroad, many overseas Chinese, overseas students have begun to choose to return to the country to hide the epidemic, which has also contributed to the difficulty of obtaining a ticket to return to China.
Prior to this, due to the restrictions imposed on China by various countries during the Spring Festival, many intercontinental routes to Europe and the United States were cancelled. For example, American Airlines on the China-US route has stopped all direct flights from the United States to the Chinese mainland. Air China and China Eastern Airlines have kept only one flight from the east coast and west coast to China under the requirements of the state airlines. This also makes it difficult for Europe and the United States to return to China.
A telephone customer service staff of the domestic airline company revealed to reporters that since the outbreak of the new crown epidemic, the number of calls for international flight business has always been a lot more than usual. In the early stage, I consulted how to go to school to go abroad, and now how to consult Returning from abroad, especially the parents of some foreign students are very worried about the health and safety of children abroad, which has also increased the sales of airline direct phone tickets.
According to the reporter's understanding, most parents of international students have already bought a return ticket for their children last week, hoping that their children can fly back to China to avoid the epidemic. As of Friday, March, Europe and Europe 's direct flights back to Shanghai have basically sold out. However, many domestic second- and third-tier cities that have not yet cut off flights with Europe and the United States still have a small number of remaining tickets, but the return fare of economy class has already reached tens of thousands, and ticket agents who have reserved seats for airlines in advance have increased their prices. Economy class Also called a high price of 30,000.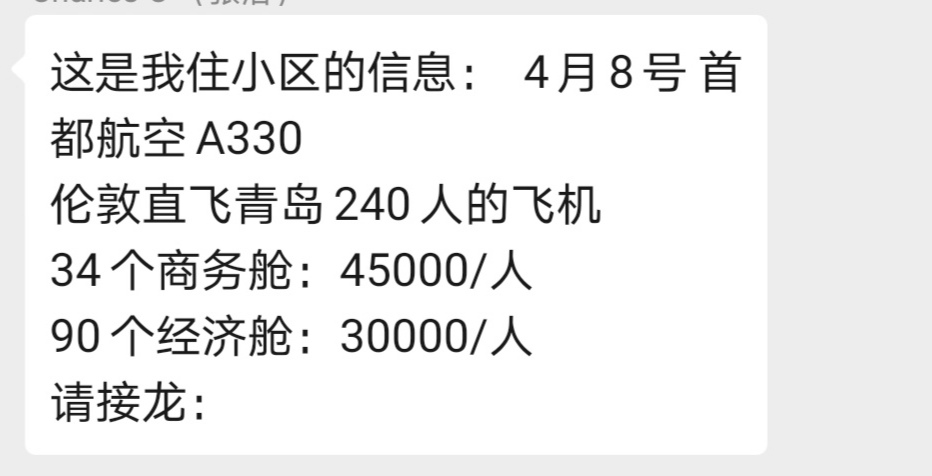 The charter planes have their magical powers.
Although it is difficult to get direct flights back to Europe and the United States through the airline app and the ota platform, many foreigners who want to return to China and parents of foreign students still "guilty" to fly directly to home.
There are also many overseas Chinese who seek help from airlines to return to China through commercial charter flights. However, due to time constraints, policy constraints, and other considerations in terms of prevention and control capabilities, airlines are currently applying for commercial charter flights to Europe and the United States. A unified deployment at the national level is needed.
The latest news obtained by China Business News reporter is that at 18:50 local time on March 15, local time, Air China will launch the first Italian commercial return charter flight from Milan, Italy to Wenzhou, and plans to reach Wenzhou Longwan International at 14:20 the next day, Beijing time The airport uses Air China's largest Boeing 747. The ticket price is 3,625 euros for business adults, 2,772 euros for children, 2,660 euros for adults, and 2,027 euros for children. Priority is given to overseas Chinese of Zhejiang nationality: children over 70 years old and children under 10 years old can be accompanied by an adult.
Prior to this, China-Italy direct flights have been completely grounded, and many overseas Chinese who want to return to China want to apply for commercial charter flights. These overseas Chinese in Italy are mainly from Wenzhou. According to the reporter, China Eastern Airlines is also preparing for another charter flight from Italy to Wenzhou.
However, the approval of commercial charter flights is long and the process is very complicated. More overseas Chinese and students from other European and American countries have begun to seek business jet charter flights to return home. Many ticket agents have also demonstrated their magical powers. In addition to continuing to use their seats in various reservation systems, they have also begun to find resources for distributing business charters.
At present, the domestic airline company is also trying to find ways to resume international flights that have previously been suspended due to entry restrictions of various countries, especially after the Civil Aviation Administration and the Ministry of Finance jointly issued a notice recently to reward nonstop flights and resumed international flights.
However, according to the reporter's understanding, it is not easy for the airline company to resume international flights at present. Even if the airline company already has the time and rights of the relevant international routes, in the context of national joint defense and joint control, it is still necessary to resume flights. After the civil aviation bureau's approval at an even higher level, comprehensive consideration must also be given to the customs, airports, communities, and other departments in the face of pressure to return to the country after the return of flights.
It is worth noting that China Southern Airlines (600029) announced on Friday that it plans to gradually resume international passenger flights from Guangzhou to Australia, New Zealand, North America, Europe, Southeast Asia and other regions from March 13. It is estimated that more than 1,600 international flights will be executed . However, some flights did not enter the system for sale. A passenger who snapped up a first-class non-stop ticket for returning to China next week through a customer service phone of China Southern Airlines also received a refund SMS notification of "seat cannot be confirmed."
How to return home? Whether to return home?
Although direct flights are difficult to obtain, connecting flights is still a viable way to return home. Recently, Xiao Wu, who wants to return to China after studying in the United States, chose the route from Washington to Ethiopia and back to Shanghai.
"Usually, common transit destinations between China and the United States are Canada, the Philippines, Japan, and South Korea. Uncommon transit destinations include Finland, Russia, Qatar, and the United Arab Emirates. However, with the development of the epidemic, whether it is common or uncommon The transit point has either been reduced to an epidemic area or restricted entry of Chinese citizens, "Xiao Wu recalled to reporters. After excluding transit points in Canada, South Korea, the Philippines, and Japan, he finally chose Ethiopian Airlines in Addis Ababa is turning.
"The attendance rate of flights from North America and Europe to Ethiopia is generally low. At present, Ethiopia still has close flight connections with the four major cities in the north, the north, the north, the south, the south, and the south, and the aircraft types are all 777, 787, and 350. In addition, Ethiopia has signed an electronic visa It is also very convenient, and the fare is only half of the direct flight price. "Xiao Wu said.
When asked about the issues related to the embassy's proposal if many people want to return to China in the future, Cui Tiankai, ambassador to the United States, said in an interview with CCTV News One Plus One on Friday that according to many professional institutions, including World Health The organization's proposal is to minimize the large-scale gathering and long-distance travel, because long-distance travel will also increase the risk of infection. He hopes that in the absence of overseas Chinese and foreign students, we must carefully weigh the advantages and disadvantages and try to avoid the risks.
Cui Tiankai also said that the most basic thing now is to protect yourself, and do what you can to protect yourself. Of course, if the overseas Chinese and foreign students in the United States have been carefully considered, in the end, there are various reasons to feel that they still need to go back, and the embassy and consulate in the United States will also give them ways to solve specific problems and provide various conveniences.