Original title: Norwegian Prime Minister Solberg: Wanted to get help from China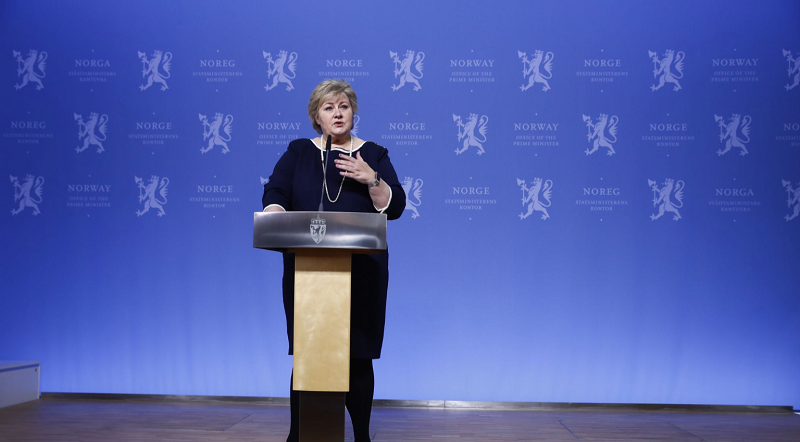 △ Picture shows Norwegian Prime Minister Solberg
Local time on March 14 At a press conference held at the Prime Minister's House on Saturday night, Norwegian Prime Minister Solberg first stressed that Norway and other countries are currently facing major tests of the medical system, daily life and economy. The Prime Minister said that Norway, like many other countries, was in a national crisis.
"So, I have proposed five new measures today to prevent further spread of the virus," Solberg said.
1. Airport and port closures
Solberg said: "We close airports and ports and implement border controls." Monday (March 16) at 8:00 am, Norwegian airports and ports will be closed. Goods entering and leaving the country will continue. Norwegians abroad are allowed to go home.
2. Use of Civil Defense Resources: Use of
the National Guard and Civil Defense to assist in the development of new measures. They will work with local police on transportation, control and quarantine management.
3. Want to get help from China: I
'm discussing with Norwegian Air and Scandinavian Airlines to see if it can help us to transport disease control materials from China to Norway.
At the same time, the Norwegians were brought home from abroad.
4. New travel advice: The
Norwegian Ministry of Foreign Affairs has issued new official travel advice that advises them not to travel to unnecessary countries.
These recommendations will apply from today until Easter.
5. Civil defense can ask people to go home
Solberg said: "Although some people are encouraged not to do this, we still see many people go to their holiday homes (vacation homes are generally in the suburbs)." The Prime Minister asked them to return from the holiday homes To your own home. She continued: "The reason is that holiday homes are usually located in smaller towns that don't have enough medical or healthcare capacity to take care of their residents."
Then she said that the government was initiating new billion-dollar measures. "We are willing to do everything we can to spend the necessary funds to ensure the economic development of Norway and provide assistance to Norwegian large and small enterprises." Last Friday, the government proposed to use 6.5 billion Norwegian kronor (about 4.6 billion yuan) to rescue Norway's economic plan. . But both Labor and Progress have said they do not support the proposal. Therefore, the proposal did not gain a majority. (Reporter Hao Xiaoli)