Original title: This is China's next most important task, Beijing and Shanghai have shot!
Source: Niu Danqin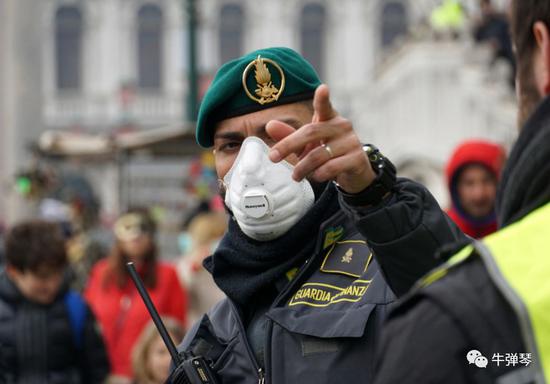 (1)
This should be China's next most important task, Beijing and Shanghai have shot!
It's really a little overwhelming.
Yesterday (March 7), the Beijing Police released a briefing:
On March 4, 2020, Liao Moujun, Liao Mouhai and a group of 8 arrived in Beijing Capital International Airport by plane from Italy. Among them, Liao Moujun and Liao Mouhai were confirmed as new cases of pneumonia in our city.
After investigation, Liao Moujun and Liao Mouhai have a relationship with their sisters and brothers, and have been doing business in Italy for a long time. Since late February, Liao Moujun and Liao Mouhai have successively developed fever, dry cough and other symptoms. Before boarding the plane, they used drugs to reduce fever and cool down. There are situations where family members do not fill out the "Immigration / Immigration Health Declaration Card of the People's Republic of China" truthfully, posing a risk of contagion to the same crew. On March 6, the Shunyi Public Security Branch Bureau initiated investigations in accordance with the law on the grounds that Liao Moujun and others were suspected of obstructing the prevention of infectious diseases … The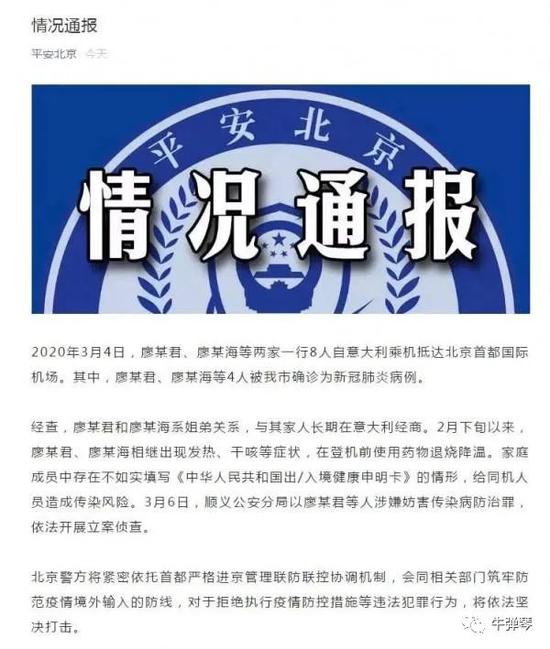 amount of information was actually large:
quite 1. Four imported cases occurred in Beijing and originated in Italy.
2. Before boarding the plane and returning to Beijing, Liao Moujun and others actually had symptoms such as fever and dry cough, that is, suspected symptoms.
3, it should be to be able to return smoothly, they use medicine to reduce fever before boarding.
4. When you return to China, you must fill in the health declaration. They should not fill out their fever and dry cough symptoms.
5. The police shot. On March 6, the police initiated a case investigation on the grounds that Liao Moujun and others were suspected of obstructing the prevention of infectious diseases.
It's no wonder that the police want to take a shot, because there are a series of hidden dangers.
First, you have concealed the illness and brought contagious risks to the same crew members.
Second, yes, people sitting around them must also be observed in isolation.
Third, if they did get sick, they did not report the truth, and there was a risk that they would continue to spread in Beijing.
After all, Beijing is also a top priority. Recent leaders' meetings have repeatedly emphasized the need to strengthen Beijing's prevention and control. Beijing can't afford to lose. The lessons learned 17 years ago. The security and stability of the capital is directly related to the overall work of the party and the state!
Moreover, the Beijing police also warned again that illegal acts such as refusal to implement epidemic prevention and control measures will be resolutely cracked down according to law.
On the same day, Shanghai was repeatedly warned.
For example, at the press conference on prevention and control in Shanghai that afternoon, Jiang Yuan, the deputy commissioner of Shanghai Customs, warned that truthful declaration is a legal obligation assumed by immigration personnel. If immigration personnel conceal or falsely report, The epidemic situation will be investigated for related responsibilities in accordance with the law.
Please note that concealment or false reporting is legally responsible.
This should also be targeted.
As the epidemic intensified abroad, some Chinese, overseas Chinese and foreigners felt that it was still China's security, so they went to China one after another. This is understandable, but there are some unconscious people who conceal the symptoms. Considering the strong transmission of the new crown virus, there is a slight negligence, which is really a failure.
This point, can't be overwhelmed!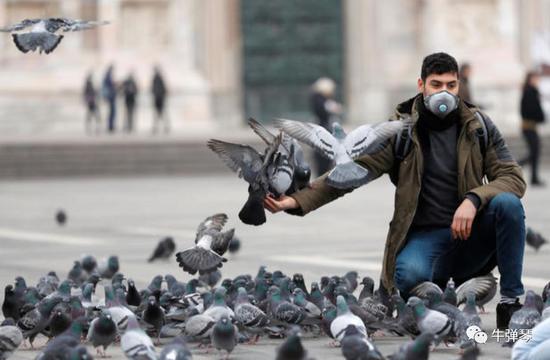 (2) The
epidemic situation is undergoing major changes.
The data is cold, showing the cruel reality.
In these days, the number of overseas diagnoses has exceeded 20,000, which is already much higher than the total of all provinces in China except Hubei.
This is about stock! More importantly, it is actually an increase. Take March 6 as an example: on
this day, there were at least 3,000 new cases worldwide.
On this day, there were 99 new cases in China.
It is 30 times outside China.
What does this mean?
This confirms the judgment of the WHO before. What the world is most worried about now is not China, but outside China!
For China, not only must Wuhan's final defense battle be fought, but the next more serious challenge is to deal with imported transmission.
This is also the worry of Academician Zhong Nanshan. He once said that the epidemic of new crown pneumonia is spreading rapidly abroad, and there is a possibility that China will change from exporting cases to importing cases.
Now, what he was worried about was already happening.
If you look closely at the recent new cases, except for Wuhan, a considerable part are imported cases.
On the 6th, 25 cases were newly diagnosed in all regions of the country except Hubei, 24 of which were imported overseas. On the previous day, 16 of the 17 newly diagnosed cases outside Hubei were imported overseas, accounting for the absolute majority. .
According to the combing of Xia Ke Island, as of 24:00 on the 6th, of all imported cases: in
11 Beijing, 3 from Iran, and 8 from Italy.
Four cases in Shanghai were international students in Iran, including one from Qinghai, two from Ningxia, and one from Gansu.
Ten cases in Zhejiang were from Italy. Eight of them worked in the same restaurant in Bergamo, Italy, and were recently diagnosed after returning to Qingtian County, Lishui City. The other two were mothers and daughters who had previously worked somewhere in Italy. The daughter was in a local school Reading, recently returned to Deqing County, Huzhou.
There were 3 cases in Ningxia, all of which were from Iran. One of them was the first imported case from China. The patient departed from Iran on February 19 and arrived at Zhongwei Railway Station on February 24 via Moscow, Shanghai, and Lanzhou. They were immediately taken to the isolation point by staff.
Two cases from Guangdong, from Britain and Spain.
Gansu has the largest number of 28 cases, all from Iran. From March 2nd to 5th, 311 people took commercial charter flights from Iran to Lanzhou, and all of them were isolated after landing. The imported confirmed cases in Gansu these two days originated from this.
In many cases, people do take a breath.
For example, the first case in Ningxia was also the first imported case in China. This person was again an airplane, a train, and a car. There were many transfers in the middle. How many people were in close contact with him unconsciously. Now, Have to accept isolated observation.
There are 8 cases in Qingtian, Zhejiang. According to Qingtian 's report, fever and other symptoms appeared during the Italian period. You should feel that something is not good, and quickly escape from Italy.
Among the 8 people, it should be Wang of the restaurant owner, and the same trip with the other 6 people, Milan-Moscow-Shanghai Pudong-Qingtian.
The official grooming schedule
On February 16, Wang showed symptoms of cough, headache, and diarrhea.
On the evening of February 26, 10 days later, she took the flight SU2415H from Milan to Moscow.
On February 27, we took flight SU206H from Moscow to Shanghai Pudong International Airport.
On February 28, the chartered car entered Qingtian and was isolated for observation.
The diagnosis was confirmed on March 1.
These 7 people, on the same route, departed on the same day and arrived on the same day. The boss was diagnosed on the 1st, and the remaining 6 were diagnosed on the 2nd.
There was another person who was diagnosed on the 2nd, but another return route.
On February 28, flight LH0273 from Italy to Germany.
On February 29, we took flight CA0936 from Germany to Shanghai Pudong Airport.
On February 29, the chartered car entered Qingtian and was isolated for observation.
The diagnosis was confirmed on March 2.
Seeing someone to help them calculate the time:
5 hours on board from Milan to Russia;
4 hours Sheremetyevo airport;
from Russia's 13 hours from Russia back to Pudong.
Linate Airport to Frankfurt, 1 hour on board;
Frankfurt Airport, 6 hours;
Frankfurt to Shanghai Pudong, 17 hours on board.
In a highly confined space, eight people spent about 200 hours in total.
You can think about how many people may be considered close contacts and face isolation and observation, even if they are not contagious.
Moreover, they are suspected of lying.
They passed at least three airports all the way, regardless of foreign airports, but when entering from Pudong Airport, they must make a health declaration. But from their smooth exit from Pudong Airport, they at least concealed a possible fever.
As a result, many passengers, crew, and strangers at Pudong Airport may be required to be quarantined if they are pursued carefully.
If they are renting a car, the poor charter driver must also be isolated.
Anyway, Zhejiang has also announced that after the eight people landed, Zhejiang has tracked 39 close contacts, 38 of them in Lishui and 1 in Hangzhou. All have taken quarantine measures.
To these people, it is really nothing wrong.
Perhaps this is also an important reason why Shanghai has repeatedly issued warnings.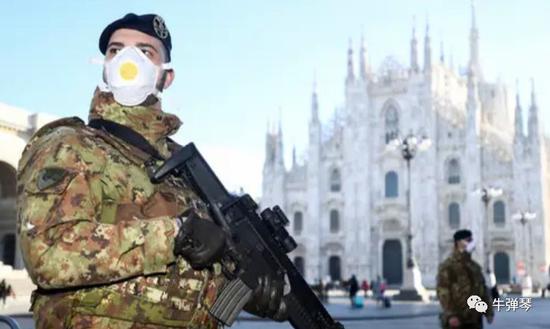 (3)
China's first half and the world's second half.
It is really a community of human destiny. Viruses are the common enemy of human beings. Do n't pass anything on only Orientals. In fact, it is regardless of nationality and color. Iran, Italy, and the United States are mainly Caucasians.
For China, we paid a significant price, but we did see the dawn. As a result, the WHO has repeatedly stated that the world does not have a unified response plan, but it can learn from China's experience.
In the end, let me briefly say three things.
First, next, China's most important task is to prevent imported risks.
Some people may say, isn't it enough to close the country?
In the era of globalization, this is actually impossible. After all, people are mobile, and closing the country may not be able to contain the virus. On the contrary, the economy will suffer heavy losses and bring about more serious secondary disasters. What's more, the cunning part of this virus is that many people have no symptoms on the surface, but they are actually spreading.
This requires meticulous, meticulous, and meticulous, solid, solid, and then solid. It's better to think a little more terribly, to be more foolproof.
This may not be a day or two task, but a longer one.
Secondly, in any case, we must avoid discrimination and not give people truth.
There are many signs of this. Some Asians face discrimination in Europe and even street violence. In the news a few days ago, a Japanese woman who assisted Palestine was dragged and tortured by the locals in the street, and was also called a new crown virus.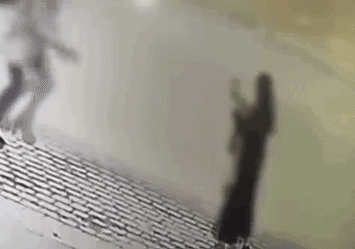 Therefore, WHO Director-General Tan Desai has repeatedly emphasized that prejudice is more dangerous than the virus itself, and prejudice is the most dangerous enemy.
Therefore, we have seen that the Ministry of Foreign Affairs of China has repeatedly emphasized that measures to take temperature, 14 days home, or centralized observation of people from countries or regions with severe epidemics after entering the country treat foreign citizens and Chinese citizens equally and without discrimination. carried out.
In extraordinary times, this is no way, but it is for the good of everyone. Therefore, in the implementation, we must pay attention to it, must treat it equally, do not discriminate, and there cannot be super national treatment!
Third, overseas visitors, you should also pay attention to it, and be aware of it.
After a number of returning overseas Chinese were diagnosed, I saw that the Qingtian government issued a circular, saying it very euphemism: If there is no special situation, please ask overseas Chinese to postpone returning to home and protect yourself in your home country.
No special circumstances, please don't return home for the time being.
For the overseas Chinese, if the epidemic situation in foreign countries worsens, returning to China is naturally an important choice. Emotionally, it is understandable to do so, and it is even more obvious that at the time of crisis, the motherland is their biggest backer and the safest harbor.
But think about it, after all, returning to China is no better than commuting. It often requires multiple trips by car or plane, and it is still in a closed space for a long time. Even if you have no symptoms, there is a risk of infection. If you have symptoms, how many people do you give Bring no plague.
So, really, if there are no special circumstances, you can protect yourself on the spot. If you must return to your country, you must declare it truthfully. Don't cause irreparable losses due to temporary fluke, and put yourself in criminal responsibility.
This is a crisis, and it is really a big test.
This is a big test of the government's ability to govern; it is not a big test of the quality of citizens!