Original title: US Vice President shouted, "Do not buy masks disease" Behind: not useless, is out of stock
recently, foreign media reported that the US business platform masks prices soared 20 times, masks were sold out on the shelves, only reserve Enough medical staff needs 1% …
The Vice President of the United States can't take it anymore, and shouted again: Don't buy a mask without getting sick!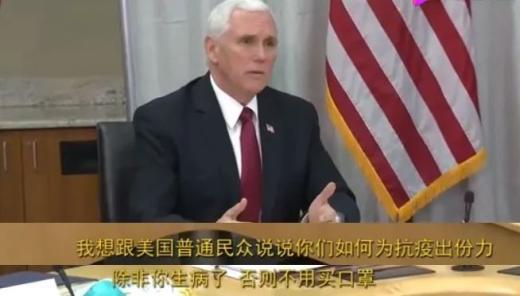 On March 5, local time, US Vice President Pence visited the 3M factory of mask maker in Minnesota.
1The price of masks in the United States has soared 20 times. The
World Health Organization has come forward to warn that
with the rising number of new cases of pneumonia in the United States, the prices of masks and other protective supplies have soared on the e-commerce platform.
The Financial Times reported on March 3 that on Amazon, some merchants even raised the price of disposable hand sanitizers and masks to 2000% of the daily retail price.

The report states that on Amazon.com, an unauthorized retailer sells a pack of 20 3M masks for as much as $ 387, compared with a normal retail price of only $ 14.99. A box of 24 bottles of 2 ounces of Purell hand sanitizer, which usually sells for less than $ 10, is now selling for $ 400.
This phenomenon in the United States worries WHO.
WHO Director-General Tan Desai warned of this phenomenon, saying that "increasing demand, hoarding and misuse of materials" will lead to the lack of front-line medical staff with the necessary equipment to respond to the outbreak.
The United States has taken a series of measures in this regard, but there is still a large gap.
Bloomberg News reported that the U.S. Department of Health and Human Services (HHS) estimates that if a new outbreak of new pneumonia occurs, the United States will need 3.5 billion masks.
The US Consumer News and Business Channel (CNBC) reported on March 4 that the U.S. Department of Health and Human Services pointed out that once the new coronavirus pneumonia becomes an epidemic, the United States' mask reserves are only 1% of what medical staff need.
2U.S. Vice President 's solution:
Do n't buy a mask not sick.
when you are Faced with the shortage of masks and soaring prices during the epidemic, US government officials have repeatedly called for ordinary people not to buy and wear masks, leaving them to infected people and medical staff!
The New York Times reported that on March 5th, local time, US Vice President Mike Pence surveyed mask makers 3M Corporation and called on the American people: Do not buy masks if ordinary people are not sick.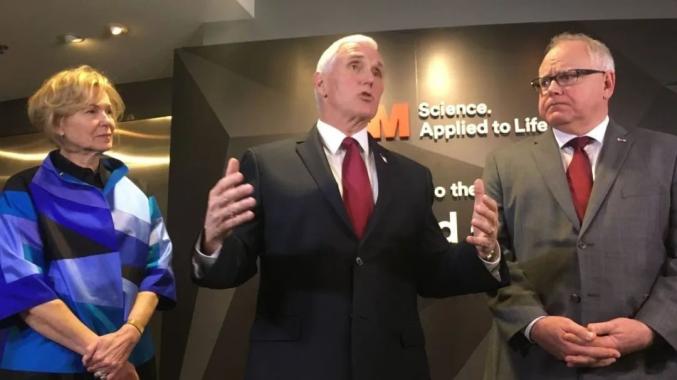 U.S. Vice President Pence (middle) and New Crown Pneumonia Emergency Coordinator Deborah Berks (left), Minnesota Governor Tim Walz (right) surveying 3M's headquarters. Source: Minnesota Public Radio News
In fact, this is not the first time Pence has made such an appeal.
On February 29 local time, Pence said at a press conference held by the White House that the American people do not need to buy masks to protect against the new crown virus, and medical personnel should be given priority to obtain masks.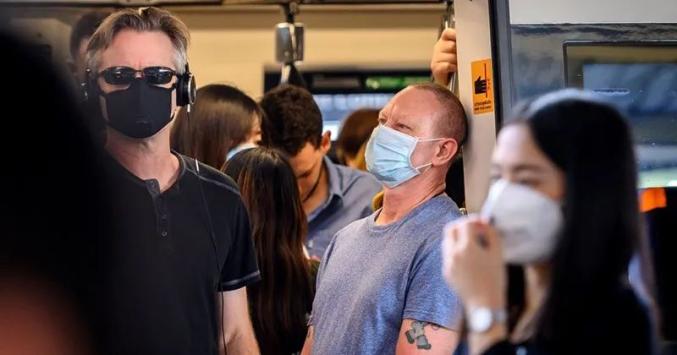 On the streets of the United States, people began to wear masks. Source: Getty Images
3
Netizens don't buy it:
Since masks are useless, why should medical staff wear them?
These suggestions suggest that people do not buy and wear masks, netizens do not buy it at all! And point out the logical errors.
Since masks are useless, why should medical staff and infected people wear them? Are masks effective only for medical personnel and not for ordinary people?

If it's "useless," why should medical staff wear it? ? ?

So, these masks are only useful for medical staff, they are not useful for ordinary people …

they are just liars! The quick video shows me that you don't wear a mask in the infected people! !! !!

The CDC website recommends wearing a mask if you have new coronary pneumonia to reduce the possibility of transmission to others. So if we ordinary people do n't buy masks, how can we protect them? By the way, why doesn't the government take better measures?

Useless, don't buy! But we need these useless masks! Hmm … N95 masks are useful, they block 95% of particles, including viruses. That's why we need these masks. Don't blame me, I have to be prepared in advance.

(Since it's useless) Why sell it to the public? Do you want to say that medical staff need to go to drugstores to buy masks?
4 Is it useless to wear a mask?
Italy's new crown virus outbreak is rapidly erupting. On February 26, Matteo Dall'Osso, MP of the country, entered the parliament wearing a mask, but the move was questioned as useless and exacerbated panic.
In his speech, Matteo Oso was emotional and bluntly said, "Crazy! Really crazy!" He said, "I don't prevent anyone from wearing a mask. I am self-defense because the immune system is not functioning well. "
then he took off his mask told us that," Okay, I take off my mask, to tell you, I've been to three affected areas, and now you think I wear a mask so now good or better? for the sake of everyone's safety, we recommend that you Let me put on a mask. If you are smart, you would have put on a mask already! You have to protect everyone, not let me protect you! "
After that, he slammed the microphone.
5
Rollover scene: at a meeting attended by Burns
2 people were diagnosed . . .
Burns advised people not to buy masks, and something happened …
Last week, the US-Israel Public Affairs Committee held a three-day annual policy meeting in New York. Two of them from New York confirmed the diagnosis of new coronary pneumonia.
It is worth mentioning that this year US Vice President Pence, Secretary of State Pompeo and Senate leaders were invited to attend.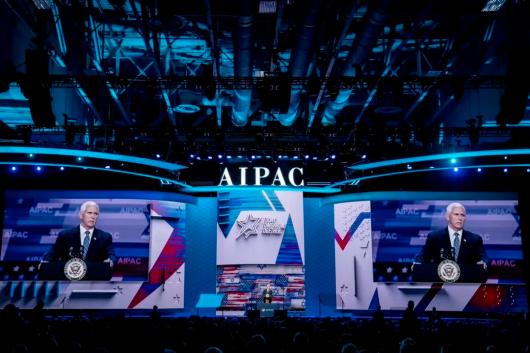 Pence attends the conference and delivers a speech from social media.
At present, the official has not revealed which day the two participants who were diagnosed with the infection attended.
In addition, the number of people participating in this annual meeting is not clear, but according to previous years, the scale is nearly 20,000.
6
US masks rely on overseas markets,
especially of "Made in China"
Mike Bowen, executive vice president mask production company Prestige Ameritech, said the crisis has set off alarm bells for US hospitals, who previously bought masks from foreign suppliers .
According to the New York Times, about half of the world's sanitary masks are produced in China, with a daily output of about 20 million pieces and more than 7 billion a year, which is supplied to hospitals and medical staff in many countries.
Intern | Gu Beiying, Su Juan, Xu Mingchen Wangwang Stern
Source: Think-tank