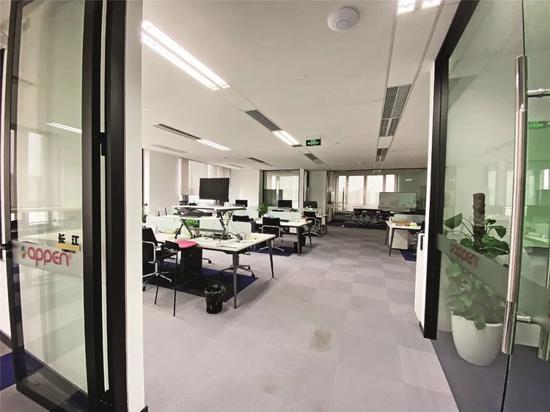 remote work during the epidemic, and Australian artificial intelligence company Appen's office in Shanghai was empty. Figure / Respondents provided
  that hundreds of millions of Chinese have in the past month. Telework
  passively participated in a large-scale social experiment of
telecommuting experiment observation report. Our
reporter / Yang Zhijie
"In the Spring Festival of 2020, China has more than 300 million people work remotely, and the size of the enterprise exceeds 18 million. "A data from Ai Media Consulting shows.
Working at home was a dream for many people. After receiving the company's telecommuting notice, Wangcheng was full of expectations at one time-no need to squeeze the subway at morning and evening rush hours, no need to wash your hair every day, and no need to worry about what to eat at noon in the company. But in the first week of resumption, he found that reality was far more complicated than imagined. The team has a video conference, which is often stuck and delayed. Once you miss the key information, you can't understand what the other party is talking about. A few words to say clearly in the company, now spend more time every day, repeatedly explaining to colleagues during voice calls. The voice has not finished, and there are a few more @ 自己 的 messages in the chat software. The son doesn't need to go to the kindergarten, he will rush into the house at any time, begging to play with him.
The sudden outbreak subverted the way many Chinese people work. On the first day of resumption of work on February 3, there were 200 million people on the nails who turned on the home office mode. Due to the excessive number of instantaneous visits, online office platforms such as Dingguo, WeChat, and Feishu could not resist, and problems such as delays, freezes, and flashbacks occurred.
The popularity of telecommuting in China is not high, and the epidemic has become a catalyst. In the past month, hundreds of millions of Chinese have passively participated in a large-scale social experiment on telecommuting. This experiment was not rigorously planned, rushed into battle, unprecedented in scale and full of challenges. The experimenters in it, including company managers, employees, and a large number of online office product providers, are a little bit dissatisfied, adapting and running in, and reflecting: the epidemic will eventually pass, and when work returns to the right track, remote office can take more far?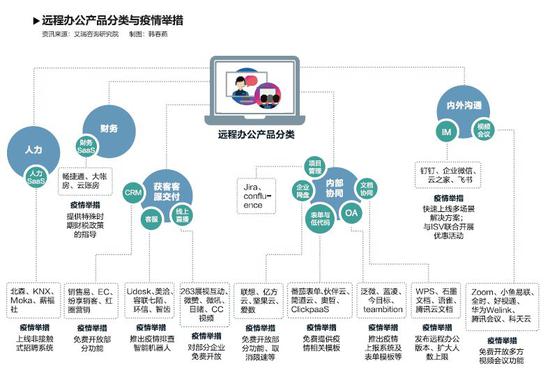 An unprepared battle
Tencent Huang Xiaoxuan is the head of the general manager of a big data analysis company. The company has more than 20 employees and it is the first time that the company has a home office. Before starting work, she tested five or six online collaborative office software, selected Dingding and meetings, and asked all colleagues to download and install the software. In order to supervise everyone's early rise, the company requires that video conferences be held every morning at 9 am, neatly dressed, "there is a fine for wearing pajamas".
Despite the preparations in advance, the first day of "going to work in the cloud" could not hide everyone's unfamiliarness and confusion about remote office. Huang Xiaoxuan didn't dare to turn off the reminder. When there was news, she immediately opened it, for fear of missing any information. "When working remotely, everyone will think that if the message is not answered in time, the boss will worry that you are not working in front of the computer. This kind of psychological effect. "When reading the instant information frequently, Huang Xiaoxuan's work rhythm was interrupted constantly. This kind of situation rarely happens when the company goes to work. She can't finish the work at hand. She usually doesn't go to see the news. Her coworkers will go to the station to find her directly.
Lenovo Some people who return to their hometown from a big city will find it more troublesome to work remotely. Wang Tao, who works at Wuhan Group, returned to his rural hometown during the Spring Festival. After the city was closed in Wuhan, team members from all over the world used Skype to hold video conferences every day. However, the village network was not good, and the signal was unstable, which became his biggest headache. Hu Shichang is the planning director of an advertising company in Hunan. After several weeks of experience, he found that online voice or video communication relies heavily on network quality. Sometimes there was a sudden freeze, and he had to repeat what he had just said. Phone, often heard colleagues reprimanded child's voice: "Stop fighting, you be quiet!" Conference time rhythm is disrupted, "would have been the end of the 10 minutes, often dragged for 20 minutes."
Compared SMEs, The "digital Internet companies" have a much higher degree of business digitization and digital survivability. Moving to "cloud office" is not difficult, but the challenge is: how can a company with tens of thousands of people and a department with thousands of people work together?
JD Niu Gang is the head of the second customer service center of Customer Experience and Service Department. Among the more than 10,000 customer services of JD, more than 3,000 work in Chengdu where the second center is located, responsible for the self-operated computers, mobile phones, 3C and other categories. Customer service is one of the departments with the highest levels of personnel. After the outbreak, he heard that many companies' customer service has been suspended, but JD requires that customer service work be uninterrupted throughout the day. A great challenge Niu Gang faces is: How can thousands of people work together to avoid infection? How can employees who cannot return to the company work?
Niu Gang told China News Weekly that the Chengdu Customer Service Center will soon set up an emergency team and set operating standards for workplace epidemic prevention. The company regularly disinfects every day. All employees must take a temperature measurement when they enter the company. There must be a space between the workplaces to maintain a safe distance. In order to reduce the risk of infection and take into account employees who cannot return to the company, JD.com quickly launched the cloud platform of the customer service center and moved the office system to the cloud. The customer service only needed a computer with Internet access to work. Within a week, more than 1,500 customer service agents in the Chengdu Customer Service Center opened the remote office mode.
But some traditional offline companies cannot copy these models. He Jing, senior product director of corporate WeChat, introduced to China News Weekly that offline retail and service industries, such as restaurants and supermarkets, which have been hit hard by the epidemic, have also started to use corporate WeChat to help themselves. For example, services are not available offline, but I want to keep guests online.
On January 20, the golden age of Xue Songzhe's chain fitness club was closed during the Spring Festival. The management was relatively optimistic at first, and it is expected that the epidemic will be basically controlled in early February. However, as the epidemic situation gradually worsened, the company's middle and senior management met to push the opening time beyond the 15th day of the first month. After a few more days, they judged that it would be good to open in March.
Golden Age Fitness has 54 stores across the country and more than 2,000 employees. As an offline service industry, customers need to come to the store to consume. This is one of the industries most affected by the epidemic. Golden Times Fitness Chairman Gao Yan said in an interview with the media, "If there is no income at all, it can up to 50 days."
last But the risk of opening is high, and the Golden Age has to change its office style. For internal employees, they use corporate WeChat to require employees to report their health status online for online learning and training. At the same time, they used corporate WeChat and Douyin to launch live broadcasts, one-on-one reminders, live broadcasts, and training video exchanges with high-end members, which attracted 3,000 new users for more than half a month. Nevertheless, Gao Yan estimates that the online office can manage 50% of the employees, while the service for members can only achieve about 30%.
"The situation is too sudden, it is an unprepared battle for our industry." Xue Songzhe sighed.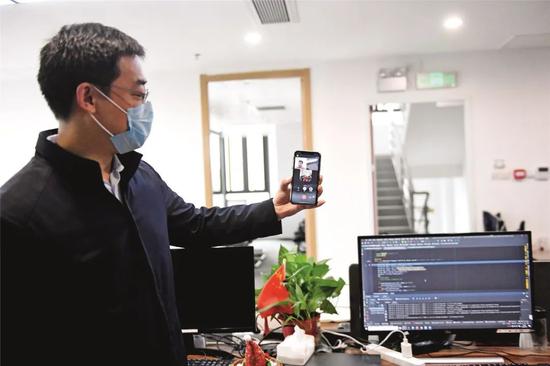 On February 11, in the China Science and Technology City (Guangzhou) Information Technology Co., Ltd. located in Jinzhu Plaza, Nansha District, Guangzhou, several computers were running on the empty office, and the code on the display scrolled from time to time. The company's technical R & D personnel are far away from home and operate the company's computer remotely through a network connection to achieve online office work. The picture shows Wu Hong, the deputy director of the company's R & D department, communicating with colleagues online. Ji Dong, the reporter
  Boss 's most worrying question:
Can telecommuting guarantee work efficiency? Before the outbreak, many people did not believe this.
Hu Shichang told China News Weekly that the greatest convenience of telecommuting is the elimination of commuting time. In the past, he went to work at the company. The commute time was 80 minutes a day. In addition to getting up early to wash, he had to get up 2 hours in advance. But he found that after working at home, he got up late, but worked longer hours. "Everyone starts work at 11 o'clock, and sometimes colleagues are still communicating until 12 o'clock in the evening. Everyone assumes that you haven't rested at this time. Counting it, at least 9 hours a day, or even 11 hours." He said Many customers have no concept of weekends and often come to talk about things. The original "995" working mode has become "007".
Huang Xiaoxuan told China News Weekly that the most important thing for company bosses is efficiency: Are employees working at home and working hard? Can you sleep late? Can the progress keep up with actual needs? Huang Xiaoxuan's task is to solve the boss's concerns as much as possible, improve the efficiency of online office, and deliver the remote office iteration details once a week. After the first day of "cloud office", she talked to colleagues and friends and found that everyone generally felt that the work efficiency was low. She realized that "everything about the efficiency of remote office is based on the thinking of on-site office." The
traditional office environment is that people work face to face, check in at 9 am, get off work at 6 pm, and communicate anytime, anywhere. The boss prefers to use the naked eye and on-site office to verify whether the employee has worked for 8 hours. But after telecommuting, the employee was "hidden" at the other end of the computer, and the manager had no way to verify that he actually worked for 8 hours, or had long believed that this person would definitely not work for 8 hours.
"The bosses usually assume that 8 hours on-site work, and everyone is working seriously. But in fact, 8 hours on-site does not represent real work. Although there is no way to monitor at home, it does not mean that the work efficiency is lower than on-site office. Efficiency. "Huang Xiaoxuan told China News Weekly.
Soon, Huang Xiaoxuan adjusted the remote office details: the company does not require employees to respond to the information within a few minutes, but evaluates the remote office by project management. The project is guaranteed to be completed before the deadline (deadline) without having to consider work efficiency. This pseudo-proposition.
The feedback from the department corroborates Huang Xiaoxuan's idea. One week after the resumption of work, the general manager's office and the department managers communicated one-on-one. Surprisingly, all departments stated that remote working does not affect the internal efficiency of the department, and even because it can ensure relatively complete thinking and working time, it is efficient Office on site.
"Trust is the most important." Xu Siyan, a senior researcher at Tencent Research Institute, told China News Weekly that managers need to believe that employees can do the same or even better work at home than in the office. In order to support this trust, the corresponding performance mode has also changed, and it should shift from "focusing on time to focusing on results".
"From the perspective of management philosophy, it is a shift from traditional supervisory thinking to management thinking that tends to make employees self-driven." Tencent Research Institute concluded. This means that remote work not only tests the management ability of the team leader, but also puts forward higher requirements for the quality of employees.
After experiencing telecommuting for nearly three weeks, Hu Shichang found that his work efficiency had not been greatly affected. At each meeting, the team determines a very clear theme and task in advance and discusses it in small groups. Every project must write a briefing. Compared with the past, the content of the briefing is very accurate. The specific time, event and person in charge are made into a form and sent to the group. Everyone will complete it according to the task time. "Team leader and staff The communication ability also determines the effect of remote office work. "
A research report of the Tencent Research Institute summed it up like this:" Management process is a very important link, and the process can allow team members to work according to rules and make the work cycle clear. Controllable. "
Huang Xiaoxuan is also using this method to try to solve the problem of cross-department cooperation of the company. After the first week of resumption of work, the company's various departments generally reported to her that cross-departmental coordination was relatively low. But in her opinion, this is also a pseudo-proposition, and the reason for the inefficiency is that many places are ambiguous when working across departments. When working on-site, if you encounter ambiguous goals or processes, you can call a meeting to discuss at any time, but the remote office is not timely. "But the root cause is not the problem of remote collaboration, but the process or requirements are not clear." Huang Xiaoxuan told China News Weekly.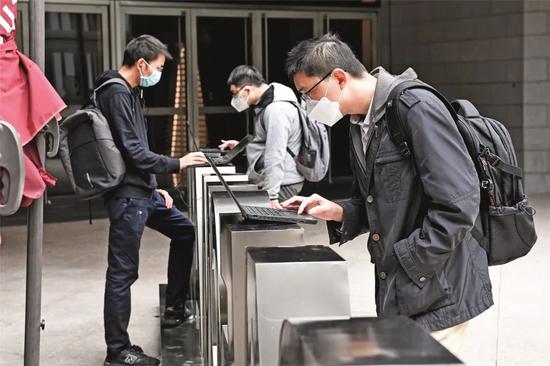 On February 10th, in Shenzhen Ping'an Financial Center, corporate employees used laptops to connect to the company's intranet to download and install remote office software in order to achieve a "cloud office" at home. Figure / Xinhua's
  "people and mountains meet the challenge"
Suddenly the big test under the epidemic, not only are not hundreds of millions of managers and employees, but also many online office product providers.
On January 23, He Jing's corporate WeChat product team received a demand from the medical industry. The epidemic was serious. The hospital had to meet online, and patients had to go online for consultation. Initially, He Jing just hoped to solve the needs of the hospital as soon as possible, and did not realize that the demand for online office would become the next breaking point.
After the state requested a delay in resuming work, starting on January 28, more and more customers began to ask about the functions of online office. He Jing introduced that more than 300 people in the team worked almost all overtime and operated at high load to meet the needs of the development cycle. The release cycle of the client is also shortened, and a feature is basically updated in two days. On February 1st, the company's WeChat released a new version, which provided schools, hospitals and enterprises with 6 new capabilities, including remote teaching in the WeChat group, helping enterprises collect the health status of employees, supporting 300 simultaneous audio and video conferences, and online consultation. Wait.
However, the outbreak of the first day of resumption of work almost paralyzed the product. February 3 was the first day of cloud resumption in many companies, but they suffered from the collective collapse of office software such as Nail, Enterprise WeChat, and severe delays, stuttering, or flashbacks. "Instantaneous simultaneous launch of a large number of live broadcasts of various conferences at the same time, the network temporarily limited traffic." Ding Ding data shows that there were more than 10 million companies and nearly 200 million people in Ding Ding on the home office mode. Enterprise WeChat introduced to China News Weekly that the number of simultaneous meetings that day had reached hundreds of thousands.
Before resuming work, when He Jing saw the number of user appointments, he had anticipated that there would be server problems, and the team made a plan in advance. But on February 3, the number of companies using software online was three times that of last year, and the number of simultaneous conferences reached hundreds of thousands, which was far beyond their imagination.
Alibaba The technical team of each company urgently expanded. Dingding newly deployed more than 10,000 cloud servers in just 2 hours. This number also set a new record of rapid expansion on Cloud and restored its functions in a short time. But it is undeniable that it is not only users who are not convinced, but companies that provide remote office products, but also seem a little flustered by the large number of users.
Xu Siyan introduced to China News Weekly that one of the main problems of telecommuting stems from the asynchronous flow of information. As a solution and product, collaboration tools can let teams on each side know what to do, what each other is doing and how well they are done. From the disassembly of functions, it includes instant messaging, document collaboration, conference system, task management and other parts, forming a complete "Remote Office System".
Zoom From January 24th, enterprise-level comprehensive collaboration tools such as WeChat, Feishu, Dingding, professional audio and video conference providers , Xiaoyu Yilian, Huawei Cloud WeLink, Tencent Conference, document collaboration tools graphite, Evernote, ONES and others have opened remote office products for free and joined the "anti-epidemic" war.
On the fifth day of the new year, the Flying Book team under Byte Beat also received the office requirements of the company, and temporarily convened the team to work overtime urgently. "What we thought was how to truly reproduce the feeling of everyone working together, but did not want to turn home office into a one-day meeting at home." The Feishu team told China News Weekly that the whole project was advancing very quickly, The function took 5 days to go online remotely.
The epidemic situation has made remote office more urgent, and it is also forcing the improvement of remote office products. The Flying Book team said that the test is whether the office collaboration products are easy to use and the services are stable enough to truly meet user needs.
Video conferencing demand is one of the fastest exploding areas, and it has become the main demand of many companies, or it will become the focus of the company's centralized firepower competition in the future.
Until the end of last year, Xiao Yu Yi even co-founder and CEO Yuan Wenhui couldn't imagine that companies that mainly do To B business will usher in the opportunity of rapid growth in 2020. Xiaoyu Yilian is a video conference manufacturer. Since the beginning of the Chinese New Year, background pressure has been increasing. The company's cloud video conferencing program received three distinct demand signals, namely the need for government epidemic management and control, the needs of educational institutions and local education bureaus for online education, and the needs of corporate remote offices.
"One day of call during the epidemic period is equivalent to the sum of one or two months last year." Yuan Wenhui introduced China News Weekly. Currently, it is very fast in converting customers. Many customers see product demonstrations and start trials the next day. This was unimaginable before. On January 26, Xiaoyu Yilian launched a free 100-party conference. But as a start-up company, Xiaoyu Yilian couldn't afford the high traffic fees behind cloud video conferencing. Yuan Wenhui introduced that he has two forms of cooperation with customers, allowing high-quality customers to pay out of pocket, or find operators to cooperate with.
Giants such as Tencent, Ali, and Huawei are also accelerating their influx into the market, launching all-free services. "Now is a turning point in the development of cloud video conferencing." Yuan Wenhui is more optimistic and does not think that the entry of giants will seize the market of small vertical companies, but will be beneficial to the company's long-term development. Users develop usage habits, and everyone will have higher requirements. At this time, our 'cloud plus end' solution can just harvest the next wave of demand. "A
recent report issued by Guosheng Securities mentioned that the 2019 global conference The number of rooms has reached 92 million, but the penetration rate of the video conference system is only 4.2%. "Most of the users have not yet formed the habit of collaborative office use. The first impact of the giants' admission is to help drive the formation of user habits. Large overall market size. "
Taking cloud video conferencing as a representative, most remote offices in China are still in the early stages of industrial development and are less mature than abroad. Many interviewees admitted that compared with the products launched by Tencent and Ali, in terms of user experience, the US cloud video tool Zoom is the most stable. He Jing, senior product director of corporate WeChat, said that compared to Zoom, corporate WeChat is an integrated office product, not just a vertical online video category, it is impossible to devote all of its research and development manpower to a certain point.
"The outbreak did not prepare the product too much, so it was introduced to the market." He Jing admitted that more time is needed to polish the client or technical details, or more users are required to find the problem.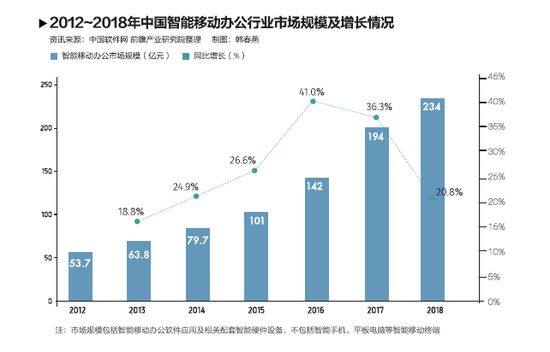 After large-scale experiments,
the development of remote office in China lags behind some developed countries. According to data from Global Workplace Analytics, there were 1.8 million people working remotely in China in 2005 and only 3.6 million by 2014. Based on a compound growth rate of 8%, the number of people working remotely in 2019 is only about 5.3 million. Looking at China's population base of 1.4 billion, the proportion is very small.
Facebook Slack The United States leads the way in telecommuting. Data show that as of 2017, more than 80% of companies in the United States have introduced a remote working system, and 30 million people have been working remotely from home, accounting for 16% to 19% of the working population in the United States. There are many well-known online office companies in the United States, such as Zoom, Workplace, Microsoft Teams, and so on.
Bai Huiyuan, vice president of Ding Ding noted that remote work and digital work have long become the normal way of working in foreign countries, but China is still in its infancy. "Many corporate organizations still have a lot of inertia, and digital work methods have not been cultivated. The understanding of remote office is still at the OA, mailbox, mobile approval and other levels. "
Several online office service providers told China News Weekly that the gap between China and foreign countries is not mainly technology, but concept. Previously, it was difficult for Yuan Wenhui to persuade customers to buy cloud video conferencing. "For example, if a person has never eaten pork since he was young, it is difficult for me to sell pork to him. But recently I can only eat pork, you After eating, it feels very fragrant. At this time, it will be too easy for me to sell it to you. "
In addition to conceptual rejection and unaccustomedness, Xu Siyan believes that the remote office has not been able to erupt in China, on the one hand, because many companies work The environment is not sufficiently digitized. Even in Internet companies with high natural digital attributes, many jobs are difficult to digitize, let alone a large number of offline small and medium-sized enterprises. On the other hand, it is a management system issue. Enterprises need to design from the top to create a corresponding management mechanism for remote office. And this point, almost the vast majority of enterprises are lacking and blank.
The large-scale exercise under this epidemic is also a touchstone for company management. Appen is a data service provider for artificial intelligence and machine learning, headquartered in Australia. Tian Xiaopeng, its global vice president and general manager of China, believes that remote office is a model for continuous operation of the enterprise. "Any large company will always encounter various challenges and crises. If the office-office model is not working, what is your plan? What is your response? The remote office model is for a company. Business is very important, and the continuity of each business must be considered. "Tian Xiaopeng told China News Weekly.
And some companies with poor crisis management and response capabilities will be speeded up. On February 7, the Beijing KTV company "King of Kings" issued an open letter announcing the termination of labor relations with more than 200 employees. If 30% of employees are unwilling to implement this plan, the company will carry out bankruptcy reorganization. On February 28, Baicheng Travel Network, which is mainly engaged in visa business, also announced that the company could no longer operate and started the liquidation process.
Many companies have been forced to change the way they work, but they have begun to think actively: What will be left after the epidemic? What does telecommuting mean to the business?
Deng Zhi is the executive general manager of women's clothing brand Galia. During the epidemic, Galia started remote office work. From sales, back-office R & D and supply chain ends, as well as hundreds of stores across the country, all of them started online on WeChat and corporate WeChat. . In his impression, at the industry summit at the end of last year, everyone also generally believed that the investment in enterprise digitalization was too much and was a bit redundant. This time the Black Swan incident made Deng Zhi's team start to reflect, "During this time, we found that online office has made communication more efficient. We are thinking about what can be solidified after the epidemic, including management processes and project-based cross-department. Cooperation methods. "He even predicted that after the epidemic, many companies will review the speed of digital transformation, including information construction and organizational efficiency.
Niu Gang's customer service team is also deliberately accumulating this ability. He told China News Weekly that the operating model of JD.com customer service may also change in the future. During the epidemic, they have recruited temporary customer service and lived remote offices. These models will also Continue to keep it as a supplement to the daily operation model, so that there are more possibilities for future employment patterns.
"The company system still exists and needs a centralized form to promote things. But as the cost of hiring rises, the future collaboration method may be a distributed organization, taking the project as a cycle, and dissolving the team after the end." Huang Xiaoxuan was reviewing this time When working remotely, he believed that this large-scale experiment may change the organizational form of company employees in the future.
Some industry research shows that in the long run, the entire remote office market will break through the bottleneck and enter the rising cycle after this explosive growth. According to data released by China Business News, China's online office market has maintained a steady growth in the past. The market size was 5.37 billion yuan in 2012, 19.44 billion yuan in 2017, and 47.83 billion yuan in 2020. However, this year, due to the impact of the epidemic, the demand for online offices has exploded, and the industry has accelerated. It is expected that it will exceed 50 billion yuan in 2020.
Many interviewees believe that after the epidemic, telecommuting will retreat to the second line, and centralized office will remain mainstream in the short term, but the forces of subversion are already fermenting. According to research by US fintech company Funda, by 2020, more than half of the world 's workforce will be made up of "Millennials" (pointing to a generation born under the age of the 20th century and reaching adulthood after entering the 21st century). As the indigenous people of the Internet, the growth period of this generation almost coincides with the rapid development of computer science and the Internet. Not only are they more tolerant of new technologies, they are also more avant-garde about the idea of ​​free office.
Yonatan Zunger, a data engineer at the well-known American software company HUMU, has analyzed that in the next 10-15 years, remote office will penetrate into more industries and begin to affect culture and society. By 2035, when "millennials" begin to take over office power on a large scale, telecommuting will become inevitable.
(At the request of the interviewees, Wang Cheng, Wang Tao and Huang Xiaoxuan are pseudonyms)