Original title: This confirmed case in Hong Kong yesterday. Think carefully.
  Yesterday, the Hong Kong Centre for Health Protection notified a confirmed case of imported neocoronary pneumonia. A 69-year-old female patient developed diarrhea in India and returned to Hong Kong with a positive test result.
Yesterday, the Hong Kong Government informed the official website of an imported case in Hong Kong where the new crown virus test was positive. A 69-year-old female patient with a long-term illness visited India from January 31 to February 24. She developed diarrhea during India on February 23 and developed fever on February 28 after returning to Hong Kong. She had twice Seek consultation from a traditional Chinese medicine practitioner and went to Mrs. Pui's general out-patient clinic on March 3. On March 4, a deep throat saliva sample confirmed a positive response to the new crown virus. She was admitted to Ruttonjee Hospital and is now in stable condition. The patient's husband and domestic helper do not show symptoms and will be arranged for quarantine.
On February 24, she flew to Hong Kong from Cathay Pacific Flight CX694 from New Delhi, India. The Hong Kong government urges those who have travelled on the return flight to call the Hong Kong Centre for Health Protection's hotline.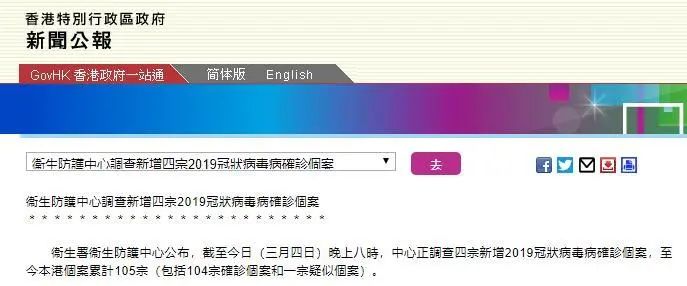 On March 4, the Ministry of Health of India held a press conference to announce that the number of confirmed cases of new crown pneumonia in India rose to 28. There were 22 new cases that day, including 15 Italian tourists who tested positive earlier and an Indian who was driving the tour group.
According to media statistics, from February 4th to March 1st, India has not newly confirmed the number of new patients with new coronary pneumonia in the past month. Two people were confirmed on March 2 and one person was confirmed on the 3rd. The number is only 6 people.